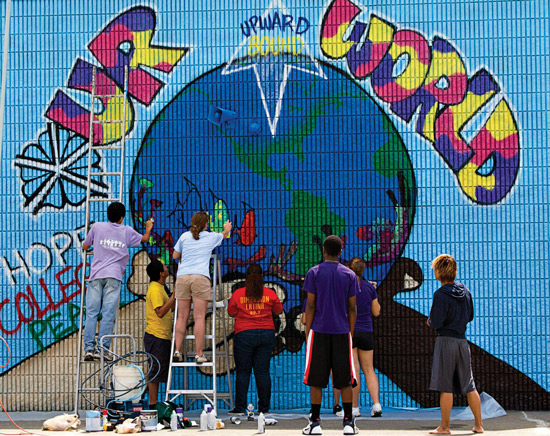 This October, the University of Rochester's David T. Kearns Center for Leadership & Diversity in Arts, Sciences & Engineering will mark the 10th anniversary of its founding and the 20th anniversary of the Ronald E. McNair Post-Baccalaureate Achievement Program, which is housed at the center. The center also celebrates three new grants totaling $3.9 million for its Upward Bound and McNair programs. Two events during the University's annual alumni gathering, Meliora Weekend (Thursday, Oct. 11 through Sunday, Oct. 14), will recognize the center's decade of success.
"The Kearns Center continues its mission of increasing educational opportunities for low-income, first-generation college, and underrepresented minority students across the academic pipeline," says Beth Olivares, director of the Kearns Center. "We now serve students from elementary school through the doctoral degree."
Since its start at the University in 2007, the Upward Bound programs have served 222 high school students with astonishing success. The program's first four cohorts have a 95 percent graduation rate and 96 percent have been accepted and/or are currently attending institutions including the University of Rochester, Columbia University, Syracuse University, Spelman College, Howard University, and several local colleges and universities, among others.
Upward Bound Classic, which serves just over 60 students at Jefferson and East high schools, received $1,312,490, while the Upward Bound Math Science program, which serves the same number of students at Wilson Commencement, Edison, Franklin and Vanguard, and East high schools, received a $1,312,500 grant.
During the academic year, Upward Bound students engage in a variety of learning activities geared toward preparing them for college application, entry, and retention. Scholars attend programming on campus once a month and receive intensive, weekly one-on-one advising in their high schools. The summer program, which provides the opportunity for student-driven research, runs five days a week for six weeks in July and August on the River Campus.
The success of the Upward Bound program has spawned several collaborations, including the College Prep Centers on East and Franklin campuses. The University, in partnership with the Rochester City School District, JPMorgan Chase Foundation, and the Max and Marian Farash Charitable Foundation, opened the two centers to assist the schools in establishing a culture of college-going students by providing them direct college prep and advising services.
In August, the center's McNair program also received a five-year, $1,282,955 grant from the U.S. Department of Education. The program, which began in 1992, boasts a 99 percent college graduation rate and more than 80 percent graduate school enrollment rate, double the national average of 45 percent. One hundred and twenty-nine alumni are currently enrolled in graduate programs, 134 have earned master's degrees, and 95 have earned doctoral degrees from programs across the country. McNair alumni are faculty members at American University, Hope College, and University of Alabama, among other institutions, and they work as teachers, entrepreneurs, doctors, attorneys, research scientists, and policy experts in a wide variety of fields.
Beginning as sophomores, McNair scholars participate in seminars that prepare them for the graduate school application process. Working alongside faculty members, students conduct independent research and are encouraged to present their findings at national conferences. Throughout their academic careers, they receive extensive preparation for graduate school, including intensive writing courses and GRE prep. Students in the McNair program also have gone on to win Fulbright, National Institutes of Health, National Science Foundation, and NASA fellowships.
Meliora Weekend events open to the media include:
Approaches to K-12 Success: The Impact of a Research University on an Urban School District
Saturday, Oct. 13, 8:30 to 10 a.m., Sloan Auditorium, Robert B. Goergen Hall for Biomedical Engineering & Optics
Panelists discuss best practices in a national context, address questions about the role of the research university in the K-12 public education system and, more specifically, the role the University of Rochester plays in the local school district, and what impacts it has on graduation rates and teacher preparedness. The panel includes Raffaella Borasi, dean, Warner School of Education and Human Development (Warner); Beth Olivares, associate dean for diversity initiatives, arts and sciences; Dayanna Davis, current student, Warner; Malik Evans, president, Board of Education at the Rochester City School District (RCSD); LaShara Evans, educator, RCSD; Lynn Gatto, executive director, Horizons and visiting assistant professor, Warner; Marshall Hunter II, educator, RCSD; Jameelah Hood, Universal Pre-K teacher, RCSD; Carol Anne St. George, assistant professor, Warner. The panel will be moderated byAnthony Plonczynski, associate director, David T. Kearns Center.
College Diversity Roundtable Celebration: 20th Anniversary of the McNair Program and 10th Anniversary of the Kearns Center
Saturday, Oct. 13, 4:30 to 6 p.m., Hawkins-Carlson Room, Rush Rhees Library
Meet current students and staff involved in the College Diversity Roundtable and learn about the newest initiatives at the Kearns Center as they celebrate two milestone anniversaries.
Category: University News