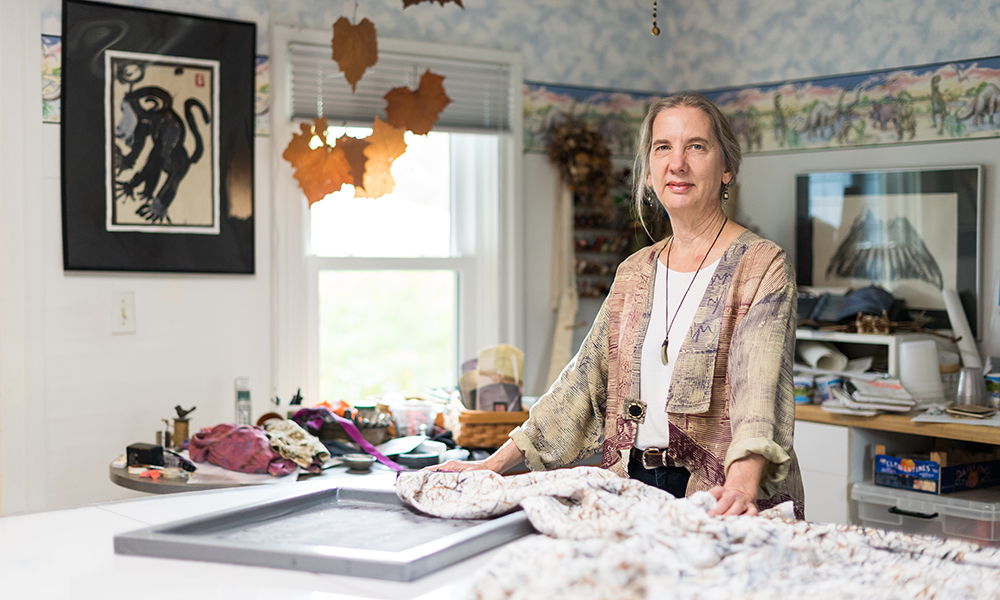 The Memorial Art Gallery's "Hidden Passions: Inspiring Conversations about Hyphenated Lives" is in its third season of celebrating the creative lives and private hobbies of Rochesterians.
"Hidden Passions puts our friends and neighbors center-stage so that we can marvel at the extraordinary creative adventures happening all around us … and perhaps find inspiration for our own," says Jonathan Binstock, the Mary W. and Donald R. Clark Director of the Memorial Art Gallery.
Here, we highlight one member of the University community who is being featured this season.
---
Learn more

Melissa Matson is one of two featured speakers at the Memorial Art Gallery's Hidden Passions event at 7 p.m. Thursday, November 10. She'll be joined by biophysics doctoral candidate Karl Smith, who will discuss his 10-cent story project.
Melissa Matson '78E, '80E (MM) has always liked to "make stuff."
Growing up in northern California, she made forts in the walnut trees on her family's property. She followed along when TV's Captain Kangaroo brought out his shoe box full of craft supplies and embarked on a new project using a milk carton or another found object. She learned to sew at a young age, and looked forward to family trips to Britex, a fabric store in San Francisco where she would "bask in all the fabrics."
These days she finds a creative outlet in making colorful artisan-dyed fabric and garments—something she's been doing for about 15 years.
Matson is principal violist with the Rochester Philharmonic Orchestra and an associate professor of orchestral repertory at the Eastman School of Music. She'll be talking about her passion for creating the unique fabric pieces as a speaker in the Memorial Art Gallery's Hidden Passions, a monthly series that celebrates the hobbies and creative lives of Rochesterians.
Inside the second-floor studio in Matson's Honeoye Falls home hang dyed pieces of many sizes and colors, as well as completed jackets and scarves.
She honed her skills at an improvisational screen printing workshop with Jane Dunnewold, whose book, Complex Cloth, first got Matson interested in the art. Improvisational refers to the non-permanent nature of the screens used in the screen-printing process. Materials such as masking tape, glue, or flour paste are added to the screen before dyeing—depending on the desired effect.
"I just keep experimenting and see where it goes," she says.
"Each piece is unique," Matson says proudly. Some are inspired by the rhythm of poetry. Some are the result of experimentation with color and texture. Some have more of a personal touch.
Matson pulls out a jacket and gently fingers screen-printed images of her mother and grandmother as little girls—they are enveloped among the bold, gold pattern covering the piece. She says her mother supported her interests and encouraged her to experiment on her sewing projects as a child.
Matson's background as a musician sometimes influences her creations.
"People say that my fabrics look musical," Matson says. "I think that has a lot to do with the flow and emotion that come when I play [music]. The fabrics I've made that I like the least are the ones that just sit there and don't really have any motion."
She finds some parallels between being a musician and a fabric artist. Matson says she's always striving to find a better way to make music—a richer phrase or more interesting color in her playing. She takes the same approach to dyeing fabric.
There are differences, too—most notably that playing music with the orchestra is more collaborative than the solo work of dyeing fabrics.
"This is a little freeing, but also adds more responsibility because it's all me," Matson says about screen printing. "If it's great, it's me. If it's ugly, it's me."
"What's nice about the fabric making is that it frees me from the fear of making mistakes. There are no mistakes when I'm dyeing fabric," she adds. "If I do something unexpected, it could be a really great discovery or it could be really bad. But I can always dye it again. I always say that if at first you don't succeed, dye, dye again."
Category: The Arts