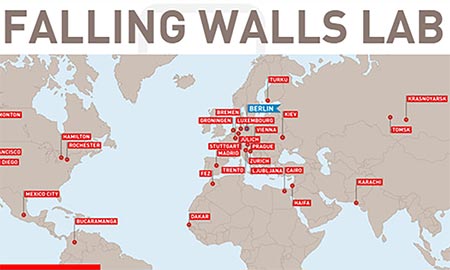 What: Thirty-three scientists, inventors and entrepreneurs, 35 years old or younger, from all fields of study will present ideas that have the potential to make a significant positive impact on the world. A jury of University professors and community leaders will select the winning idea, the one most likely to "break down the walls," after a series of rapid-fire, three-minute presentations and a maximum of three slides to convey their idea. The winner from the Rochester Lab will qualify to participate at the prestigious Falling Walls Lab Finale in Berlin.
Time, date, and place: The presentations will take place 2 – 5 p.m. on Tuesday, May 19 at Sloan Auditorium, Goergen Hall, University of Rochester River Campus. The award ceremony will begin at 5p.m.
Background: The University of Rochester has been selected to organize a Falling Walls Lab Rochester, in association with The Falling Walls Foundation, a non-profit organization that fosters discussions on research and innovation and promotes the latest scientific findings to society. The Rochester winner's idea will compete with others from around the world at the Falling Walls Lab Finale in November in Berlin. This event selects the participants for the annual Falling Walls Conference the following day: an international forum for science and innovation to commemorate the fall of the Berlin Wall. Speakers at the conference have included Angela Merkel, Chancellor of Germany; Nobel Prize winner Sir Paul Nurse; and young inventors from around the world. BBC London said it was where the "brightest minds on the planet" meet. More information is available at http://www.falling-walls.com/.
In addition to an all-expense paid trip to Berlin, to present the groundbreaking idea to an international panel of distinguished business leaders and innovators, the winner will receive $500; $300 will be awarded for second place; and third place will receive $200.
For more information: The Rochester lab is open to the public. Members of the media please contact Leonor Sierra at 585.276.6264 or lsierra@ur.rochester.edu. All other inquiries please contact Adele Coelho at adele.coelho@rochester.edu.
Category: Science & Technology