The annual competition drew more than 50 entries this year, with more than 700 votes cast for People's Choice.
Students, faculty, and staff at the University of Rochester found creative ways to turn bacterial cells, the refraction of light, salivary glands, and oil spills into winning entries this year in the annual Art of Science Competition.
The goal of the competition, held each spring and sponsored by the Hajim School of Engineering & Applied Sciences in collaboration with River Campus Libraries, is to "explore and illuminate the aesthetic beauty that results when science, art, and technology intersect."
Fifty-four submissions were received, according to Brian McIntyre, director of operations at URNano and one of the organizers of the competition.
Student prizes of $1,000 for first place, $500 for second place, and $250 for third place were awarded by a panel of judges, including administrators, librarians, and faculty from River Campus Libraries and the Hajim School.
All entries were eligible for the People's Choice Award of $250, determined by ballots cast by 711 members of the University community.
"Once again, our students, faculty, and staff found unique ways to communicate science in engaging and accessible ways," says Wendi Heinzelman, dean of the Hajim School. "We applaud their creativity. We are grateful for the enthusiastic response from the University community in selecting the People's Choice Award. And we thank our dedicated judges and organizers for another successful competition."
---
First place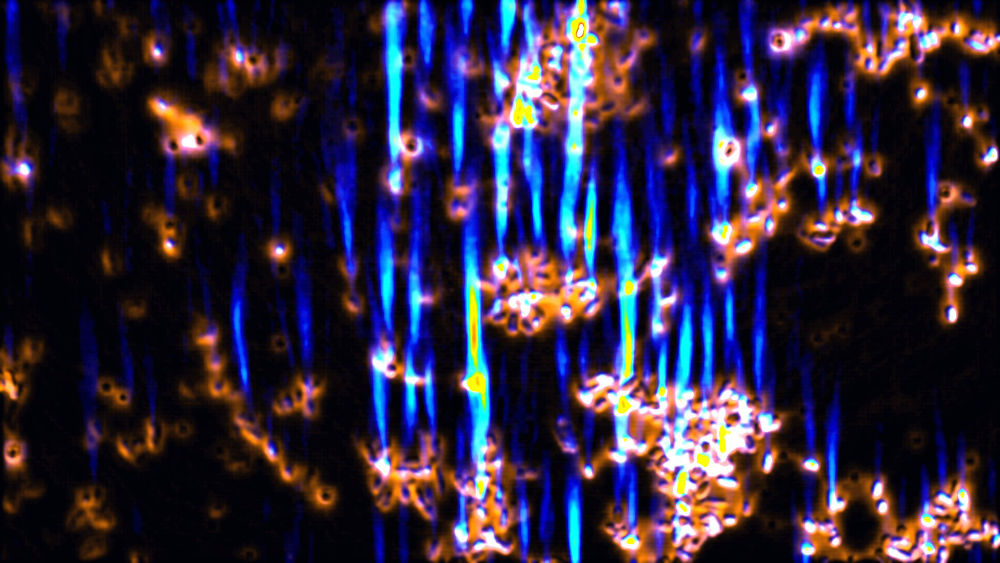 Biobeams 
Lynn Sidor, PhD candidate in the lab of Anne S. Meyer, associate professor of biology
Artist's statement:
Bioglass-coated bacterial cells were imaged using fluorescence microscopy. A laser was used to excite a fluorescent agarose pad and differing angles of incoming light were manipulated to scatter light off the surface of the cells. Images were analyzed and enhanced using ImageJ.
This image shows the possible lensing effect of bacterial cells, creating "biobeams" of light, where the intensity of the scattered light corresponds to the intensity of the colors in the image. 
---
Second place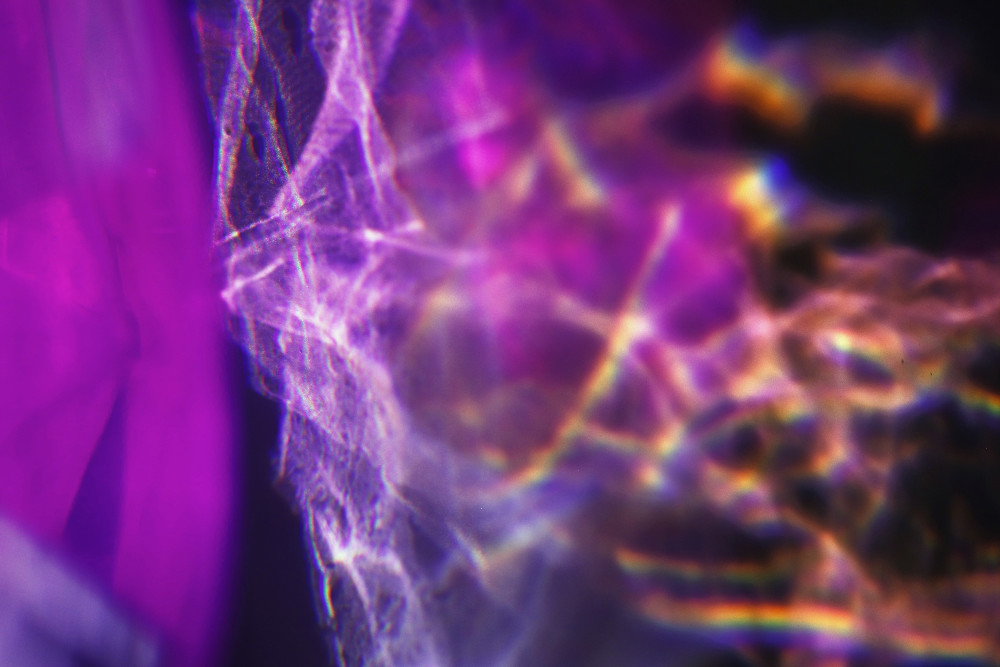 Refraction of white light passing through colored prisms
Caitlin Labianca '23, biology and studio arts
Artist's statement:
I used a macro lens on a DSLR camera to capture the separation of light through glass.
Our conception of the simplest aesthetic things is altered by further understanding of scientific concepts, creating much more complex and nuanced images.
---
Third place

Nights Lit by Discovery
Isabella Orup '22, biological sciences and business
Artist's statement:
This acrylic painting is inspired by research on salivary gland development at the Ovitt Lab in the Center for Oral Biology at the University of Rochester Medical Center.
Both Rush Rhees and the backdrop of the sky are painted with acrylic. The cellular structures are inspired by a mouse salivary gland immunohistochemical stain which was then imaged through confocal microscopy. 
Science to an onlooker may seem cold and uninspiring due to the microscopic size of the structures studied. By projecting these cells on the sky, suddenly they are no longer small. Illuminating this immunohistochemical stain in a different context may inspire questions and a new appreciation for the fluorescent images taken from research settings. 
---
People's Choice Award

Money and Nature
Frederick Liu '23, computer science and political science
Artist's statement:
A charming environment is only one spill away from becoming an unlivable place.
I used DJI Mavic Air 2 to take a photo of an island at Hawaii and applied clipart to the image to show the effects of pollution.
Oil destroys the insulating ability of fur-bearing mammals, such as sea otters, and the water repellency of a bird's feathers. Without the ability to repel water and insulate from the cold water, birds and mammals will die from hypothermia.
When oil is spilled into an aquatic environment, it can harm organisms that live on or around the water surface and those that live under water. Spilled oil can also damage parts of the food chain, including human food resources.
---
Read more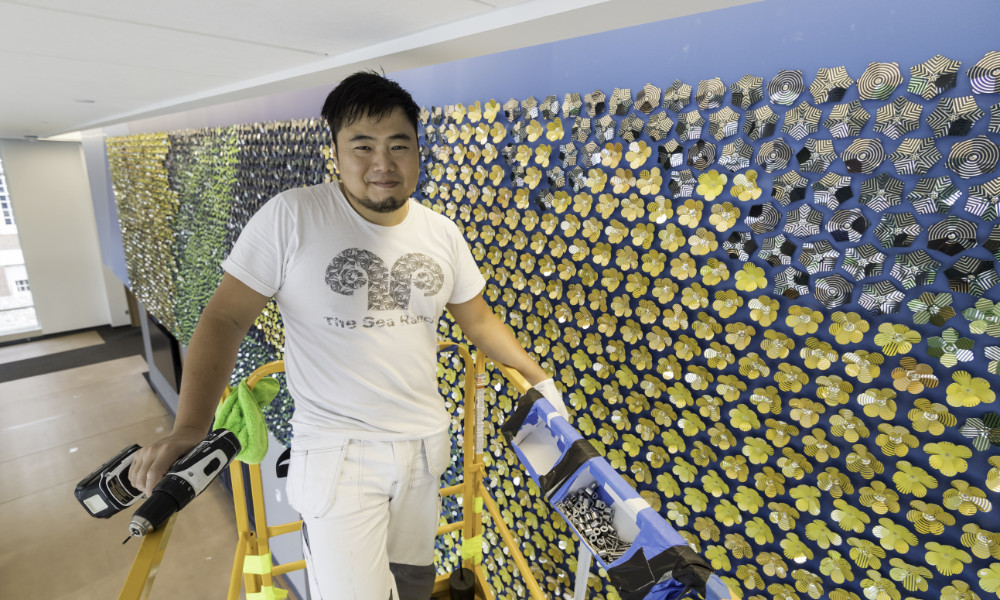 Mosaic graces walls of new River Campus performance space
Chinese American artist Jay Yan installed a mural made of nearly 8,000 mirrored discs in the University of Rochester's Sloan Performing Arts Center.
New poster exhibit documents urgency, complexity of HIV/AIDS messaging
On display at the Memorial Art Gallery through June 19, the first major exhibition of the University's AIDS Education Posters highlights the role of poster art during the global epidemic.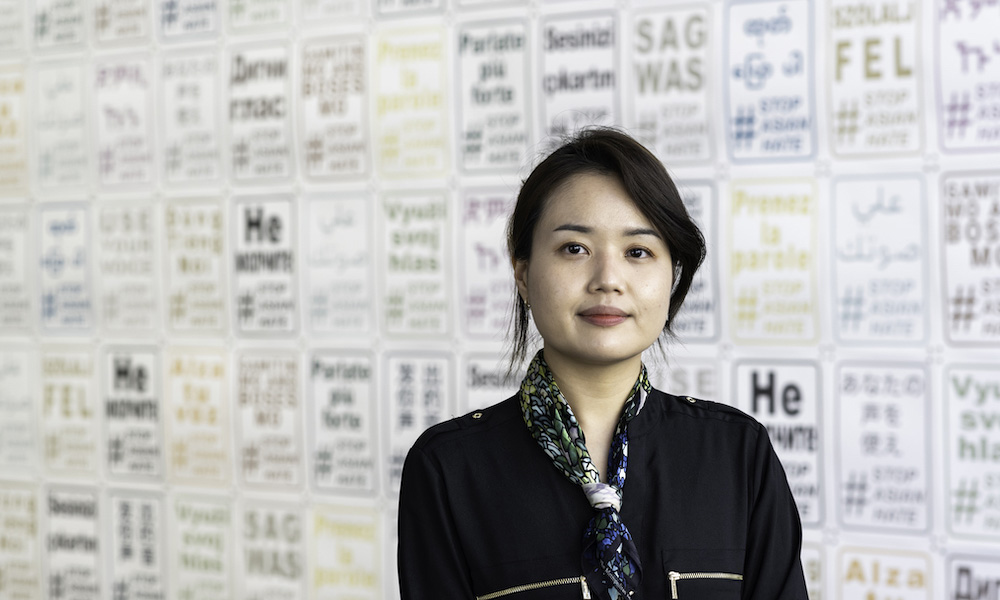 Artist Mizin Shin inspires change with printmaking
To combat anti-Asian hate, the Rochester professor has harnessed her love of a traditional art form combined with a digital sensibility.
Category: The Arts