Several faculty members at the University of Rochester have been appointed to named professorships.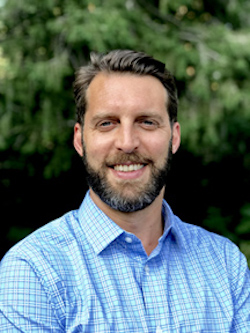 Rudi Fasan, a professor of chemistry, has been appointed as the Andrew S. Kende Professor in Synthetic Organic Chemistry.
Fasan's lab focuses on the design, development, and investigation of novel chemobiosynthetic and chemoenzymatic strategies for the synthesis and discovery of biologically active molecules. The group develops novel chemical agents useful for probing cell signaling pathways and controlling biomolecular interactions implicated in cancer and other diseases.
Since the start of his independent career at Rochester, Fasan's work has resulted in over 60 peer-reviewed publications in top-tier chemistry journals, including the Journal of the American Chemical Society, Angewandte Chemie, Nature Chemical Biology, and ACS Catalysis, and has led to the filing of more than 10 patents.
Fasan joined Rochester's Department of Chemistry in 2008 after earning a BS degree from the University of Padua (Italy) and a PhD from the University of Zurich and completing a postdoctoral experience as a Swiss National Science Foundation fellow in the laboratory of 2018 Nobel Laureate Frances Arnold at the California Institute of Technology. He has earned numerous awards, including the 2007 Friedrich-Weygand Outstanding Graduate Research Award and the 2014 Tetrahedron Young Investigator Award in Bioorganic and Medicinal Chemistry, and his research has been supported by grants and awards from the National Institutes of Health, the National Science Foundation, and the Leukemia and Lymphoma Society.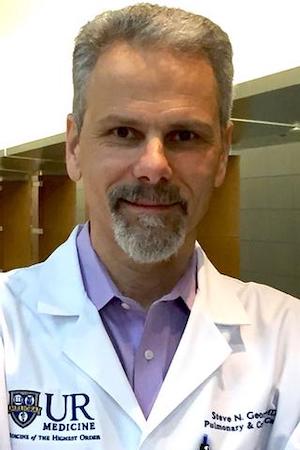 Steve Georas, a professor of medicine, was appointed as the Walter & Carmina Mary Parkes Family Distinguished Professor. He retains his joint appointments as a professor of environmental medicine and of microbiology and immunology.
Georas is board certified in both pulmonary and critical care medicine and has been caring for patients with a variety of acute and chronic lung diseases for more than 20 years. He directs a research group investigating mechanisms of immune cell activation in the lung, with an emphasis on maladaptive immune responses in asthma. His research has been supported by the NIH and private foundations, with current studies aimed at developing new tests for epithelial barrier dysfunction in asthma.
Georas serves on editorial boards for several journals and has chaired study sections for the NIAID and NHLBI. He has been published in the Journal of Immunology, the American Journal of Respiratory and Critical Care Medicine, Journal of Clinical Investigation, and the Journal of Experimental Medicine.
After earning a BS in applied mathematics and biology and an MD from Brown University, he completed an internship and residency in internal medicine at Duke University, followed by a fellowship in pulmonary and critical care medicine at Johns Hopkins University.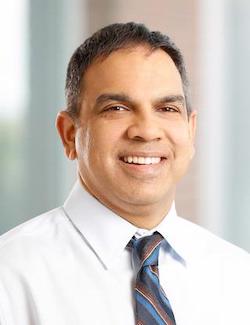 Nimish Mohile, an associate professor of neurology and oncology, has been appointed by as the Ann Aresty Camhi Professor in Neurology.
Mohile's research focuses on improving and extending the lives of patients with primary brain tumors. He is interested in collaborating with basic scientists to develop and test novel therapies for the treatment of the most common type of malignant brain tumor, glioblastoma, and is currently the principal investigator of several clinical trials at Rochester. Mohile has worked to develop nationally instituted quality measures and treatment guidelines for glioblastoma in addition to leading projects related to palliative care, caregiver burden, quality of life, and tumor-related epilepsy. His work has been published in the Journal of Clinical Oncology, Neurology, and Neuro-Oncology, among other publications
A board-certified neurologist with specialty training in neuro-oncology, Mohile sees patients with primary and metastatic brain tumors and he also provides neurologic consultative care to patients with cancer. Under his leadership, the neuro-oncology program has grown to serve a large area throughout upstate NY and achieved national prominence with a robust clinical trials program, multidisciplinary care, and an active fellowship program.  He has mentored numerous medical students, graduate students, residents, and fellows to enter the field of neuro-oncology and has received both local and national awards for teaching and mentoring.
Mohile joined the Rochester faculty in 2007 after completing his residency in neurology at Northwestern University and a fellowship in neuro-oncology at Memorial Sloan-Kettering Cancer Center. He currently serves as the associate chair for faculty development in the Department of Neurology, where he leads diversity initiatives, faculty mentoring, and leadership programs.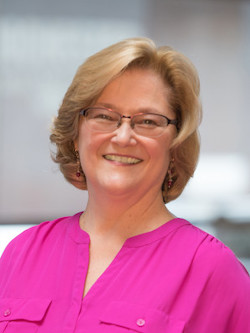 Elizabeth Marvin '89E (PhD), a professor of music theory the Eastman School of Music, has been appointed as the Minehan Family Professor. She retains her joint appointment as professor of brain and cognitive sciences in the School of Arts & Sciences.
Marvin's research focuses on music cognition, including the study of cognitive differences among musicians, non-musicians, and absolute-pitch listeners; pedagogical implications of music-cognitive research; comparisons between language and music processing; and, more recently, music and medicine.
Marvin's articles on music analysis, theory pedagogy, and music cognition appear in Music Theory Spectrum, Journal of Music Theory, Music Perception, Psychology of Music, and Journal of Music Theory Pedagogy, among others. She is coauthor of three textbooks, The Musician's Guide to Theory and Analysis, The Musician's Guide to Fundamentals, and The Musician's Guide to Aural Skills.
Marvin is a past president of the National Society for Music Theory and the Music Theory Society of New York State; she is a former chair of the Music Theory Department and former dean of academic affairs at Eastman. In 2013, Marvin was awarded the Gail Boyd de Stwolinski Prize for Lifetime Achievement in Music Theory Teaching and Scholarship. In 2018, she was awarded Eastman's first Diversity Award for her efforts on behalf of diversity at the Eastman School and in the discipline of music theory at large.
Before earning her PhD in music theory at Eastman, she received a bachelor of music degree from the College of Wooster.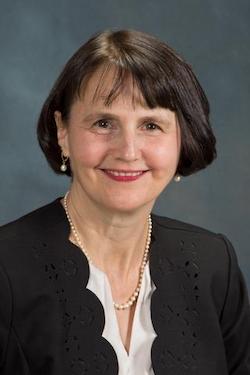 B. Paige Lawrence, chair of the Department of Environmental Medicine, has been appointed as the Wright Family Research Professor. Lawrence retains her joint appointments as professor of environmental medicine and of microbiology and immunology. She is also the director of the Environmental Health Science Center.
Lawrence's research addresses ways to improve human health, and how our environment influences our health. Much of her work focuses on the impact of pollutants on the ability to fight infections, such as influenza viruses. She also investigates how signals from the environment affect proper development in early life, and how these developmental changes adversely impact health later in life.
In addition to authoring chapters in six books, Lawrence has published nearly 80 articles in scientific journals including The Journal of Immunology, Environmental Health Perspectives, and Toxicological Sciences, and several papers from her lab have received awards. She is a member of the Society of Toxicology, American Association of Immunologists, and American Association for the Advancement of Scientists, and currently serves on the editorial boards for several journals. In 2017, she was elected as a fellow in the American Association for the Advancement of Science, and earlier this year she became a fellow of the Academy of Toxicological Sciences. She provides peer review service to the National Institutes of Health, National Academies of Sciences, Engineering and Medicine, and other organizations and agencies, and has received several different mentoring awards.
Lawrence was recruited to Rochester from a faculty position on the west coast in 2006. She earned her PhD in biochemistry from Cornell University and received specialized training in immunology and toxicology during a postdoctoral fellowship at Oregon State University. She received a BA in biology and chemistry from Skidmore College.
Category: University News