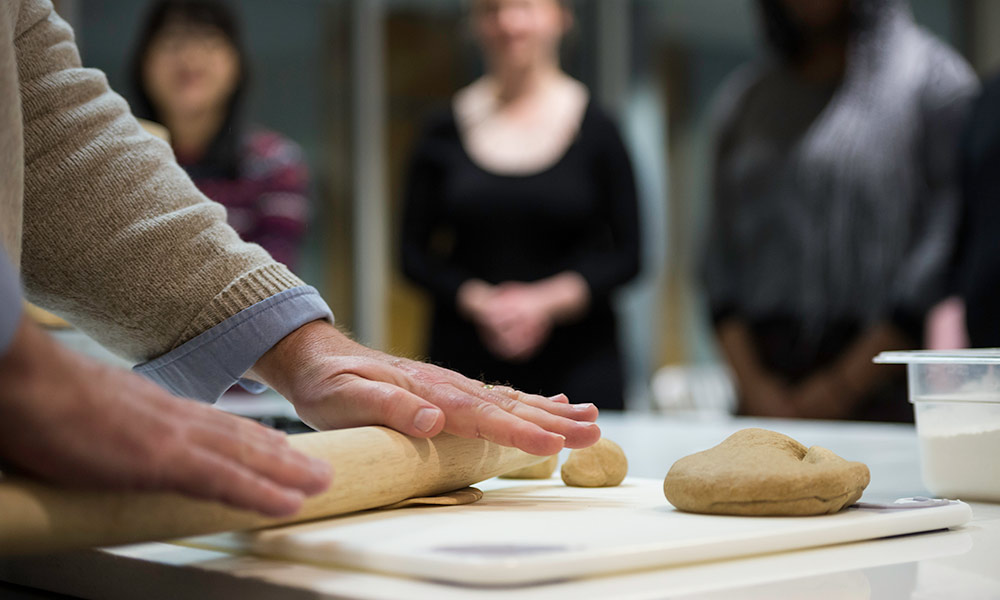 For many faculty members, summer is an especially important time for research. For some scholars in fields such as anthropology and linguistics, research is conducted living and working among people in different communities. Sometimes those communities are close to home, and other times far away from the University of Rochester, both geographically and culturally.
Researchers such as Timothy Dye—a medical anthropologist and social epidemiologist at the Medical Center with an appointment in the Department of Obstetrics and Gynecology—and Nadine Grimm, an assistant professor of linguistics who specializes in African languages—have conducted field research in remote communities where a key component of their work is gaining the trust of the people there.
There are many dimensions to gaining that trust, but among the most basic involves the sharing of food.
Dye recalls his first real-life lesson in the importance of eating local foods while working in remote communities. He was in the Kashmir region of the Himalayas about 30 years ago conducting surveys about diarrhea in the village children. After entering the first house, he turned on his tape recorder and began asking family members questions about their beliefs about the causes of the diarrhea and their treatments. But the interview was not going particularly well.
"A woman ladled some chai into a metal cup and handed it to me. Sanitation was a huge issue in the village, so naturally I wondered about the milk and water that were mixed into the tea," says Dye. "But I remembered a basic rule about doing field research in anthropology, which requires us to accept any offering of food or drink, lest we offend someone and risk an entire research project."
Dye drank—then gulped—the warm tea, which he found to be rich and creamy, as well as satisfying in the cold, high-altitude environment. At that point, everyone broke into a more natural conversation, leaving the research questions for another—and more successful—day.
"For some communities, eating certain foods means that you're a part of that nationality," says Dye. "If you drink chang, a type of homemade beer in Tibet, it's said you're Tibetan."
Depending on where he is working, Dye's diet has included, in addition to chang, snakes, wildebeests, insects, giraffes, and bats.
Nadine Grimm, who has studied languages in remote areas of South America and Africa, has enjoyed a similarly wide palette, which has included, for example, monkey and python.
"Eating local foods makes it easier to connect with indigenous communities," she says. "Once they offer me food, I feel accepted, which makes it easier to do my research."
It isn't just the culinary choices that are different in these remote communities; it's also the attitudes some cultures have toward food—and that includes the Bagyeli Pygmies, who are hunter/gatherers.
"For the Bagyeli Pygmies, the entire day is preoccupied with how they'll get food," says Grimm. "Sometimes they're unlucky and don't have enough food for themselves, let alone for a guest, which is why I stay in a nearby town and limit my meals with them."
Because the availability of food varies greatly with the Bagyeli, dining with the community takes on added significance. "They gradually offered me better food items," she says, "starting with steamed bread fruit and working their way up to wild meat."
Eating local—globally
"Eating local" in much of the United States is, of course, a trend more often than a necessity. It's a trend that's captured the interest of many college students, including at Rochester.
This past semester, Dye and Grimm shared with undergraduate students some of their thoughts and experiences about eating locally—globally—over a cooking and eating demonstration incorporating a couple of their favorite foods from Tibet and from Swahili-speaking regions of Africa.
Maandazi (Cardomom doughnuts)
Ingredients
4 cups flour
1/2 cup sugar
1/2 tsp. baking soda
1 Tbsp. yeast
1 tsp. cardamom
1.5 cups coconut milk
1 Tbsp vegetable oil
 Oil for deep frying
Method
Combine dry ingredients in bowl
Add coconut milk and mix thoroughly
Knead 8-10 minutes, adding oil as you go
Divide dough into 6 large balls, roll each ball into circles about 1⁄2 inch thick, then cut each circle into four triangles
Let dough rise for about 1 hour in a cool, dry place
Deep fry triangles until golden brown.
Chai ya maziwa (Milk tea)
4 cups of whole milk
1 cup of water
1 tsp. whole black peppercorn
1/2 tsp. or 9 whole cloves
1 long cinnamon stick (about 4 inches)
1 tbsp. whole cardamom pods (opened a bit)
1 tbsp. minced ginger
4 tbsp. sugar or to taste
4 tea bags or 1½ tbsp. loose black tea leaves
Mix all ingredients except tea and milk in a big pan and boil for 6-12 minutes.
Add milk and tea.Use medium heat so the milk won't get scalded.
Boil while stirring, for 2 minutes, then serve.
Category: Society & Culture