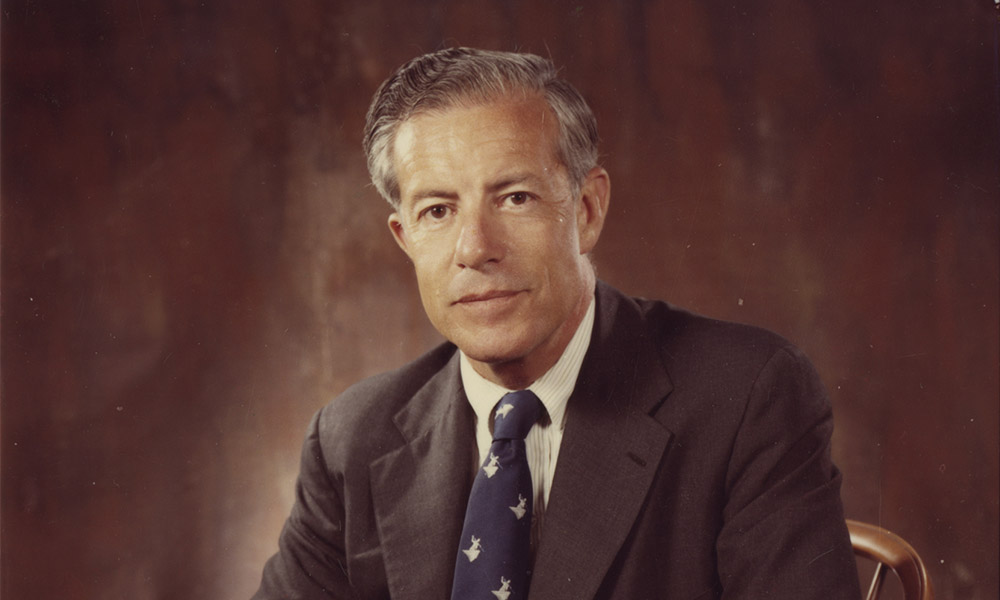 George Angle, a longtime University administrator and supporter, died December 28 at age 94.
Angle, a lifelong resident of Rochester, joined the University in 1963 as associate treasurer. He became vice president for business affairs in 1970 before being promoted to vice president for public affairs in 1971—a position in which he directed advancement, public relations, and government and community relations efforts for the University. He was named senior vice president in 1987. He retired in 1989, committing himself to supporting several community causes.
Paul Burgett, vice president, senior advisor to the president, and University dean, recalls Angle's longstanding service to the University.
"George was a man of patrician sensibilities—elegant and refined, thoughtful and gracious always," Burgett says. "His life was full and rich, and the University of Rochester is a better place because of his long and abiding service."
Angle, an avid rower and a member of the University's Athletic Hall of Fame, inspired, advised, mentored, and supported Rochester's rowing program since 1981. Known as the "father of UR Crew," Angle cofounded the Head of the Genesee Regatta in 1989. The George M. Angle Trophy, which honors Angle's devotion to the Yellowjackets' crew program, is presented annually to the Men's Open Eight Champion.
He also was an ardent supporter of the Memorial Art Gallery, serving on the board of managers from 1959 until 1987 and as the board's president from 1966–68. He served on many MAG board committees, including as chair of the Government Affairs Committee. Angle and his wife, Vee, were longtime members of the Director's Circle.
Angle was also devoted to early childhood education, supporting the Rochester Area Community Foundation's Rochester's Child program, which promotes early care and education for Monroe County's most vulnerable children.
Angle earned his undergraduate degree from Harvard College in 1943. He served in the U.S. Naval Reserve during World War II—including two years stationed on a destroyer in the Pacific theater. He received an MBA from Harvard Business School after the war, in 1948.
Prior to joining the University, Angle was executive vice president of J. Nelson Prewitt Inc. and vice president of Genesee Valley Union Trust Co.
Angle is survived by his wife of 68 years, Alva (Vee) Hood Angle. He is also survived by his four children, 11 grandchildren, and 4 great-grandchildren.
A memorial service will be held at 11 a.m. Friday, January 6, at Christ Episcopal Church, 36 S. Main St. Pittsford. In lieu of flowers, contributions may be made to University's Rowing Program, Office of Gift & Donor Records, 300 E. River Road, P.O. Box 270032, Rochester, NY 14627 or Rochester's Child, The Community Foundation, 500 East Avenue, Rochester, NY 14607. Read Angle's obituary from the Democrat and Chronicle.
Category: University News