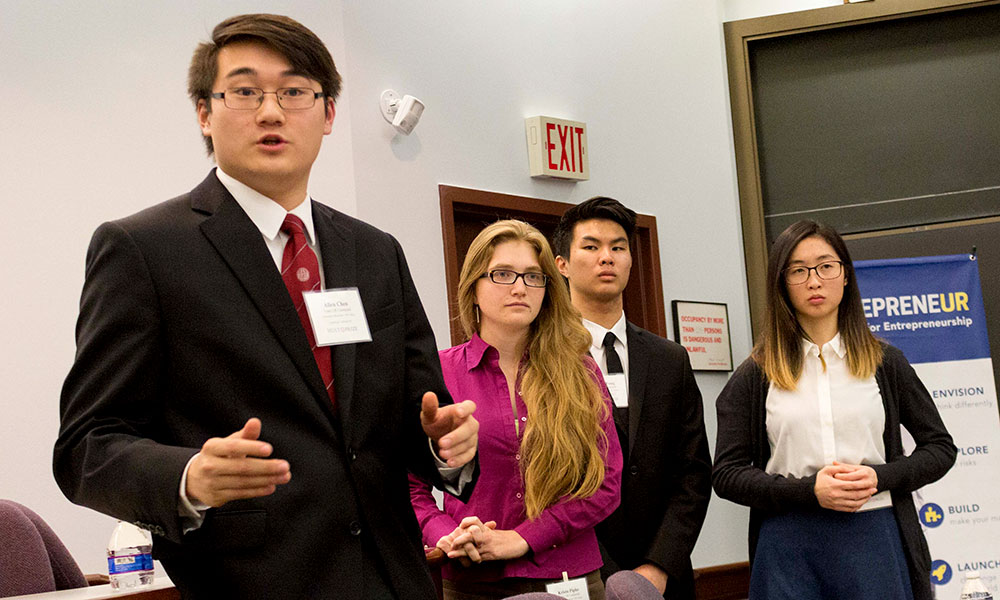 Four student teams representing the College and the Simon Business School will compete this month in regional semifinals for the Hult Prize, the world's largest social entrepreneurship contest.
First prize is $1 million in seed capital, presented by former president Bill Clinton at the United Nations in September.
Last year, four University international students comprised one of the final eight teams out of more than 50,000 applicants. This year, more than 100,000 teams applied worldwide.
This year's Hult Challenge, selected by President Clinton, is: "Harnessing the power of energy to transform the lives of 10 million people."
"The Ain Center for Entrepreneurship is excited to support the four Rochester teams," says Ain associate director Natalie Antal. "The interdisciplinary nature of each team will certainly be an asset as the competition is especially fierce this year."
Here's a look at the four teams competing in the regional semifinals this month:                    
Plate Technologies
Plan: To provide an alternative to open-fire cooking to populations in developing nations—portable stoves powered by renewable energy sources.
Members: Dilshawn Gamage '19 (biomedical engineering; data science), Annamarie Forestiere '18 (business; music), Nicholas Cheng '18 (financial economics; psychology), and Chase Lindemann '19 (physics; economics).
Competing in: Dubai, March 9-10
Surya
Plan: To provide low-cost rechargeable battery banks that will power a household for two weeks to populations without access to electricity.
Members: Dhivya Vijayakumar '18S (MBA) (competitive strategy; finance), Swapna Kale '18S (MBA) (business system consulting), Vidushi Pandit '18S (MBA) (computers and information systems), and Fahad '18S (MBA) (finance and operations), who goes by one name.
Competing in: Toronto, March 9-10
UR Connected
Plan: To create a wearable assistive technology that aims to improve self-care and social interaction among isolated elderly populations in developed nations.
Members: Allen Chen '19 (neuroscience), Hetince Zhao '18 (biomedical engineering), Isaac Wong '19 (computational biology; computer science), and Krista Pipho '18 (cell and developmental biology).
Competing in: Singapore, March 16-17
Ubuntu
Plan: To bring the nano-membrane toilet, which harnesses the power of renewable energy and can treat human waste on-site without external energy or water, to households in emerging markets such as China, Mexico, and South Africa.
Members: Xueying Chen '19 (international relations; business), Mario Daza Paez '19S (MBA), Alejandro Tapia Mancera '19S (MBA), and Tanur Madaree '19S (MBA).
Competing in: Boston, March 9-10
Category: Student Life