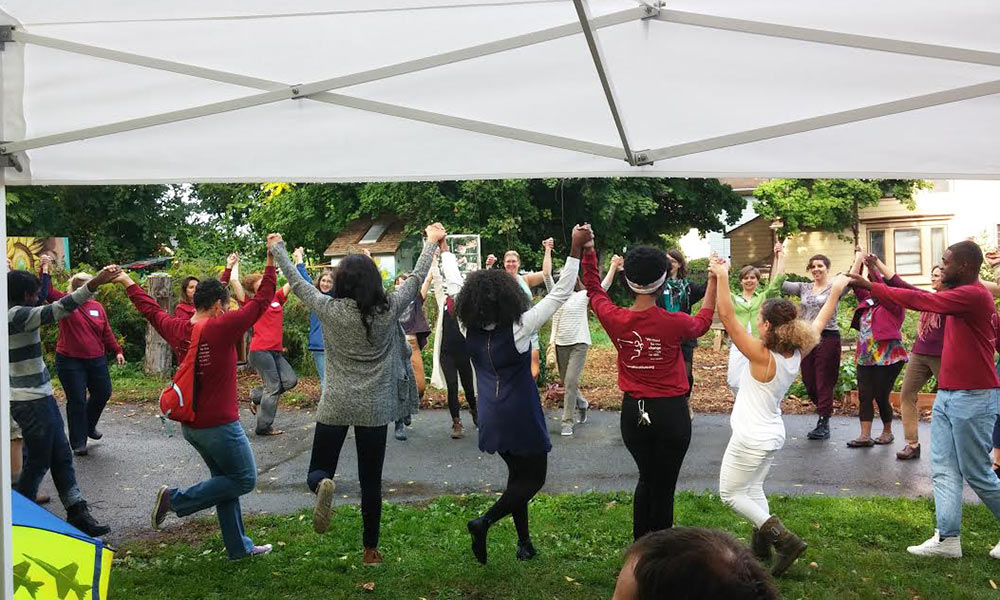 The University of Rochester-affiliated Gandhi Institute for Nonviolence has introduced its newest project in response to the recent uptick in hate crimes. Youth Healing Hate: Remedies for Fear and Hostility aims to address core issues in the Rochester community and society at large through youth projects. These projects will use art, technology, dialogue, and more to bridge the misunderstanding that leads to hateful rhetoric and actions.
This initiative will provide grants of up to $1,000 for 11 local youth teams. The participating projects, listed below, vary widely in design from a refugee cultural fair to a youth-police talent show to community mural paintings. Each team is responsible for developing, managing, and implementing their own project.
"This project is intended to address the root causes of hate and incivility," says Kit Miller, director of the institute, located at 929 South Plymouth Avenue. "We hope it inspires other communities to turn their youth loose on problem solving too."
Miller pays tribute to the inspiration for this program, Dr. Howard Thurman, a mentor of Martin Luther King Jr. and an alumnus of the Colgate Rochester Crozier Divinity School.
"He wrote about the dangers to a society when hatred becomes respectable," Miller says.
The funding for these grants is sponsored by the Farash Foundation, which provides grants to community organizations in Monroe and Ontario counties.
Remedies for Fear and Hostility recipients
"The Common Box," designed by Hadassha Rivera, is an interactive workshop that aims to bring together individuals from diverse backgrounds and find common ground.
"ROCKidsCONNECT," designed by Griffin Cross, is a student exchange program between high school students from the Pittsford Central School District and an urban Partnerships to Uplift Communities (PUC) charter school to help students develop a deeper understanding of the racial and socioeconomic diversity in the Greater Rochester community.
"Collaborating to Connect," designed by Maya Waller, hopes to bring Rochester City School District students and police officers together to paint murals.
"Project Awareness," designed by Malik Jaff and Thomas Cuyler, is a research project that uses GIS technology to map and catalogue the physical locations of hate crimes against Muslims.
"Painting Peace," designed by Latina Chatman, Gina Verdin, and Kyle Skovira, will organize a peace march and mural painting.
"MCC Upward Bound Police Civilian Talent Slam," designed by Isabel Hernandez, is a talent show that brings together contestants from both police and civilian backgrounds.
"Peers to Peace," designed by Kaiya Thomas, is a series of interactive workshops that aim to heal hostility between African American and Latino students.
"Hate Fears Love: An Open Hearted Exploration," designed by Kasim Wallace, aims to publish four monthly magazine issues that investigate the history of social topics within Rochester.
"Art Shakedown," designed by Gianina Spano, is an interactive community event that aims to promote peace and unity through mural painting, a drum circle, and meditation.
"Peace and Love," designed by Iyanna Davis and Laura Jean Drake, will work with 6th grade teachers to address bullying by tie-dyeing t-shirts with positive messages for their students.
"Social Justice Theater," designed by Robert Ricks and Tayalsia Smith, will produce two theatrical performances that address bullying in school and promote pride in African-American history.
Category: Society & Culture