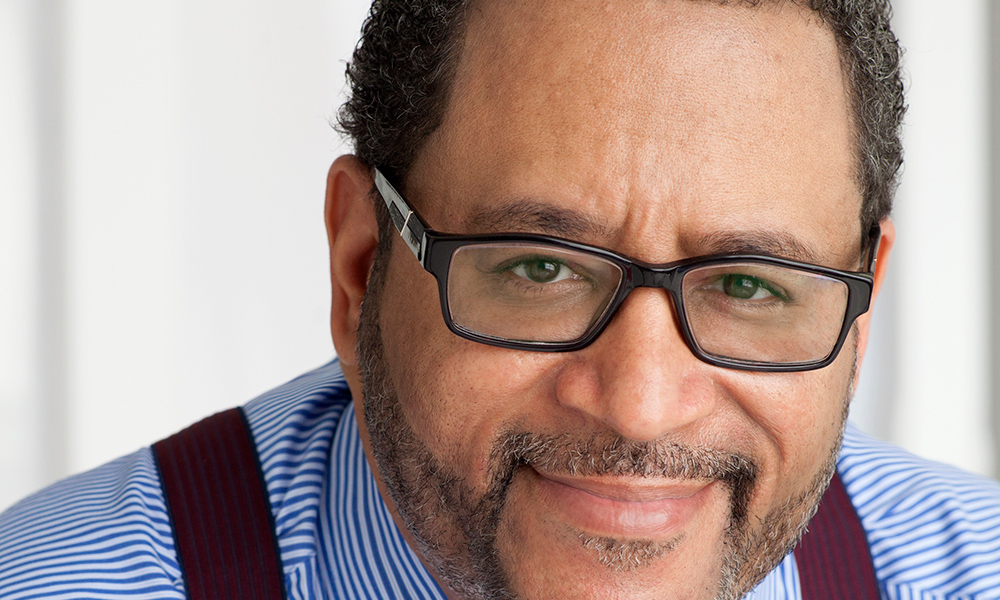 Michael Eric Dyson, an author, political analyst, and Georgetown University sociology professor, will be the keynote speaker for an event at the University of Rochester in March.
Dyson will speak on Thursday, March 19 at 6 p.m. at Strong Auditorium on the River Campus. The event is free and open to the public. Seating is limited; tickets must be reserved at http://www.rochester.edu/michaelericdyson
Dyson is the fourth speaker in the series Difficult Conversations as a Catalyst for Change, presented by Donald Hall, the University's Robert L. and Mary Sproull Dean of the Faculty of Arts, Sciences & Engineering. The series strives to broaden the perspectives of University students, faculty, staff, alumni, and friends. Previous guest speakers include Kareem Abdul-Jabbar, Angela Davis, and Madeleine Albright.
Dyson's talk is titled "In Caricature: Racial Profiling and its Impact on Black America." He previously appeared at the University as the 2012 Martin Luther King Jr. Commemorative speaker.
Dyson has authored or edited more than 20 books on race and race relations in the United States, and on figures including Malcolm X, Martin Luther King Jr., Barack Obama, Bill Cosby, Marvin Gaye, Jay Z, and Tupac Shakur. He is also a New York Times contributing opinion writer and has appeared on MSNBC, CNN, National Public Radio, and HBO's Real Time with Bill Maher.
Author Naomi Wolf calls Dyson "the ideal public intellectual of our time," while Philadelphia Weekly named him "the most visible black academic of his time."
Nobel Prize-winning author Toni Morrison called his 2017 book, Tears We Cannot Stop: A Sermon to White America, a work of   "moving personal recollections; profound cultural analysis; and guidance for moral redemption."
Dyson became an ordained Baptist minister at 19 and, after working in factories in his native Detroit to support his family, entered Knoxville College in Knoxville, Tennessee at 21. He graduated from Carson-Newman College (now University) in Jefferson, Tennessee, in 1985 and received his master's and doctoral degrees in religion from Princeton University.
Dyson will meet with University student leaders prior to his speech at Strong.
Category: University News