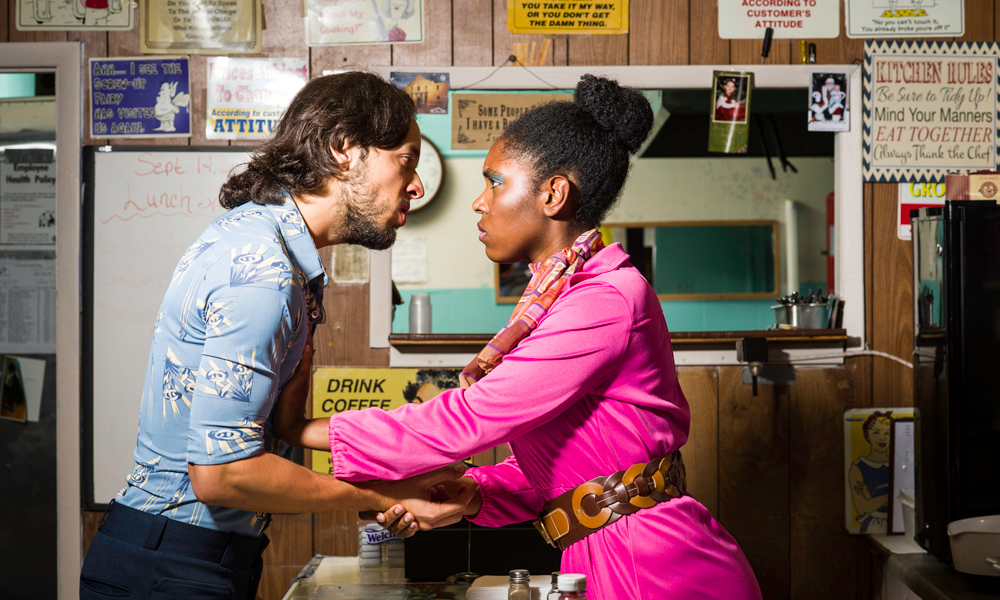 University of Rochester International Theatre Program open's 27th season with Obie Award-winning drama
When a small, sleepy New Mexico diner is visited by a fugitive couple, locals and visitors have their lives upended and their dreams and inner desires confronted.  Opening the University of Rochester International Theatre Program's 27th season, Mark Medoff's When You Comin' Back, Red Ryder? explores the myths of American manhood and heroism with brutality, humor, and nail-biting suspense. Directed by Nigel Maister, the Russell and Ruth Peck Artistic Director of the International Theatre Program, the production opens October 6 in the River Campus's Todd Theater.
When You Comin' Back, Red Ryder?, Medoff's first play to appear on a New York stage, opened on November 4, 1973, at Circle Repertory Company.  Dealing with American malaise in a post-Vietnam era of global uncertainty, the world of the play—though steeped in its original '70s milieu—dovetails remarkably closely with the current electoral season that has raised questions about America's sense of itself, its relationship to upward mobility and rural stagnation, and its sense of a recalibration of the American Dream.  With a galvanizing, charming, yet terrifying protagonist who shatters the inertia of the other characters in surprising and chilling ways, Red Ryder is a thrilling tale of self-actualization, and a bravura act of theatrical storytelling.
A Tony and Olivier Award-winning playwright and cofounder of the American Southwest Theatre, Mark Medoff established a career that spans theater, film and television, and radio.  After receiving his BA from the University of Miami and his master's from Stanford University, Medoff won an Obie and Drama Desk Award for Red Ryder in 1974.  His most well-known work, Children of a Lesser God, secured his reputation, winning a Tony, Drama Desk, and Laurence Olivier Award.  Both Red Ryder and Children were made into movies (with Children receiving an Oscar nomination, amongst other accolades). Medoff's screenplays include Clara's Heart (with a young Neil Patrick Harris) and City of Joy.
The first of four modern and contemporary plays in a season dedicated to American drama, the production is the latest to be directed by Maister, whose extensive credits in leading the Rochester program include works by contemporary playwrights, new play commissions, musicals, works by Shakespeare, and last season's acclaimed new "musical" version of Brecht's Mother Courage and Her Children. His work outside the University includes productions and performances at Carnegie Hall, the Lincoln Center Festival, and the Metropolitan Museum of Art. Maister is also a founding member and the resident staging director of the acclaimed new music ensemble, Alarm Will Sound.
The production's set and costume design is by Marsha Ginsberg whose previous International Theatre Program credits include The Puzzle Locker, The Lower Depths, and Adding Machine, a musical. The lighting design is by Thomas Dunn (recipient of the 2009 Kevin Kline Award for Outstanding Lighting Design).  Sound design and original music are by Obadiah Eaves whose work has appeared on Broadway in The Country House, Shining City, The Assembled Parties, amongst others.  Fight direction is by J. David Brimmer, whose choreography has been seen on Broadway in Spring Awakening, Long Day's Journey into Night, Speed the Plow, and many other productions.
When you Comin' Back, Red Ryder? opens on October 6. The production runs Thursday though Saturday (October 6-8) and Wednesday to Saturday (October 12-15) at 7 p.m. There are 2 p.m. matinee performances on Saturday and Sunday (October 8 and 9). All performances take place in Todd Theater on the University of Rochester's River Campus. Tickets are $8 for University of Rochester students, $12 for alumni, faculty, staff, and for seniors (65+), and $15 for the general public. The series is recommended for adult audiences only.
Tickets may be purchased online at www.rochester.edu/theatre, or by calling the box office at (585) 275-4088.  Tickets may also be purchased up to an hour before each performance at the box office.
Category: The Arts