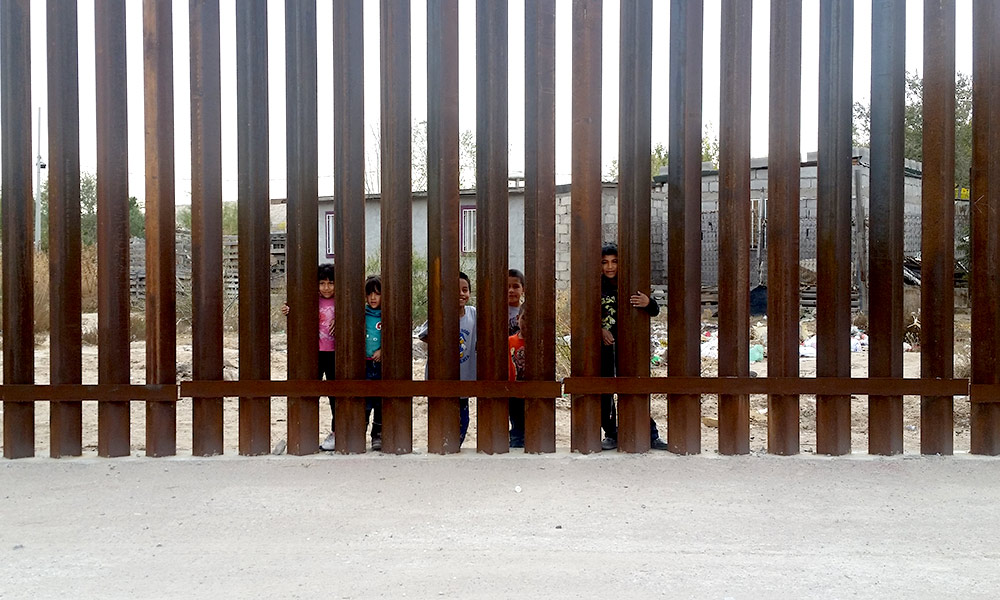 Growing up in El Paso, Texas, Ruben Flores didn't think of the US and Mexico as different countries. "I knew it, intellectually," he says, but as someone with family on each side of the border, his personal connection with both places made them inseparable in his mind.
Today Flores is a comparative historian, and he has devoted his professional life to exploring their relationship. The focus of his research and teaching is intellectual history and the role that ideas—about science, education, philosophy, and government—have played in both countries, in the lives of average people.
"If you can understand why the US and Mexico have historically evolved as they have, then it gives you a better sense of the kind of decision-making that has created these two sister societies sitting side by side," he says.
Flores joined the University of Rochester's faculty this year, as an associate professor in the Department of History. He received his PhD at Berkeley and is the author of the book Backroad Pragmatists: Mexico's Melting Pot and Civil Rights in the United States (University of Pennsylvania Press, 2014). It's a study of how Mexico rebuilt itself following the Mexican Revolution (1910–1920), which established a constitutional republic. The violent conflict claimed the lives of up to eight percent of Mexico's population, double the mortality rate of the Civil War in the United States. Flores also examines in the book how Mexico's strategies for nation-building influenced the civil rights movement and politics of the US.
Key in Mexico's efforts was public education, which the country used to knit together its diverse population. Mexico thereby confronted questions pertinent to the US, too: what social value do schools have? How do they contribute to creating a national community? "Intellectually, academically, we're teaching our students how to become thinkers," says Flores. "But when it comes to ethics and the philosophy of society, we wrestle with difference, with culture, and with resources."
On February 27, he will moderate a conversation with renowned novelist Valeria Luiselli, the third speaker in this year's Humanities Center Public Lecture Series, dedicated in 2019­–20 to the theme of communities.
Born in Mexico City in 1983, to a family from Italy, Luiselli was raised around the world—her father's diplomatic career kept the family on the move. She merged her cosmopolitan upbringing and her literary drive when she earned a PhD in comparative literature at Columbia University; she currently lives in New York City. The New York Times named her most recent novel, Lost Children Archive (Knopf, 2019), one of the best books of 2019. It's a family road-trip novel, its story set against the backdrop of the US-Mexico border crisis. Among Luiselli's other books is Tell Me How It Ends: An Essay in 40 Questions (Coffee House Press, 2017), a reflection on her experience as a court translator for Latin-American child refugees.
As a historian of the US-Mexico relationship, Flores is well-versed in the issues surrounding migration. He sees them thoughtfully illuminated in Luiselli's work, sometimes directly and sometimes (as in Lost Children Archive) more elliptically. Flores regularly teaches novels about border experiences in his courses. The role of the novelist is to confront people with art, he says: "To put art before us. And to confuse us so that we work our way out of the confusion, leading to an insight that we hadn't thought of before."
Lost Children Archive's experimental construction raises important questions about the act of witnessing migration, says Flores. He believes that the book's collage-like structure suggests that one must document the world to write about it, and how one documents it determines what one sees. "I think that could be one of the ultimate questions about the flow of people from Mexico," Flores says. "We can't know what's in the mind of each individual, but without knowing more, we can easily stereotype them—and Luiselli is pointing to the danger of doing that."
The challenges of the US-Mexico relationship are only going to intensify, he says. "Society is changing very quickly—faster now than it ever has—and that has consequences for economics and migration, for who gets resources and who doesn't." Understanding each other is essential. And without addressing the problem of poverty, there's little hope of a structural solution to the movement of people, he says.
"It's in our best interest to make sense of the US and Mexico as places that receive and places that send—that goes for both countries," he says. "That's going to be the only way out of the kind of North American tragedy that we have created."
______________________________________________________________________________________________________
Migration Stories in the American Border Crisis
Valeria Luiselli
February 27, 5 p.m.
Interfaith Chapel
Free and open to the public
This talk is part of the 2019–20 Humanities Center Public Lecture Series, this year exploring the theme of communities.­
Valeria Luiselli is an acclaimed writer of fiction and non-fiction. She is the author of Faces in the Crowd, Sidewalks, The Story of My Teeth, Tell Me How It Ends: An Essay in Forty Questions, and, most recently, Lost Children Archive. Born in Mexico City and raised in South Korea, South Africa, and India, Luiselli now lives in New York City and holds a doctorate in comparative literature. She is the winner of two Los Angeles Times Book Prizes and an American Book Award, and she has twice been nominated for the National Book Critics Circle Award and the Kirkus Prize. She has been a National Book Foundation "5 Under 35" honoree and the recipient of a Bearing Witness Fellowship from the Art for Justice Fund.
Category: Society & Culture