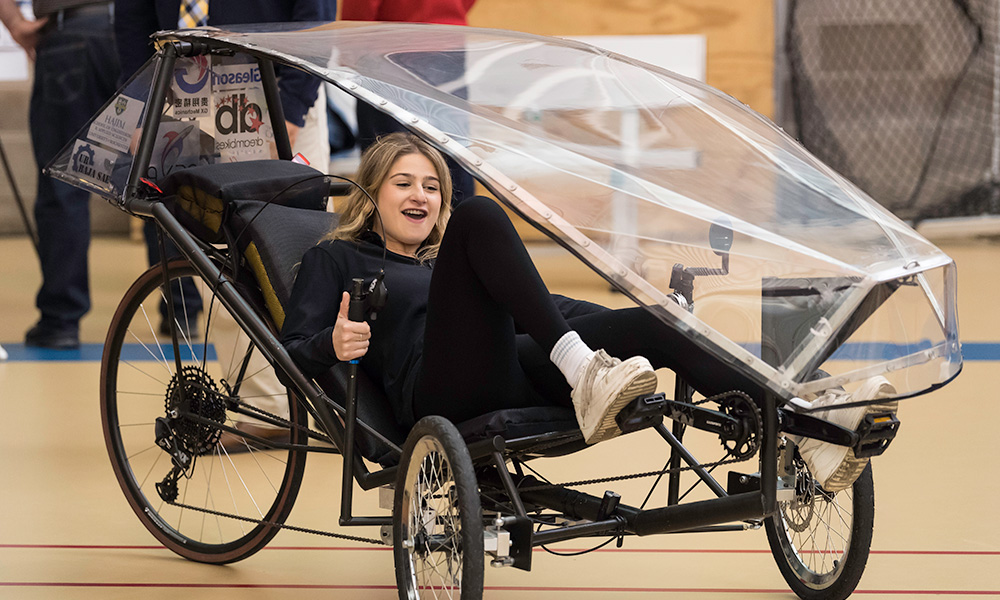 Making Their Mark is a Newscenter series of profiles celebrating members of Rochester's graduating class of 2019.
Most of the competitive engineering design teams at the University of Rochester — Baja SAE and Solar Splash, for example — are fully fledged clubs that students can join as early as their first year on campus. The teams work all school year designing and manufacturing a new off-road vehicle or solar-power boat for spring competitions against other universities.
The Human Powered Vehicle Challenge (HPVC) team in the Department of Mechanical Engineering compresses all that work into three months or less.
That's because HPVC, now in its second year, is actually a senior design project — by design.
"This is a unique opportunity for engineers to compete outside the university," says Chris Muir, professor of mechanical engineering in charge of the department's senior design program. "There are clubs like Solar Splash and Baja [which Muir advises], but those are year-on-year clubs. If you're a double major in music, for example, you may not have the bandwidth to join one of those clubs, and by the time you're a senior, you've missed your opportunity to complete. So, this [HPVC] is an opportunity for that student."
So far, there's been no shortage of mechanical engineering seniors eager to join the team, which is limited to eight students each spring.
"It offers a wide range of opportunities in just one project," says Mira Bodek '19, this year's project manager for the team. "If you want to challenge the engineering skills you've learned in class, you can explore the challenges in drivetrain, or the structural analysis of the frame, or one of the other subsystems; if you want to coordinate a team project in a short time frame and meet competition deadlines, you can do the management side. You see a complete design from conception to completion, and then you get to compete with it."
"It's a project that really brings together everything we've been learning for the last four years," adds Obed Badillo '19, the lead frame engineer, who applied his skills with NX (an advanced computer assisted design, manufacturing, and engineering software program) and finite element analysis to design and test modifications. He also worked with Bodek on getting financial and in-kind support for the project. Support came from the University, from the American Society of Mechanical Engineers, from industry sponsors, and nonprofits. Baja SAE team members also contributed, helping with the welding and frame design.
As project manager, Bodek was also responsible for handling the logistics of entering the team in the E-Fest North ASME HPV Competition, which was held at Michigan State University in April.  The team was required to submit a 30-page design report in February and a video demonstrating the vehicle's safety features a week in advance of the competition. Bodek also was in charge of making sure everything else "hit all the checkboxes" associated with the competition.
It's a role she relishes. "I've always wanted to be able to zoom out from the nuts and bolts and explore the management side of a technical project. This has been my first opportunity," she says.
The team also includes Mohammed Alzahrani '19 (steering), John Billings '19 (chief engineer), Nicholas Lawlor '19 (drivetrain), Jordy Mendez '19 (aerodynamics/fairing), Timothy Schuler '19 (steering), and Zhenkun Wen '19 (aerodynamics/fairing). Laura Slane, an assistant professor of mechanical engineering, also worked with Muir and the team during the semester.
Based on the results from last year's competition, the team this spring:
Created a stronger frame
Built a lighter, see-through fairing (aerodynamic cover over the driver)
Redid the transmission and drive train for more power on inclines
Relocated the center of gravity farther back
"The vehicle is about 90 percent new," Muir says.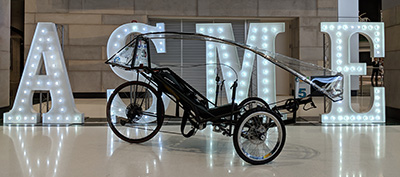 The University of Rochester vehicle in the lobby of the Gilbert Pavilion Building at Michigan State University during event registration. (Photo by Obed Badillo)
What are HPVs?
HPVs are aerodynamic vehicles, driven solely by human power, that use concepts from traditional bicycles to serve as efficient means of land transportation. HPVs focus on optimizing human strengths while compensating for human weaknesses.
The changes paid off. Fifty teams were entered in this year's competition, which included contests in best design, women's and men's drag racing, and a concluding endurance race. In just its second year of competing, the Rochester team came in 14th overall, compared to 29th last year. It finished especially strong in design (6th) and men's drag racing (19th).
"The team did a great job working the car through the weekend," Muir says. "There are always problems and things that you do not anticipate. They worked the problems as a team as they came up and kept themselves in it. I think they also had a lot of fun."
"One part that I think is unique with competition like this is the students are very willing to help one another — whether it is borrowing spare parts, tools or expertise, other teams are willing to help and share. It's a great experience."
Bodek, who will work for Deloitte Consulting in Boston after graduating this spring, says the project was a valuable learning experience. "As a project manager, I learned how to have a wide-scope perspective. If a small mistake is made, or you hit a roadblock, it's not worth it to try and place blame or get upset. Not only from a team morale perspective, but because there's just not enough time! Everyone is learning. Instead, the focus has to be on 'how can we work together to fix this' — and then move on."
"From an engineering perspective," she adds, she learned that "integration is so hard. We had people in charge of each subsystem, but making sure it all came together — that was the biggest challenge."
"I loved this project" says Badillo, who will work for OneWeb, a Florida company that produces and launches satellites for global communications, after graduation. "It's very hands on. You work in a team environment. In my opinion, it's one of the coolest projects for senior design."
---
More from Design Day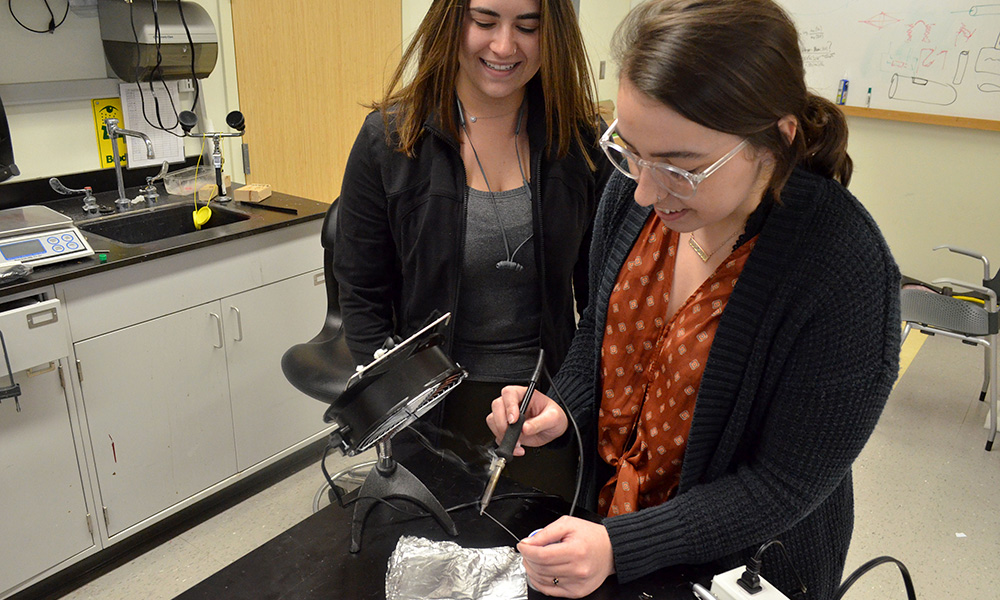 Students make assembly line more accessible for workers with disabilities
The graduating seniors behind THOR Designs are the first all-female engineering team to compete in a state-wide competition to bring assistive technologies to New Yorkers in the workplace.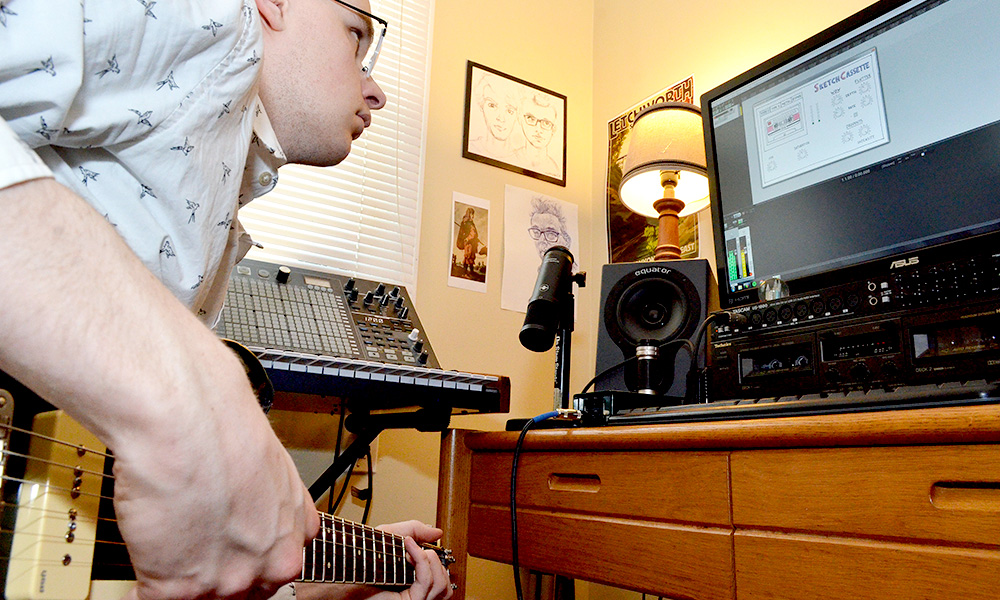 Adding a vintage feel to modern audio recordings
Warble. Wow. Flutter. A team of audio and music engineering graduates is bring back these irregular, low-fi sounds from four-track cassette recordings of the 1980s and '90s with a digital plug-in.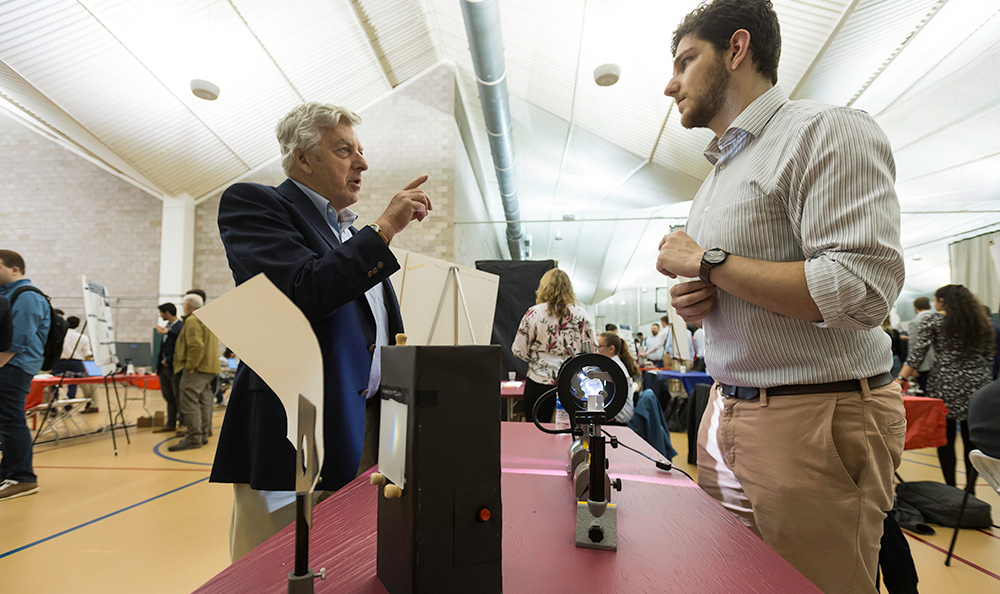 Translating Nobel-worthy science for a broad audience
For their capstone project, a senior design team has built a demonstration model for museum audiences of the Nobel Prize-winning laser technology developed by Rochester alumna Donna Strickland '89 (PhD).
Category: Student Life