While the question of how to end mass incarceration in the United States has been part of recent political and policy discussions, Joshua Dubler, assistant professor of religion at Rochester, is hoping to spark a public conversation about whether the prison itself is a necessary component of modern society.
Dubler, who joined Rochester's faculty in 2012, will spend the next two years pursuing the idea as one of 33 national recipients of 2016 Andrew Carnegie Fellowship from the Carnegie Corporation of New York. The fellowship includes an award of $200,000.
Selected from among more than 200 nominations, he plans to complete a manuscript tentatively titled "Why Not Prison Abolition?" The work extends his current book project, "Break Every Yoke: Religion, Justice, and the End of Mass Incarceration," which, as funded by the American Council of Learned Societies, he is coauthoring with the philosopher Vincent Lloyd.
While the United States has about 5 percent of the world's population, it's home to roughly one quarter of the world's prisoners.
Dubler says he's encouraged by recent conversations about ending mass incarceration, but he says "the tepid reformist frameworks on offer are grossly inadequate to the task at hand.
"If we are to really end mass incarceration, what we need is a mass movement that demands not that we tweak our broken criminal justice system, but that we reimagine justice from the ground up," he says.
Dubler is the first to concede that prison abolition is for now impossible, but he says the impossibility is itself a historical fact that demands careful scrutiny.
"How, when, and by what means did the prison become socially indispensable? What if instead of approaching the prison as necessary and eternal, we approached it for what it is: a social institution that emerged at a particular historical moment, stuck around for a while, and will one day be replaced by something else, and—I would hope—substantially less horrible? If we thought about prisons that way, how far might our policy prescriptions go?"
Dubler is the author of the 2013 book Down in the Chapel: Religious Life in an American Prison (Farrar, Straus and Giroux), a narrative ethnography that explores the religious beliefs and practices of men serving life at Pennsylvania's Graterford Prison, outside of Philadelphia.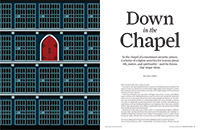 Down in the Chapel
Read an excerpt from Dubler's 2013 book, an ethnography of the historic Graterford Prison near Philadelphia.
Spurred by those he got to know at Graterford, Dubler taught for a number of years in Villanova University's BA program at Graterford, and he has been working to bring prison education to Rochester. Last fall, through Cornell's Prison Education Program, he taught "Theories of Religion" at Auburn Prison. With a grant from the Mellon Foundation, the Cornell program is expanding its associate degree program from two facilities to four and is assembling a consortium of schools to offer courses. Beginning next year, under the flag of the newly founded Rochester Prison Education Project, the University will sponsor additional courses in regional correctional facilities.
According to Dubler, prison education is not only about rehabilitating incarcerated people, but also about rehabilitating those who are outside prison walls.
"Mass incarceration depends in part on incarcerated people remaining invisible and voiceless," Dubler says. "The more we bring incarcerated people into our own institutional lives, the more we whittle away at the dehumanization upon which mass incarceration depends. Teaching incarcerated people has provided me with some of the most rewarding learning experiences I've ever had, and I look forward to fostering similar opportunities for U of R faculty and students."
"I'm profoundly grateful to the Carnegie Foundation," he says, "and I'm emboldened that it would deem a project like this worthy of support. In prison and out, prison abolitionists have been fighting this fight for some time. My hope with this project is to help fan these flames."
As a member of the faculty in the Department of Religion and Classics, Dubler teaches courses on the history and ethnography of religion in America, religion and law, and theory of religion. Though on leave in the fall, he expects to introduce a new course in spring 2017 on religion, mass incarceration, and abolitionism.
Says Dubler: "Around the country, today's students are agitating for racial, social, and economic justice. There is a long history to these efforts—especially in Rochester—and as U of R faculty we are in a position to enrich these important conversations."
Dubler received his undergraduate degree from Wesleyan University, his PhD in religion from Princeton University, and he was a fellow in the Society Fellows in the Humanities at Columbia University from 2008 to 2011.
Carnegie Corporation of New York is the philanthropic foundation established by Andrew Carnegie in 1911.
Category: Society & Culture