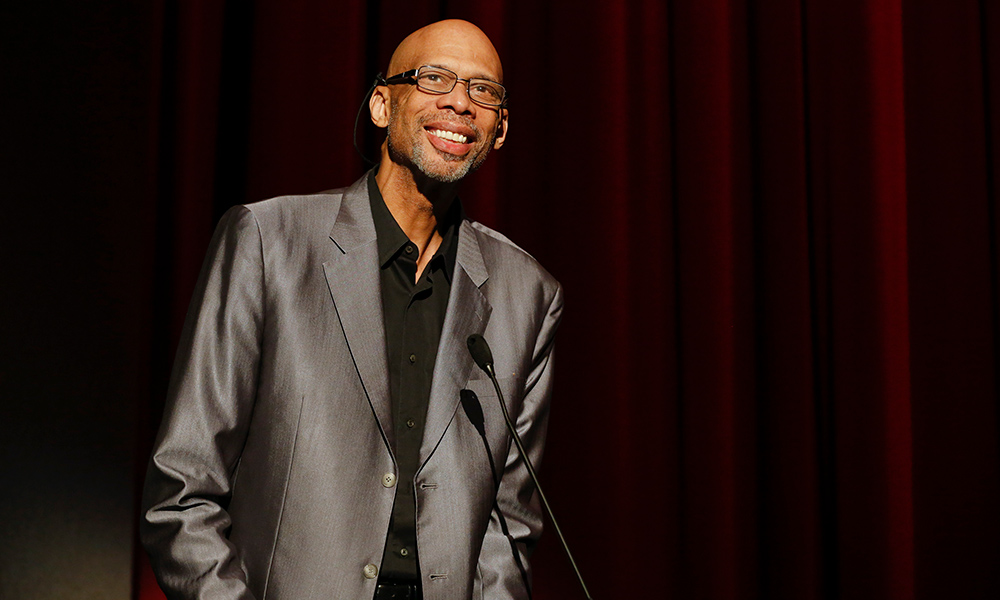 Kareem Abdul-Jabbar, a basketball icon, activist, author, actor, and ambassador, is coming to the University of Rochester's River Campus.
He'll speak on Monday, November 5, at the Louis Alexander Palestra in the Goergen Athletic Center. The 7 p.m. talk is free and open to the general public. Abdul-Jabbar also will take part in a student roundtable prior to the speech.
His talk is the first in a series called Dean's Initiative: Difficult Conversations as a Catalyst for Change, presented by Donald Hall, the University's Robert L. and Mary L. Sproull Dean of the Faculty of Arts, Sciences & Engineering.
Abdul-Jabbar's speech is called "Writings on the Wall: Searching for a New Equality Beyond Black & White." He'll discuss the issues that are dividing America—racism, economic inequality, social injustice, and the power of the media—while drawing upon his personal experiences as an African-American and Muslim. He'll also focus on the solutions that could unite people and inspire younger generations to continue the path toward change.
"I am incredibly pleased that Kareem Abdul-Jabbar accepted our invitation to talk with our community, faculty, staff, and students," Hall says. "His visit is the first of what I hope will be many occasions when we will all come together to talk about forging a future for this country and our globe that is built on principles of inclusivity, civility, and shared values."
The 7-foot-2 Abdul-Jabbar is among the most successful and versatile athletes in sports history. Born Lew Alcindor in New York City, he won three consecutive national college basketball titles at UCLA, and six National Basketball Association titles with the Milwaukee Bucks and Los Angeles Lakers. He remains the NBA's all-time leading scorer, with 38,387 points and was inducted into the Pro Basketball Hall of Fame in 1995.
A strong supporter of boxer Muhammad Ali's refusal to join the war in Vietnam, he converted to Sunni Islam in 1968 and refused to try out for the US Olympic basketball team that summer in protest to the unequal treatment of African-Americans. He began using the name Kareem Abdul-Jabbar—which means "the noble one, servant of the Almighty"—in 1971.
He has been a regular media contributor to discussions about issues of race and religion, has written several nonfiction books, and recently joined the writing team for Hulu's reboot of Veronica Mars.
In 2012, Secretary of State Hillary Clinton named Abdul-Jabbar a cultural ambassador for the United States, and he traveled the world promoting the importance of education, social and racial tolerance, and cultural understanding, using sports as a means of empowerment.
In 2016, President Obama appointed Abdul-Jabbar to the President's Council on Fitness, Sports, and Nutrition and presented him with the presidential medal of freedom, the highest civilian award of the United States.
Abdul-Jabbar's acting career began with a role in the 1972 Bruce Lee film Game of Death, and his resume includes cult movies Airplane! and Fletch. He also has made appearances in TV classics such as Full House, Everybody Loves Raymond and Diff'rent Strokes, and last spring he was a contestant on ABC's Dancing with the Stars.
Space is limited for the event. To reserve a seat, please visit the event website. For large group reservations, please contact Event and Classroom Management at (585) 276-5757.
Category: University News