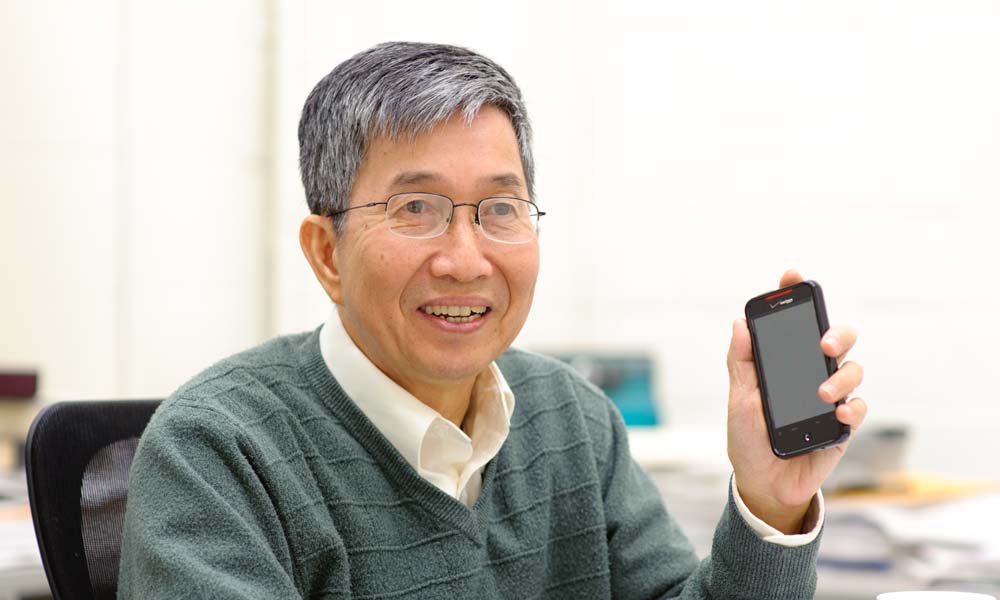 For his pioneering work in developing thin-film, light-emitting technology now widely used in computers, smartphones, and televisions, University of Rochester professor emeritus Ching Tang will receive the Kyoto Prize, Japan's highest private award for global achievement.
Tang, a professor of chemical engineering, is being honored for "Pioneering Contributions to the Birth of High-Efficiency Organic Light-Emitting Diodes (OLEDs) and Their Applications." OLEDs use luminescent organic materials to make their own light. As a result, they are thinner, lighter, more energy efficient, and provide superior brightness and color compared to traditional liquid crystal displays (LCDs).
The Kyoto Prize, awarded since 1985 by the Inamori Foundation, is given in three categories—advanced technology, basic sciences, and arts and philosophy—to "those who have contributed significantly to the scientific, cultural, and spiritual betterment of mankind." Each laureate receives a medal and prize money of 100 million yen (about $920,000 US). Past laureates include Noam Chomsky, Jane Goodall, John Cage, and Pierre Boulez.
"Dr. Tang invented the basic structure of OLEDs to drastically raise their efficiency on the basis of academic studies on organic materials. His pioneering works have enabled the practical use of OLEDs and their applications and constitute a clearly outstanding contribution to the fields of materials science and electronics," the Prize committee states.
Tang developed the OLED technology while working as a research scientist at Eastman Kodak Co. With Steven Van Slyke, Tang applied an organic heterojunction diode he invented to various applications, leading to the creation of OLEDs. Tang is also credited with a number of key innovations leading to the commercialization of the new technology, including the development of robust luminescent materials, novel color pixelation methods, fabrication processes for the manufacture of OLED displays, and the adaptation of technology for high-definition OLED displays.
This helped spawn a multi-billion dollar industry for advanced lighting and displays. The OLED display market is expected to grow to $58 billion in 2025, according to a 2018 market research report by IdTechEx.
Widely recognized as a leader in the fields of organic electronics and photovoltaics, Tang joined the Department of Chemical Engineering at the University of Rochester in 2006. He now spends most of his time at Hong Kong University of Science and Technology, where he is a professor at the Institute for Advanced Study, but he maintains close ties with Rochester.
Tang received the prestigious Wolf Prize in Chemistry in 2011. Other awards include the Eastman Kodak Innovation Award (2000), the Jack Rajchman Prize of the Society of Information Display (2001), the Carothers Award of the American Chemical Society (2001), the Rochester Law Association Inventor of the Year Award (2002), the Humboldt Research Award (2005), the IEEE Daniel E. Noble Award (2007), the Eduard Rhein Award (2013), the Optical Society's Nick Holonyak Jr. Award (2014), the IEEE Nishizawa Medal (2017), and the NEC C&C Prize (2018). He was also inducted in the US National Inventors Hall of Fame in 2018.
Category: Science & Technology