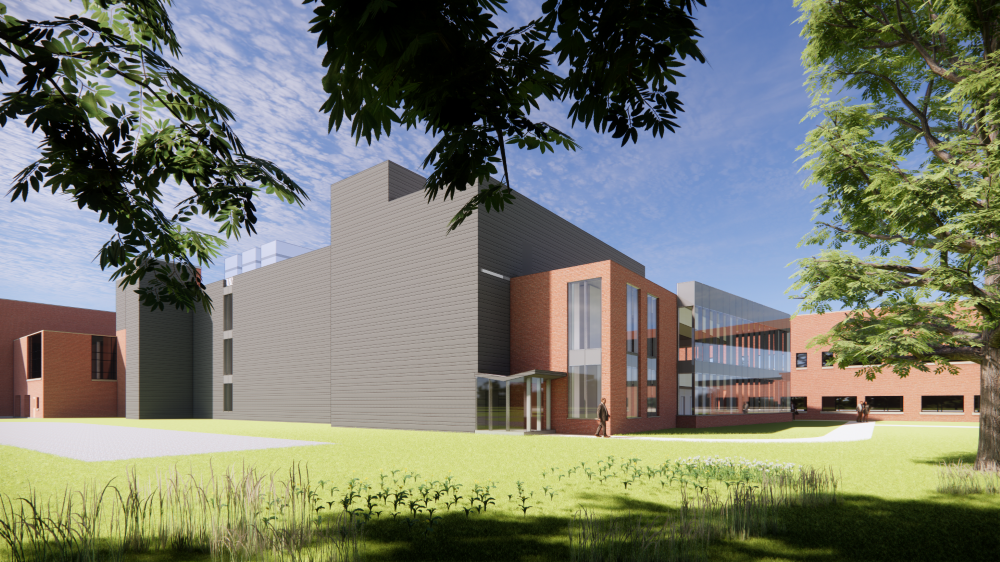 Expected to be completed in 2024, the $42 million, 66,000-square-foot expansion will house office and lab space.
The University of Rochester's Laboratory for Laser Energetics has broken ground on a $42 million, 66,000-square-foot office and lab building expansion. The expansion directly connects to LLE's existing building on East River Road in Brighton, New York.
The new three-floor building will house lab and office space for approximately 110 scientists and LLE personnel and include a class 1000 target fabrication lab and thin film coating lab, a laser computing facility, and several other wet lab and general lab spaces. The largest lab space will house the AMICA laser system, a state-of-the-art, high-energy, long-pulse laser that scientists at the LLE are assembling for Stanford University's SLAC National Accelerator Laboratory Matter at Extreme Condition Upgrade (MEC-U).
LeChase Construction began the building expansion in July and the addition is expected to be completed in 2024. LLE was last expanded in 2003 to house the OMEGA EP laser.
"The LLE's work in high-energy-density science continues to grow with each new year, and now their physical footprint is catching up," says University President Sarah Mangelsdorf. "The addition of these state-of-the-art facilities helps strengthen the LLE's designation as one of the leading laser laboratories in the world and will provide space to support its expanding research agenda. It's gratifying to see our community rally around the important scientific work that is being done here. I especially want to thank our elected officials for their leadership and advocacy on behalf of the LLE and the tremendous support we continue to receive due to their efforts."
US Senators Charles Schumer and Kirsten Gillibrand stress the critical role LLE plays in innovative research and in the regional economy. Says Schumer: "The work done at University of Rochester's Laboratory for Laser Energetics is essential for our national security and energy research and is vital to our regional economy, employing hundreds of scientists and bringing millions of dollars of investment into the Rochester area every year. That's why year after year I've been proud to secure the vital federal funding that keeps them on the job to discover new innovations and support our nation. Now with this expansion, the University of Rochester is prioritizing the needs of the employees and students of LLE, and I applaud their efforts to ensure they can continue to focus on their groundbreaking research for years to come."
Says Gillibrand: "LLE's OMEGA Laser Facility houses two of the largest and most capable lasers at any academic institution in the world and supports scientific missions vital to our national and economic security. I'm proud to have delivered millions in federal funding to support groundbreaking research at LLE. I will keep fighting to ensure that New York's top-notch research institutions have the resources they need to remain global leaders in scientific innovation."
LLE director Christopher Deeney praises the cooperation between the University and the lab's sponsors. "LLE at the University of Rochester is privileged to be funded by the National Nuclear Security Administration (NNSA) through a cooperative agreement, which over the decades has resulted in hundreds of trained PhD students and amazing science and innovation for NNSA, documented in thousands of scientific papers," he says. "This new building, funded by the University, shows the University's commitment to supporting the NNSA, DOE, and other sponsors' missions. I am excited to celebrate the future for LLE that this building represents!"
US Congressman Joe Morelle echoes the sentiments of his colleagues in the Senate. "The University of Rochester has long been a leader in innovative science and technologies—and the LLE is further proof of that remarkable vision and leadership," he says. "The cutting-edge research done here has led to groundbreaking discoveries while supporting hundreds of local jobs, strengthening our regional economy, and enhancing global competitiveness. I'm grateful for this expansion that will further cement U of R's place as a leader in technological advancement, and I look forward to our continued work together to grow Rochester's innovation economy."
State and local leaders are weighing in as well.
"I'm thrilled that the University of Rochester's nationally renowned LLE is breaking ground on an expansion," says New York State Senator Jeremy A. Cooney. "The enhanced space enables technological innovation and job growth for our region. I'm grateful for the federal funding that made this project possible and look forward to its impact on the Greater Rochester region and beyond."
"As a longtime supporter of the LLE lab, I could not be more proud to support this pivotal expansion," says Assemblymember Sarah Clark. "The internationally renowned laboratory at the University of Rochester has put our region on the map for decades as a leading community in energy research, technology innovation, and educational programs. Investments in projects like this are investments in the future for us all. Thank you to Chris Deeney, President Mangelsdorf, LLE employees, and all of our partners in community and government for making this exciting expansion a reality. I look forward to a continuing and growing partnership with New York State."
William H. Goodrich, CEO and managing partner at LeChase, says "Our long-standing partnership with the University of Rochester has covered a number of significant projects, including the original LLE facility. This exciting project, and the additional space it provides, will allow the University to extend its research efforts and pursue new advances in technology."
Established at the University in 1970, LLE is the largest university-based US Department of Energy (DOE) supported research center in the nation. As a nationally funded facility, the LLE conducts implosion and other experiments to support a DOE program to explore fusion as a future source of energy, to develop new laser and materials technologies, and to conduct research and develop technology related to high-energy-density phenomena. The LLE is recognized nationally and internationally for its substantial contributions to the DOE's inertial confinement fusion and high-energy-density physics programs. In addition, the LLE provides graduate and undergraduate educational programs to students at Rochester and other universities across the country, and it operates the National Laser Users' Facility, a national program that allows qualified researchers throughout the United States to conduct research using its facilities.
Earlier this year, LLE received $83 million in federal funding as part of the fiscal year 2022 Omnibus Appropriations bill—a $1 million increase over fiscal year 2021.
---
Read more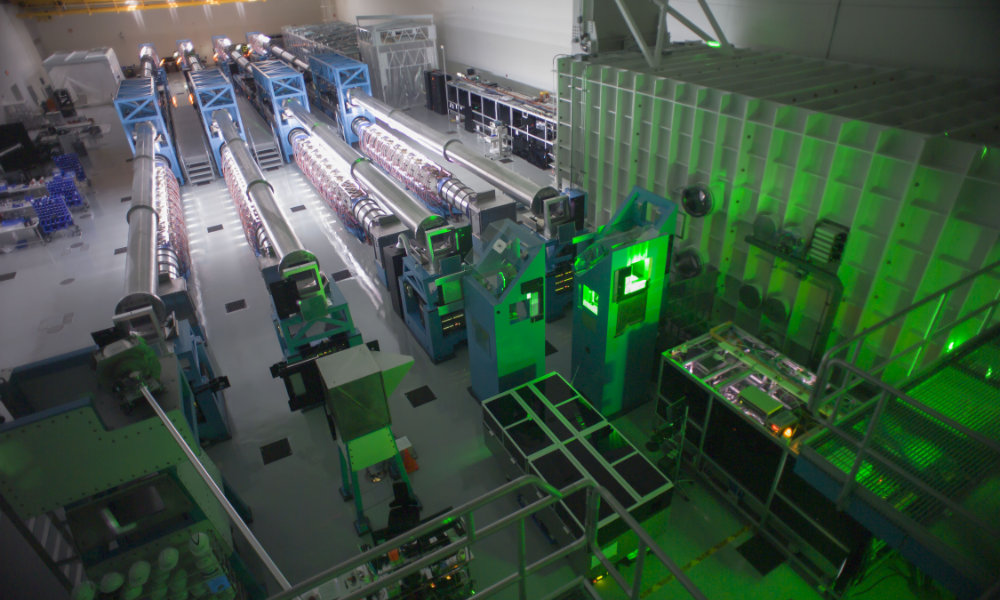 Laboratory for Laser Energetics receives increased level of federal funding
The funding strengthens the Laser Lab's significant contributions to national security, scientific education and leadership, and regional innovation and growth.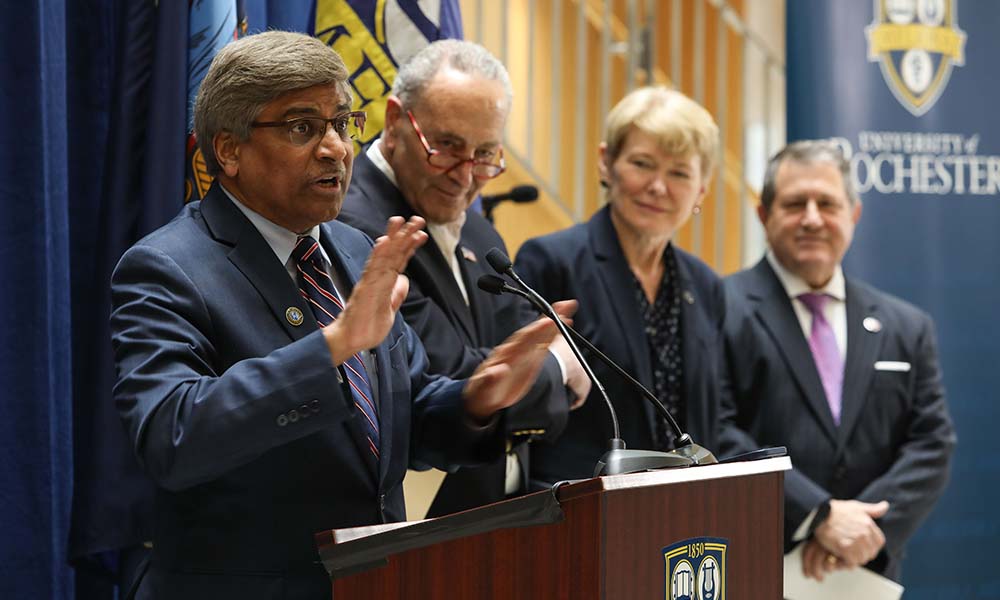 Rochester 'a crucible of innovation' says NSF director during campus visit
National Science Foundation director Sethuraman Panchanathan, accompanied by Sen. Charles Schumer and Rep. Joseph Morelle, toured University facilities including the Laboratory for Laser Energetics.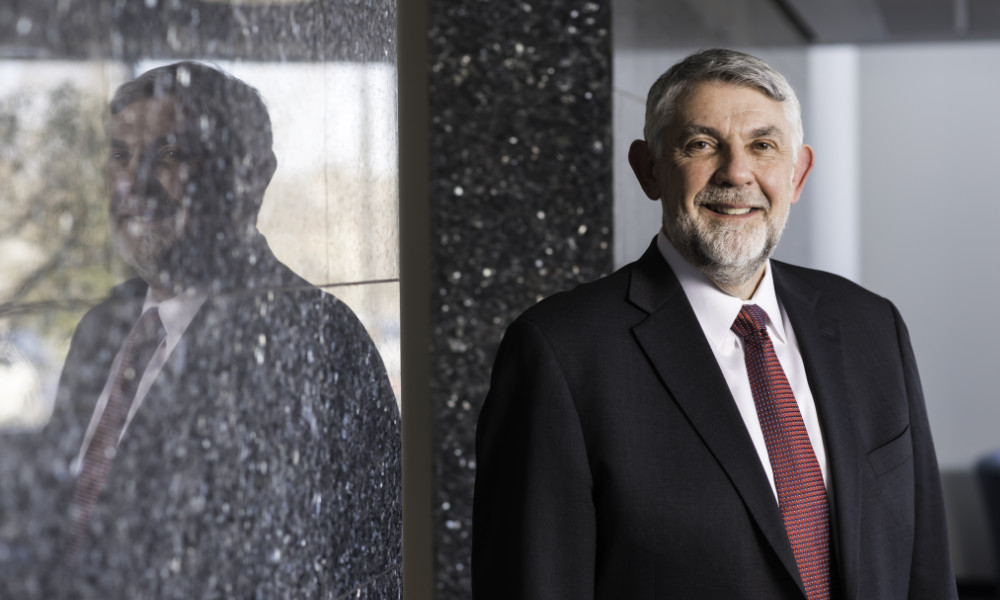 Christopher Deeney appointed new director of the Laser Lab
A leader in science and innovation, Deeney brings to the role his extensive experience running complex operations.
Category: University News