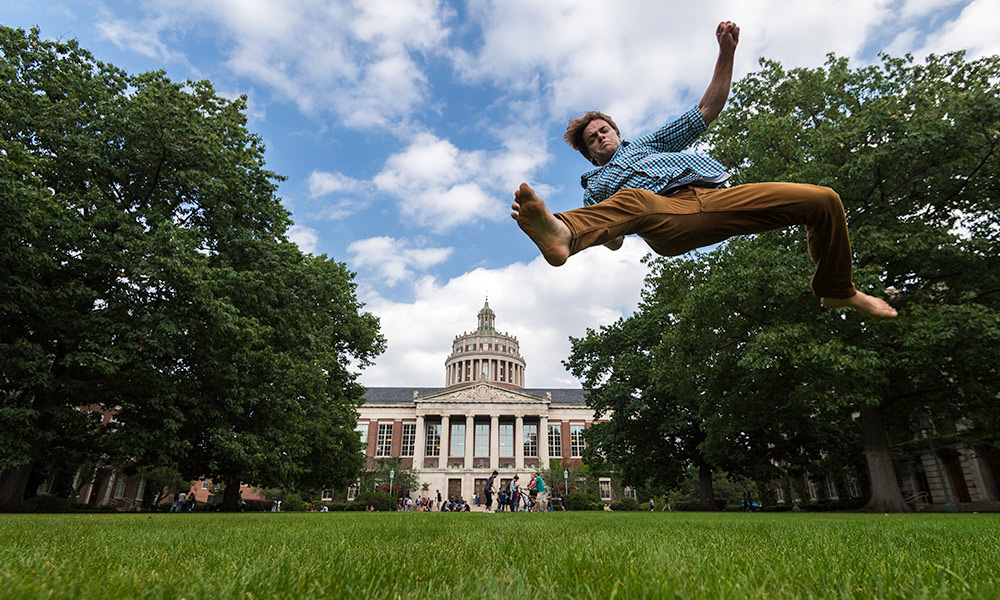 A former triple major at Rochester is in the semifinals of the NBC sports competition.
When Will Schlageter '20 (T5) was 14, he sent a video to the producers of American Ninja Warrior, the NBC sports competition in which contestants try to complete a series of rigorous obstacle courses in hopes of becoming the one true champion.
That video led producers to invite Schlageter and his father to Miami to tour the course and meet contestants. The Lancaster, Pennsylvania, native knew he wouldn't be accepted onto the show, since all contestants had to be at least 21. But that wasn't the point.
"I was just trying to get on their radar," he says.
Nine years later, he is clearly on their radar. Schlageter has raced, swung, jumped, and climbed his way into the national semifinals, one of 62 men and women competing to be the 2020 champion. Schlageter's taped competition in St. Louis is scheduled to air Wednesday, October 21, starting at 9 p.m. on NBC.
"It's my dream come true," he says.
Schlageter is used to conquering tall obstacles. At Rochester, he was a triple major in biology, chemistry, and environmental science. Instead of graduating with his class in 2019, he stayed another year as a Take Five Scholar with an astronomy/mathematics program called Warping of Space-time: A Study of Giants in an Abyss of Nothing.
"One of my favorite things about Rochester from the beginning was the open curriculum," he says. "I lost no time there and shoved as much science into my brain as I could."
He also helped create the fraternity Beta Theta Pi and served as competition chair for the University Rock Climbing Club. And, he found time each morning to work out at a local Ninja course and perfect his skills.
Schlageter says producers were diligent in keeping everyone safe in the midst of a global pandemic. "You're tested before you get there, then when you arrive, and every time you move onto another round," he says. "You wear a mask whenever you're not in competition, and you stay in your hotel room. If producers see you out of the room, they send you back."
Schlageter is 5-foot-9, 155 pounds, which makes him a strong candidate for Ninja success. "The ideal size is probably 5' 6"," he says. "The shorter you are, the more power you can produce because you're so light."
Although Schlageter has completed his semifinal round though a 10-obstacle course, he's not allowed to say if he's among the 28 contestants who moved onto the finals. But he can share what's it been like for him to compete at such a high level—and to fulfill his sports fantasy.
"It was absolutely unnerving, exciting, and wondrous because I've waited so long for this," he says. "All I had to do was what I do best—crush the course."
Category: Student Life