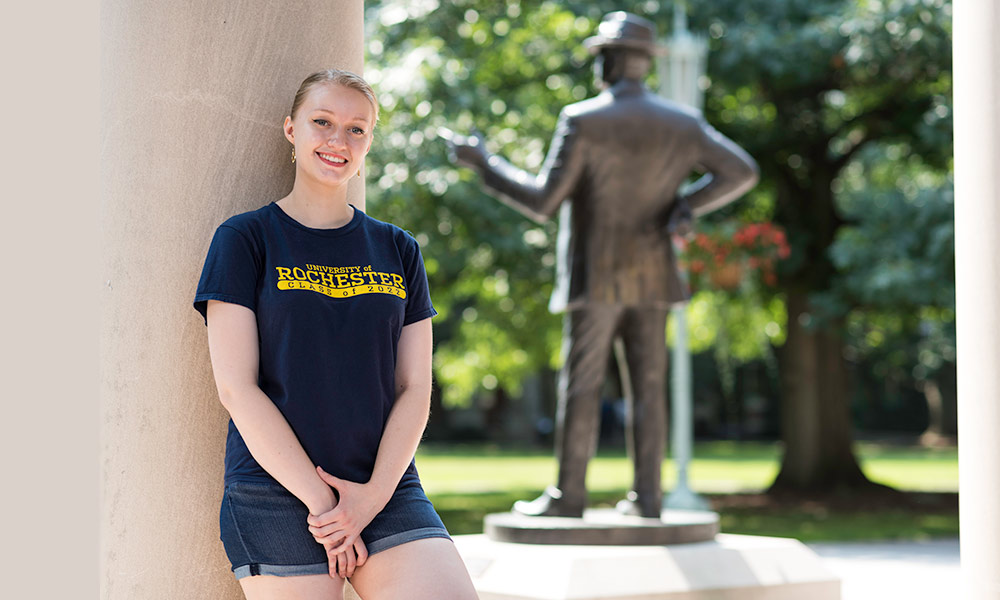 Lucy Farnham '22 took her first Spanish class in seventh grade, and it was love at first syllable.
"I instantly fell in love with the language and the process of learning a language," she says. "It made me want to experiment with others on my own."
The Rochester native "dabbled briefly" in Chinese and German and has started learning Japanese. She'll major in Spanish and possibly add Japanese as another major at the University.
"I can only form the most basic sentences in Japanese so far, but my Spanish is much more developed," she says. "My goal is to one day be able to say that I've achieved fluency."
Farnham was an International Baccalaureate student at Joseph C. Wilson Magnet High School, just two miles from the River Campus, and says the University's strong connection to the program "was a major factor" in her decision to apply. International Baccalaureate is a rigorous precollege educational system that emphasizes critical thinking.
Rochester was the first university in the Northeast to offer scholarships to students with International Baccalaureate diplomas, and about 10 percent of the incoming class each year comes from IB schools such as Wilson Magnet.
"It means a lot that they care about that program here," Farnham says. "I really value everything the International Baccalaureate program has taught me, not just academically but about myself and how I apply myself."
She also loved the freedom of the Rochester Curriculum.
"Every other school had some sort of general education requirement, but the Rochester Curriculum told me that the University cares about what their students care about. They don't want to waste my time or distract me with classes that aren't important to me."
The University's diverse student body was another lure. The Class of 2022 includes students from 76 nations.
"The international makeup of the school is really important to me, because my high school was also very diverse, and that taught me a lot," she says. "As humans we tend to fear what we don't understand. The world would be a better place if we all had exposure to different cultures."
Farnham played varsity volleyball and softball in high school and says she and her friends are considering starting an intramural volleyball team at Rochester. She also plans to join the Japanese Students' Association and perhaps Habitat for Humanity.
"I really want to volunteer somewhere," she says.
She'll be the first member of her family to graduate from college.
"It means a lot, not just to myself but to my parents," she says. "They're a big part of the reason I'm here. They've supported me so much."
Farnham is considering a career in the US Foreign Service, perhaps as a diplomat.
"I haven't thought about it too much, but it sounds interesting," she says. "I'll wait and see where my years at Rochester take me."
Category: Campus Life