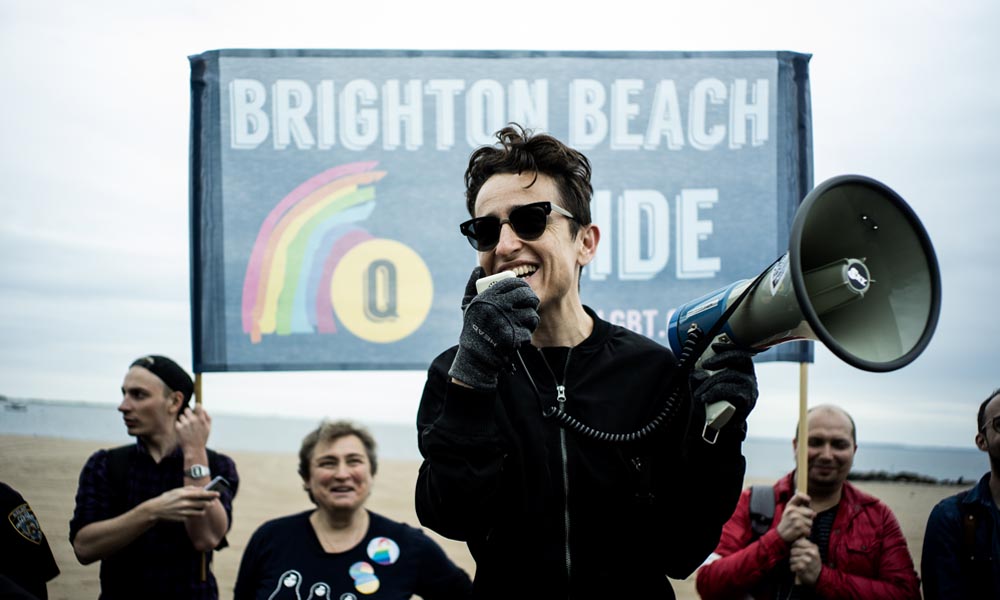 When Tanya Bakhmetyeva '06 (PhD), now a modern Russian historian, was growing up in the Soviet Union, she didn't keep an account of her experiences for posterity. She's thankful that journalist and activist Masha Gessen did.
"As a historian, I find Gessen's personal analysis fascinating. Gessen is a keen and astute observer of our times with an almost uncontrollable impulse to chronicle these times, to comment on everything that happens and leave a record," says Bakhmetyeva, an associate professor and the associate academic director of the University of Rochester's Susan B. Anthony for Gender, Sexuality, and Women's Studies. "I'm grateful that Gessen preserved some of my memories of life in the Soviet Union, evoking them with such power that they come back to life for me."
Masha Gessen
October 17, 5 p.m.
Hawkins-Carlson Room
Rush Rhees Library
Free and open to the public
This talk is part of the 2019–20 Humanities Center Public Lecture Series, this year exploring the theme of communities.
Masha Gessen is the author of the National Book Award-winning The Future Is History: How Totalitarianism Reclaimed Russia as well as The Man Without a Face: The Unlikely Rise of Vladimir Putin, The Brothers: The Road to an American Tragedy, and several other books. A staff writer at The New Yorker and the recipient of numerous awards, including a Guggenheim Fellowship and a Carnegie Fellowship, Gessen teaches at Amherst College and lives in New York City.
Gessen will come to Rochester on October 17 to give a talk titled "Marginalized Communities in Contemporary America." Gessen will also take part in a conversation moderated by Bakhmetyeva and Rachel Haidu, an associate professor of art history and chair of the Department of Art and Art History. Gessen is the second speaker in the 2019–20 Humanities Center Public Lecture Series.
The process of marginalization
The subject of marginalization is one that Gessen has plumbed in her work as a journalist and activist. "Gessen has written on a number of marginalized communities in Russia specifically, but also more generally—Jewish communities, LGBTQ communities, political dissidents," says Bakmetyeva.
Scrutinizing the marginalization of groups within a community is also central to Bakhmetyeva's work as a teacher and a scholar. A professor of gender studies, she says marginalization is "what I teach about daily—the marginalization of women, of women of color, of transgender people, of people with disabilities, of people with certain sexual identities." She is the author of the biography Mother of the Church: Sofia Svechina, the Salon, and the Politics of Catholicism in Nineteenth-Century Russia and France (Northern Illinois University Press, 2016), winner of the 2018 Harry Koenig Book Award from the American Catholic Historical Association.
Bakhmetyeva sees the activity of marginalizing people as both political and cyclical. It's about power, she says, excluding groups of people in an effort to make them powerless. Over time, different groups can be excluded, then included, and then excluded again. "It's a highly political process, this need to create insiders and outsiders," she says.
In the classroom and in the field
In her teaching, Bakhmetyeva makes a concerted effort to break down the idea of inside and outside as it relates to the University and the community. In her course Politics of Nature, she partners with the Rochester area's Taproot Collective, an urban agriculture group. Through their work together, Bakhmetyeva's students get hands-on experience with environmental and food justice issues, while the collective gains a requested digital design project created through the students' digital-savvy. Bakhmetyeva also collaborates with Heather Layton, a senior lecturer in the Department of Art and Art History, on the community-based course Food Matters: Gender, Religion, Ethnicity, and Nation.
She's also co-leading a project that aims to adapt for the discipline of history the kind of community-based research that's common in such fields as public health and environmental studies. With her colleague and spouse Stewart Weaver, a professor of history, and anthropologist Nancy Perini Chin '93 (MPH), '98 (PhD), an associate professor of public health, Bakhmetyeva is carrying out research on climate change in the Trans-Himalayan region of Ladakh, India. As part of a mountainous environment, Ladakh is extremely sensitive to the effects of global warming.
Bakhmetyeva, Weaver, and Chin are studying how people in Ladakh are adapting to changing conditions. Their approach puts Ladakh's residents at the heart of the project, as fellow investigators. "If we want to do research that's meaningful to communities, then these communities shouldn't be research subjects but researchers themselves," says Bakhmetyeva. She and the team travel to India and the Ladakh partners have traveled to Rochester, together identifying the research goals, methods, and benefits for the community. The work has been supported with a University Research Award and, this year, a Carnegie Fellow award to Weaver, from the Carnegie Corporation of New York, the philanthropic foundation established by Andrew Carnegie.
While neither Bakhmetyeva nor Weaver were trained in community-based teaching or research in their education as historians, they've found inspiration to change their scholarly and classroom approaches in recent public skepticism about the connection of academic work to everyday life.
"We have a sense of responsibility, as academics, to communities on the local and global scale," Bakhmetyeva says.
Category: Society & Culture