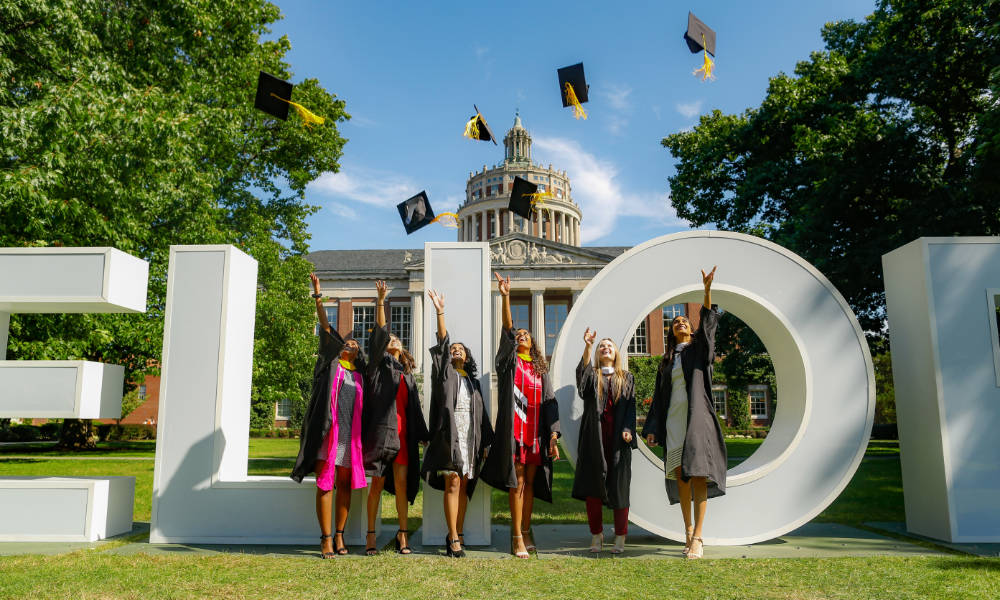 Health and safety were top priorities during the first large event for alumni, students, and families since the start of the COVID-19 pandemic.
On October 1 and 2, the University of Rochester community came together in person and online for two days of reunions, celebrations, conversations, performances, and family fun, including the much-anticipated "One University" Commencement honoring the Class of 2020.
Health and safety were top priorities during the array of events comprising Meliora 2021, a reimagined version of Meliora Weekend, the University's traditional fall event combining reunion, family weekend, and homecoming activities. The onset of the COVID-19 pandemic meant that last year's in-person events, including Commencement and Meliora Weekend, had to be postponed.
Although COVID-19 protocols limited this year's in-person attendance to current students, alumni from the Classes of 2020 and 2021, and their families, Meliora 2021 programming—most of which was available via livestream—drew thousands of participants to rewind, reunite, and reconnect.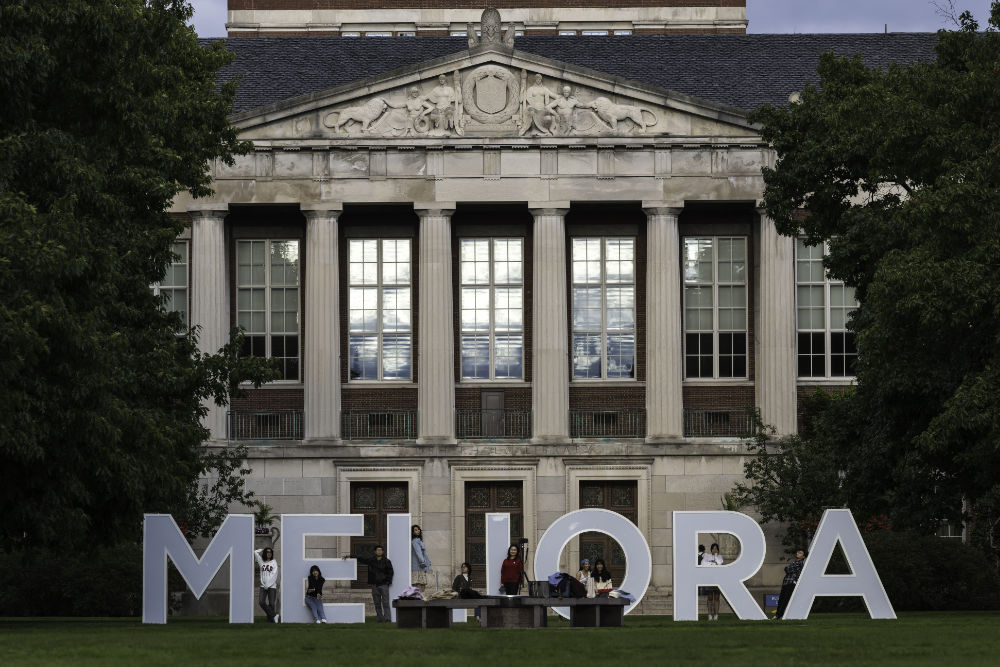 AS GOOD AS YOUR WORD: The large letters spelling out "Meliora" on the Eastman Quadrangle were, as always, a favorite stop throughout the weekend for guests. (University of Rochester photo / J. Adam Fenster)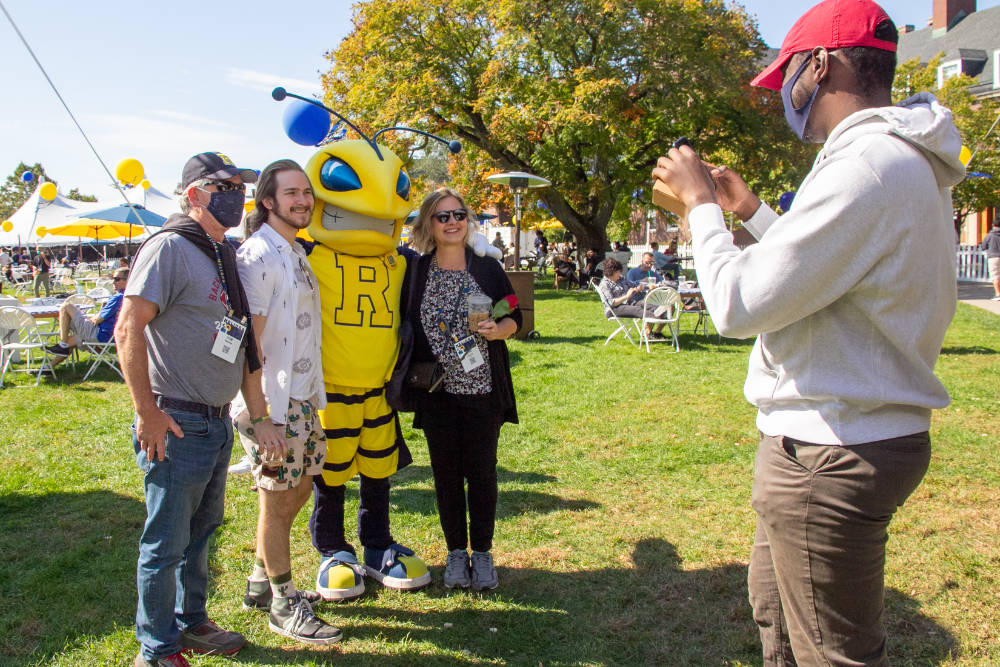 IT TAKES A VILLAGE: The Wilson Quadrangle was transformed into Meliora Village, the on-campus hub for meet-ups, tastings, carnival games, and live music. John Mackall '24 and his parents, Tom Mackall and Beth Roberts, posed for a photo with Yellowjacket mascot Rocky. (University of Rochester photo / Renee Veniskey)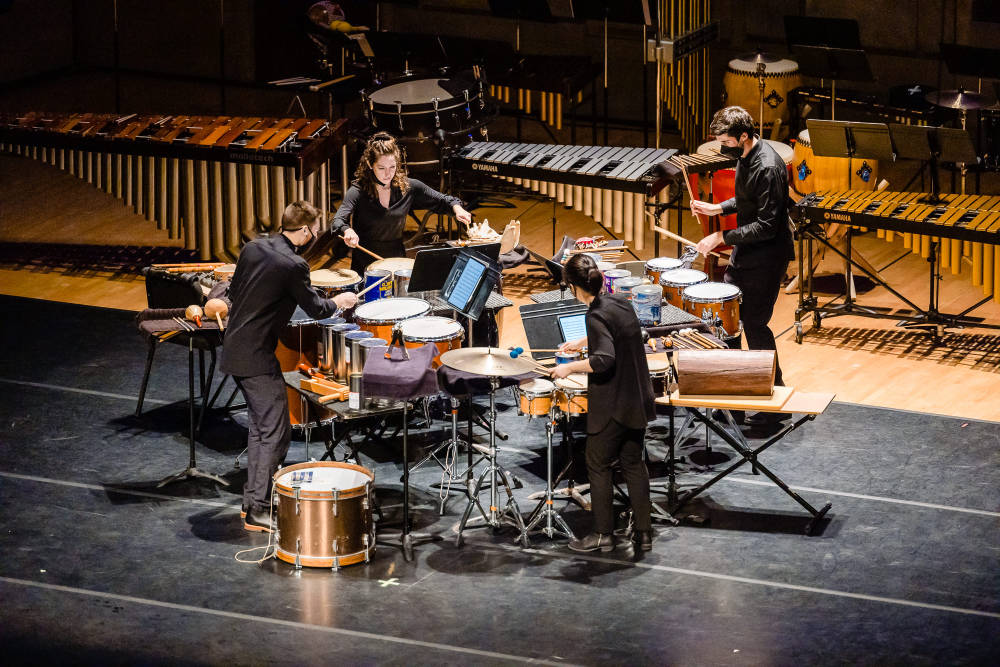 AUTUMN DRUMS: The Eastman Percussion Ensemble was among several Eastman School performance ensembles and groups that played at events during the weekend. (University of Rochester photo / John Schlia)
PERFORMING ARTS PILLARS: 2021 marks 100 years since the Eastman School of Music opened its doors and 50 years since Garth Fagan Dance was founded. During this milestone year, Garth Fagan (right)—renowned choreographer and the company's eponymous founder and artistic director—received the Eastman School of Music's Luminary Award from University of Rochester President Sarah Mangelsdorf (left). The award recognizes Fagan's extraordinary service to music and the arts at the community and national levels. (University of Rochester photo / John Schlia)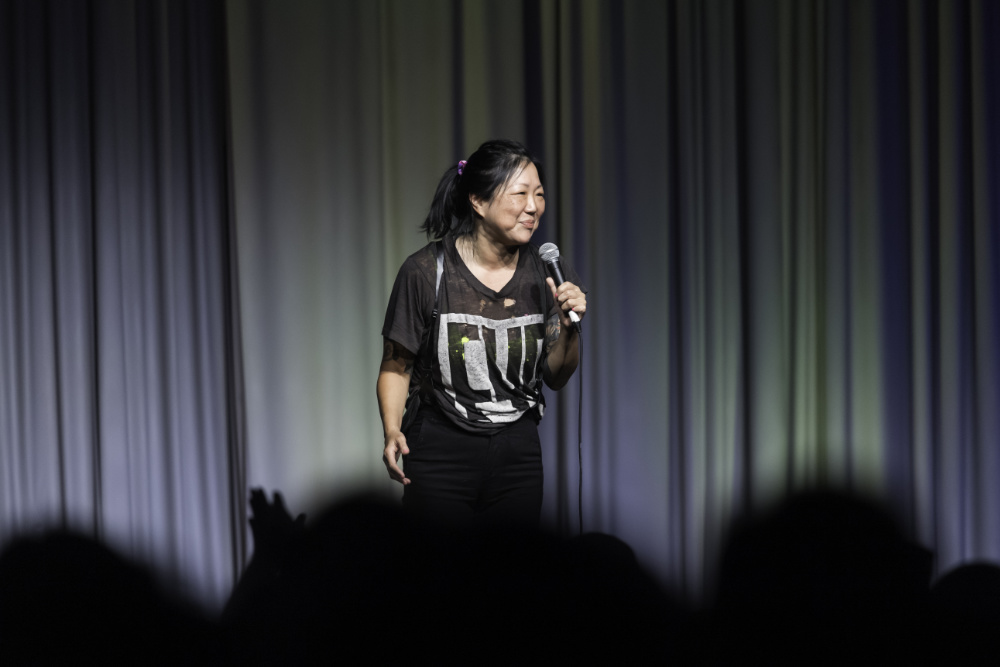 IT'S CHO TIME: Comedian, actor, advocate, and author Margaret Cho performed to a full house in the Palestra. (University of Rochester photo / J. Adam Fenster)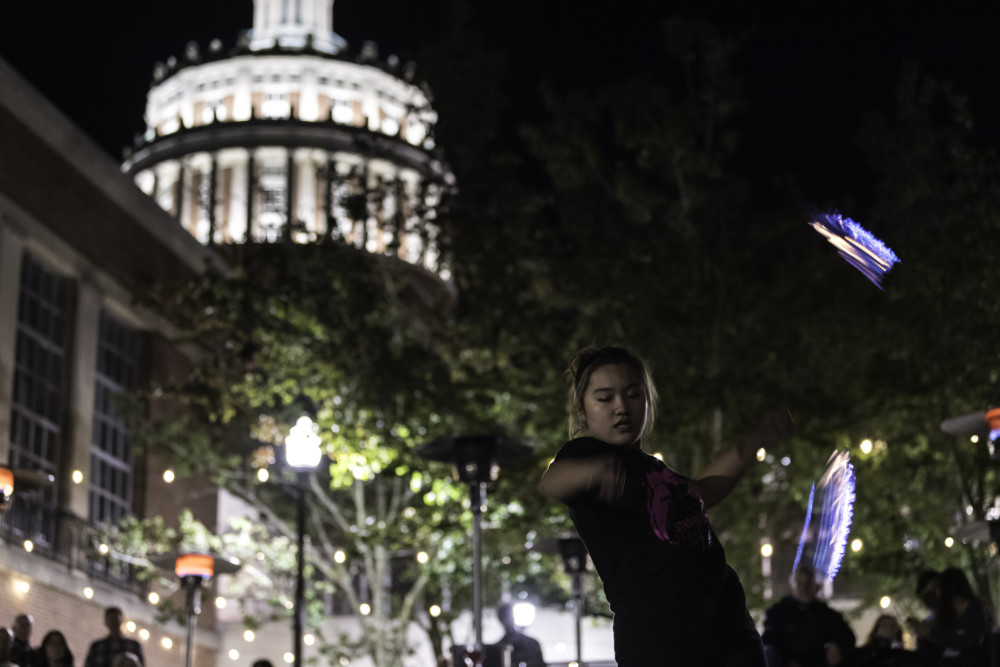 FRIDAY NIGHT LIGHTS: Phoenix Zhang '23 of the Strong Jugglers, the University's official student juggling club, sent fire props flying during an outdoor nighttime performance in Dandelion Square on the Wilson Quadrangle. (University of Rochester photo / J. Adam Fenster)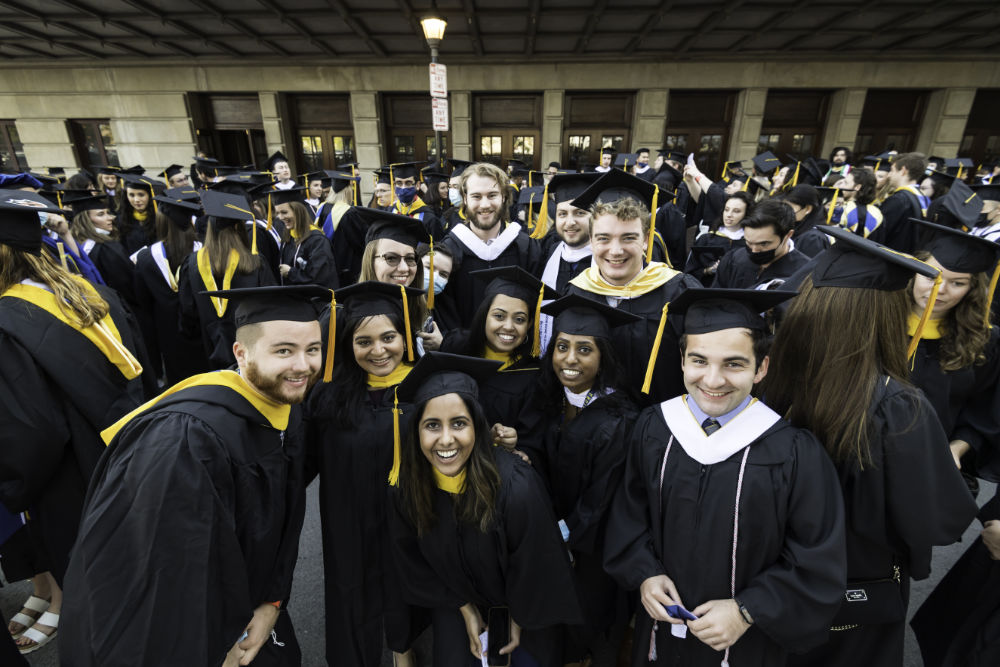 WELCOME HOME: Members of the Class of 2020 posed for a group shot outside of the Eastman School of Music as they prepared to enter the theater for Commencement. (University of Rochester photo / J. Adam Fenster)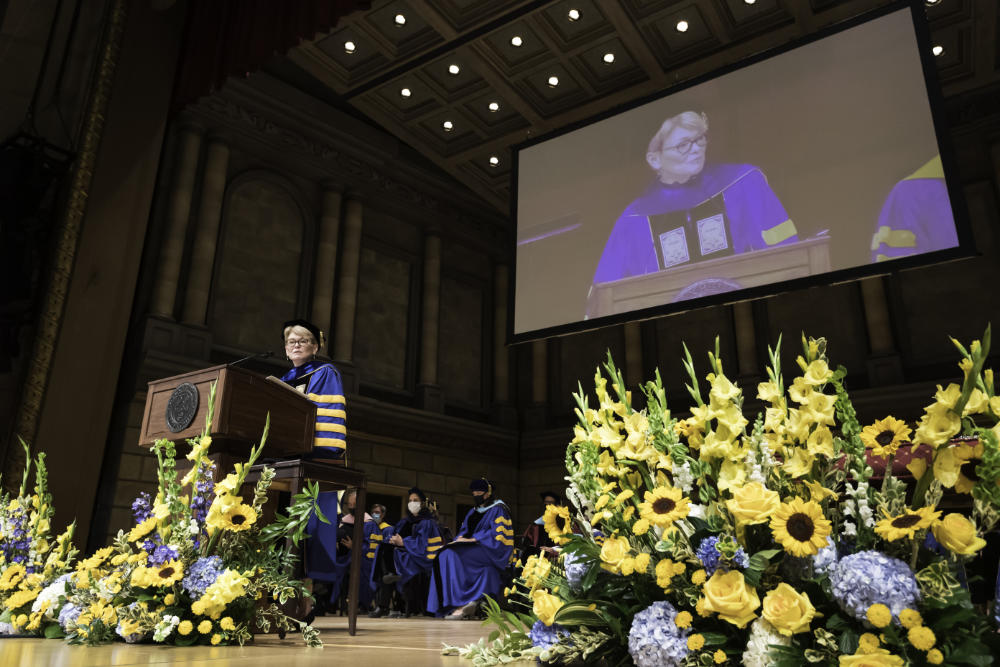 "TODAY IS YOUR DAY": University of Rochester President Sarah Mangelsdorf welcomed more than 2,000 attendees—including approximately 800 members of the University-wide graduating class—to Kodak Hall in Eastman Theatre. "We are here to celebrate you," she said. "Having come so far, you weren't going to let anything—even a global pandemic—stop you from earning your degree." (University of Rochester photo / J. Adam Fenster)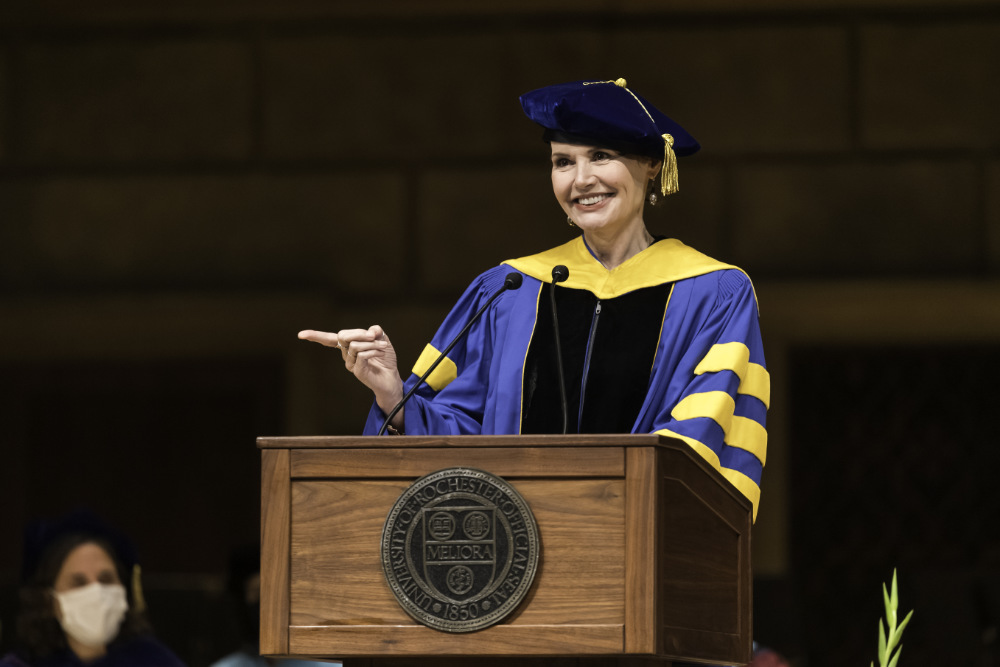 A LEAGUE OF HER OWN: Academy Award–winning actor, Olympic-level archer, United Nations special envoy, and gender equality advocate Geena Davis received the Eastman Medal for achievements and service that embody the University's highest ideals. Afterward, during her commencement address, she told the graduates, "Yours is the generation that is going to save the planet. Thank you in advance for all the good work you will do, you ferocious warriors." (University of Rochester photo / J. Adam Fenster)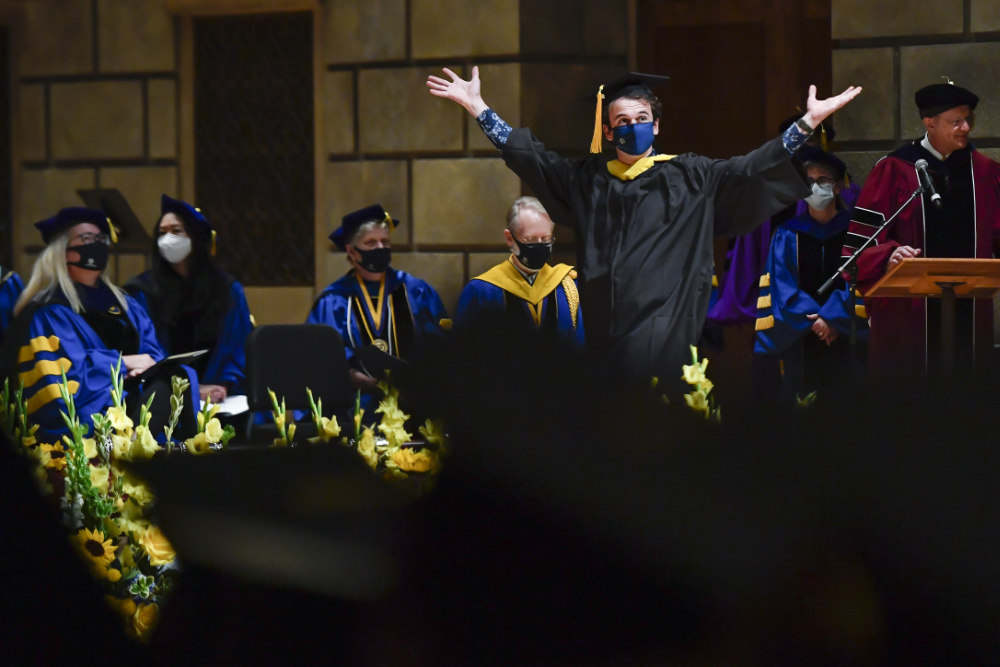 ONWARD AND UPWARD: Members of the Class of 2020, including Henry Ernsberger, crossed the stage to cheers of support from their peers and loved ones as their names were read aloud. "Not only do we honor your academic achievement, we recognize your resilience and your perseverance," said President Mangelsdorf during the ceremony. (University of Rochester photo / Adrian Kraus)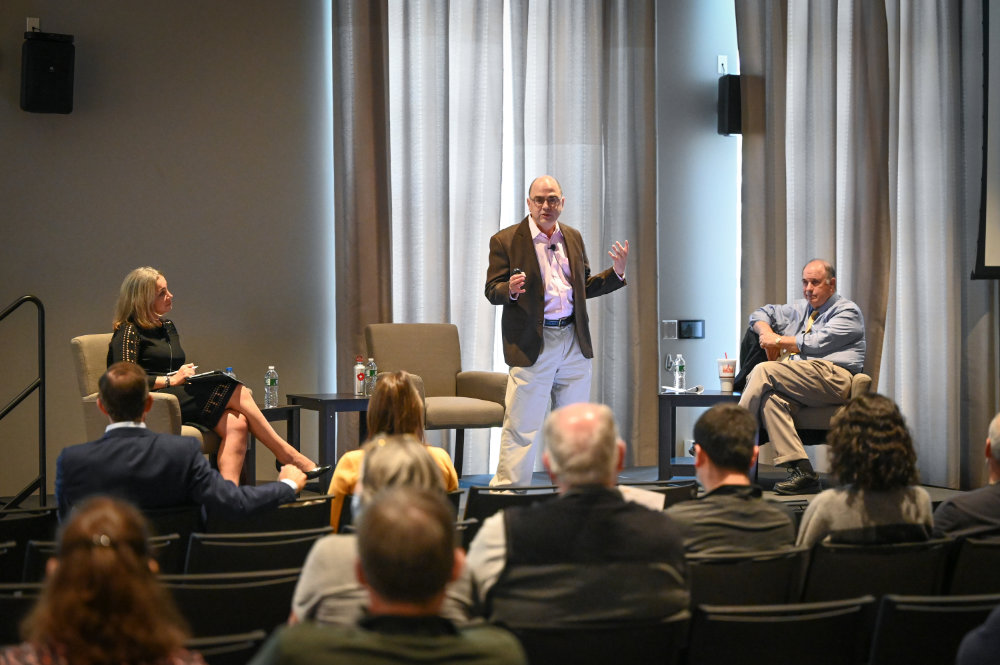 ECON CONVOS: This year's Experience Rochester speakers—Narayana Kocherlakota, the Lionel A. McKenzie Professor of Economics (center); Clifford Smith Jr., the Louise and Henry Epstein Emeritus Professor of Finance and Economics (right); and moderator Sevin Yeltekin, dean of the Simon Business School (left)—brought their expertise to bear during a discussion about the global economic outlook after COVID-19. "I think the recovery has, in many ways, gone surprisingly well," said Kocherlakota. "But we still have a long way to go on this." Smith emphasized what he sees as the United States' key advantage during the recovery: "There's no place else on this planet that I can point to that has that degree of entrepreneurship going on." (University of Rochester photo / John Smillie)
EVER BETTER SWEATER WEATHER: Clear skies and mild temperatures meant the festivities on and off campus continued well into Saturday evening. (University of Rochester photo / J. Adam Fenster)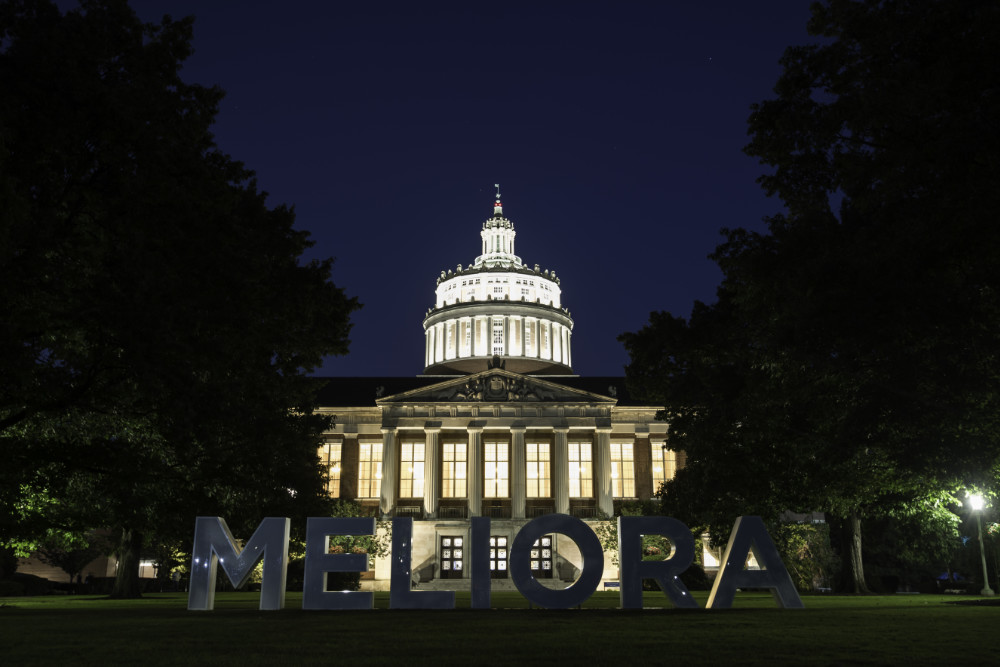 MELIORA GLOW UP: See you next year, Rochester. (University of Rochester photo / J. Adam Fenster)
Category: University News