Rochester Traditions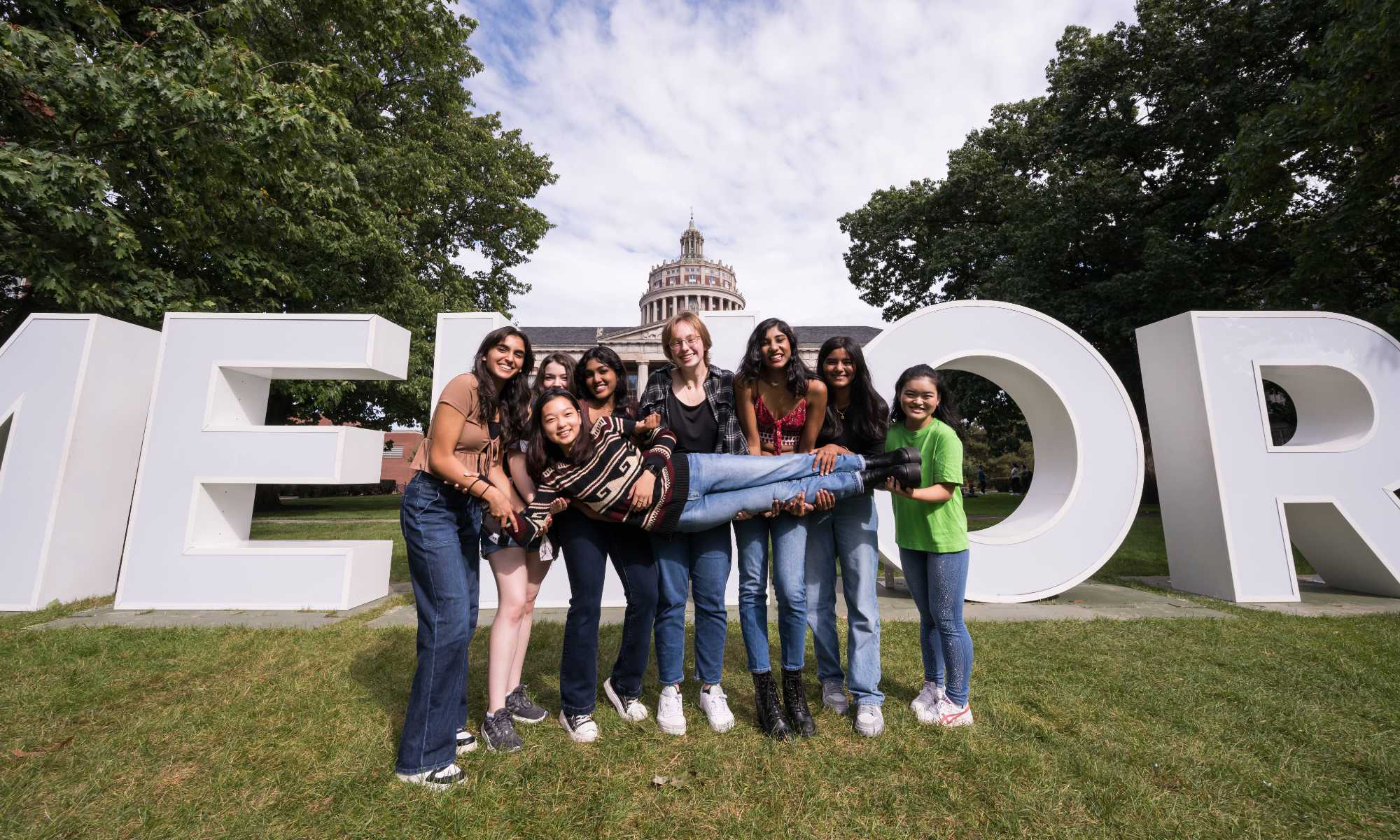 The annual fall celebration combining reunion, homecoming, and family weekend welcomed thousands to campus for four days of activities, get-togethers, and programs.
More than 10,000 people—including alumni, students, families, employees, and community members—registered to attend this year's Meliora Weekend at the University of Rochester, which took place October 5–8. The traditional fall event combines reunion, homecoming, and family weekend and offers guests an array of opportunities to learn, socialize, celebrate, and reminisce with their extended Yellowjacket family.
---
LIVE UP TO YOUR NAME: Elijah Barnard '24, a microbiology and economics major, posed with an apt portion of the Meliora letters as they were being installed on the Eastman Quadrangle before Meliora Weekend kicked off.
---
IT TAKES A MELIORA VILLAGE: The Wilson Quadrangle was transformed into Meliora Village, the campus hub for many of the weekend's performances, games, meals, and meet-ups. (University of Rochester photo / AJ Pow)
---
FROM WASHINGTON, DC, TO ROCHESTER, NY: "For all the years I've been covering American politics, I've been reminded again that I still have a lot to learn," said Judy Woodruff, senior correspondent and former anchor and managing editor for the PBS NewsHour. During her keynote address in the Palestra, she reflected on her decades-long career as a journalist and shared her predictions for the upcoming presidential election year. She said, "It's time to fasten your seat belts. We're in for a wild ride over the next 13 or 14 months."
---
STRAT CHAT: During a Q&A with Deputy to the President Joe Testani (left), Provost David Figlio discussed the University's new strategic plan, Boundless Possibility, the main roadmap for the institution. "Sarah [Mangelsdorf] and I think about the strategic plan being a direction rather than a directive," Figlio said. "And we're all moving in that same direction because the schools and units are interested in the same thing: making sure the people of the University of Rochester are the most successful they could possibly be."
---
GO, JACKETS! The University of Rochester faced Union College for the weekend's big game in Fauver Stadium. The Garnet Chargers eked out a 21–17 win over the Yellowjackets, who demonstrated persistence until the end with a couple of big fourth-quarter stops.
---
'WRITING CHOSE ME': Chimamanda Ngozi Adichie, the award-winning author of Americanah, Purple Hibiscus, and We Should All Be Feminists (among other works), shared her perspectives on growing up in Nigeria, moving to America, writing her books, and other topics to a packed house in Strong Auditorium. "I do think that storytelling makes a difference—that when we tell a story about something, there's a greater likelihood of touching that part of us that is universally human," she said.
---
GEARED UP: Each year at Meliora Weekend, undergraduates in Arts, Sciences & Engineering get to claim their class-specific Rochester traditions giveaway items. This year's gear included a mascot heritage banner, baseball hat, knit soccer scarf, and—for seniors—a much-coveted vintage "R" sweatshirt.
---
AN ENDURING LEGACY: The Paul J. Burgett Intercultural Center, named in honor of the late musician, scholar, and University leader, marked its 10th anniversary. "Our role in the Burgett Intercultural Center is to encourage critical self-reflection, celebrate joyous occasions such as today, help navigate typical situations or unfamiliar systems, and to support our students as they grow in pride at the University of Rochester," said center director Jessica Guzmán-Rea. At the celebration, Courtney Thompson Jr. '18 read aloud a proclamation by Rochester Mayor Malik Evans '02 declaring October 7, 2023, to be "Dr. Paul J. Burgett Day" in the City of Rochester for his lifelong commitment to learning and inclusion.
---
DIALOGUE ON DEMOCRACY: "The concern is today that parties are going to prioritize winning over the democratic process," said political scientist Jamie Druckman (far right) during a symposium convening a panel of experts on the state of American democracy today. In addition to Druckman, who will be joining the Rochester faculty in 2024, the experts included (left to right) moderator Gretchen Helmke, faculty director of the University of Rochester Democracy Center, Payge Vukelic '24, a current student; Shaun Nelms '04W (MS), '13W (EdD), the University's vice president for community partnerships; and Jillian Youngblood, executive director of Civic Genius.
---
BAND TOGETHER: During an open-air concert on the Wilson Quad, Rochester's own Seven Wonders, a Fleetwood Mac tribute band, could be heard across the River Campus serenading guests with their takes on iconic hits such as "Dreams" and "Go Your Own Way."
---
REUNITED AND IT FEELS SO GOOD: Rocky the mascot crossed paths with his Mini-Me.
---
A ROCHESTER WELCOME: Jeffrey McCune Jr. (right) introduced the Department of Black Studies' inaugural faculty members to the University community. Assistant professors Jordan Ealey (center) and Philip V. McHarris (left) joined the faculty a year after the department was established. "I'm very excited to be part of this new department and to further the knowledge of not only Black studies, but specifically Black feminist knowledge production," said Ealey.
---
TALK MEDICINE TO ME: Lainie Ross was among the speakers during MED Talks, a series of innovative presentations from leading Medical Center faculty. Ross, the inaugural chair of the Department of Health Humanities and Bioethics, discussed how the biopsychosocial model—which was first developed at Rochester—is critical to the future of bioethics for both medicine and translational research.
---
CONNECTING THE DOTS: Giant Connect Four, chess, cornhole, basketball toss, and a high-strikers ring were among the games and activities guests enjoyed in the Meliora Village.
---
MANY HAPPY RETURNS: During a luncheon in the Feldman Ballroom, University President Sarah Mangelsdorf (left) surprised trustee Gwen Greene '65 (right) for her 80th birthday with a specially commissioned serenade courtesy of the Midnight Ramblers a cappella group.
---
SATURDAY STAND-UP: Comedian, writer, producer, and television host Hasan Minhaj performed stand-up and answered questions for a crowd in the Palestra.
---
LATE NIGHT SKATE NIGHT: On Saturday, the Goergen Athletic Center was converted into a retro-style roller rink.
---
ALL FIRED UP: The Strong Jugglers put on a dazzling display for onlookers on the Wilson Quadrangle during their 11th annual Meliora Weekend show.
---
FIFTY AND FABULOUS: Nursing alumni from the Class of 1973—including Martha Ball Pignataro '73N, Elizabeth O'Brien '73N, Sue Griffey '73N, Michelle Young-Stevenson '73N—celebrated their 50th reunion.
---
BOUNDLESS PUP-ABILITIES: Thanks for the memories, Yellowjackets! We can't wait to do it again next year.
Category: Campus Life