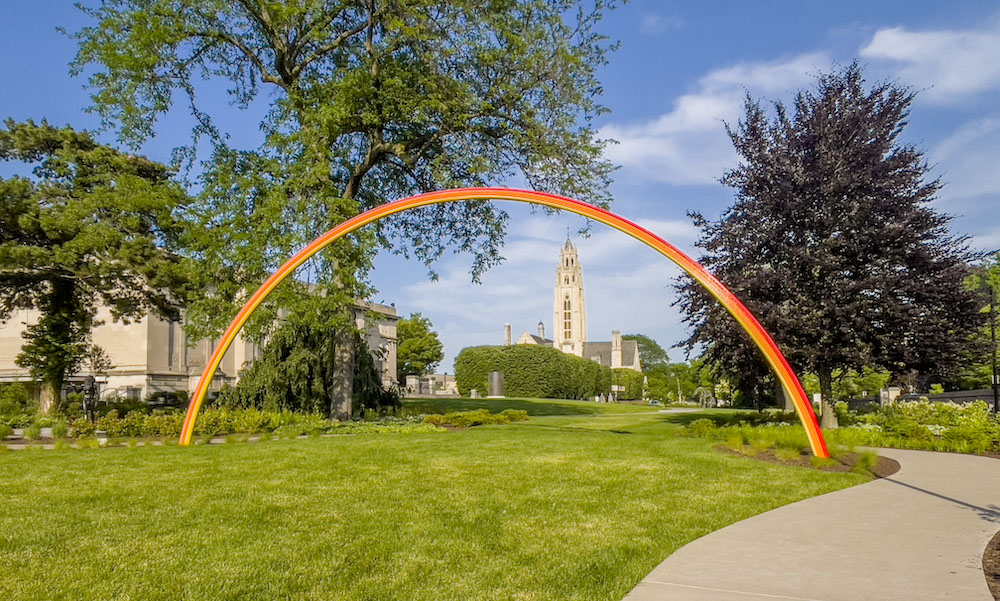 At the Memorial Art Gallery, an extended Centennial Sculpture Park graces the museum's west side.
Starting this summer, visitors to the University of Rochester's Memorial Art Gallery can wander through the Centennial Sculpture Park, making their way to the museum doors, from the west side as well as the east. A new section of the park opened in June, featuring an expansive entrance on the northeast corner of University Avenue and Prince Street, directly opposite the School of the Arts (SOTA), part of the Rochester City School District.
Anchoring the new section is the winding ceramic tile sculpture Broken Pavilion, inspired by SOTA students and created especially for the park by the noted contemporary artist Rashid Johnson. Lover's Rainbow (pictured), a 42-foot-wide, 16 1/2-foot tall arc of painted stainless steel rebar by Mexican artist Pia Camil, gracefully frames the Memorial Art Gallery's signature Cutler Union tower.
Learn more about each of the seven new works, as well as older works on the east side of the park, by visiting the museum's online guide to the park.
Category: In Photos