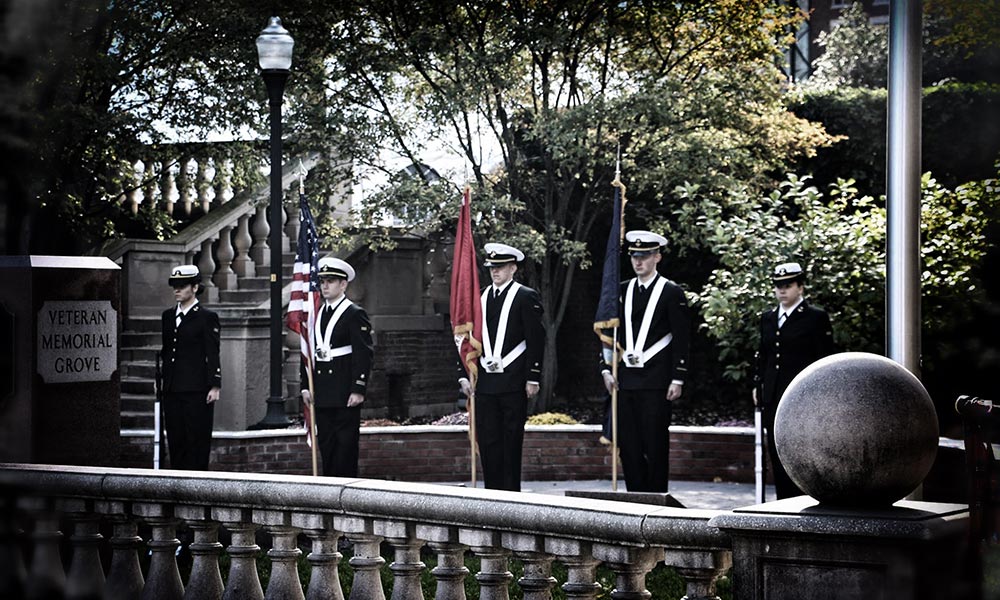 Since shortly after the University of Rochester was founded in 1850, its students and alumni have served in wartime. Some have paid the ultimate price, and their legacies are etched into the fabric of everyday life at the University.
They're commemorated in some of the most prominent spaces on the River Campus. In Wilson Commons, affixed to a wall on the west side of Hirst Lounge, are a series of plaques listing the names of fallen students and alumni: 10 in the Civil War; 11 in the First World War; 57 in World War II; 4 in Korea; and 17 in Vietnam.
Exit the student center, follow the path toward the Freshman Quad, and at the foot of a series of stone steps is the Veteran Memorial Grove. Hidden away from most visitors, the grove is anything but to the hundreds of students who pass by it almost daily.
On Memorial Day weekend, the students are gone, and the grove—now in bloom—is quiet. A space for contemplation, it fits the purpose of Memorial Day.
"Memorial Day is a day to pause and remember those who have made the ultimate sacrifice," says Norberto Nobrega '97S (MBA), a U.S. Navy captain who commands the University's 66-member NROTC unit. "Because of their sacrifice, we are able to celebrate freedom."
Nobrega says his office knows of no alumni who died in the Persian Gulf War, the War in Afghanistan, or the Iraq War.
(University photos / River Campus Libraries; Rare Books, Special Collections, and Preservation)
---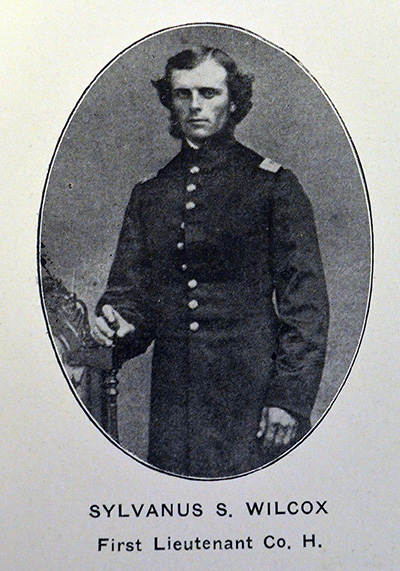 Civil War
Sylvanus Wilcox, Class of 1860
Sylvanus Wilcox was born in 1838 in Gasport, a hamlet in western New York. He left his business in Albany in 1862, saying he "must go" into the Union ranks. Wilcox joined the 151st Infantry Regiment of New York volunteers in Lockport and rose to the rank of captain.
Wilcox was killed on November 27, 1863, at the Battle of Mine Run in Locust Grove, Virginia. According to a history of the regiment published in 1911, he had noted just hours before his death that, should a bullet strike him, he preferred instant death to suffering. Wilcox was shot in the left leg by a rifle ball, severing the femoral artery.
"In an instant, I was at his side," Lt. L.T. Foote later wrote. "He exclaimed, 'It is my death wound. I shall bleed to death.' Weak from the loss of blood, he sank into my arms and was borne from the field."
Wilcox was the only officer of the 151st killed at Mine Run.
"He was greatly loved by his men, and a gallant officer and ideal soldier," wrote company clerk Lew Darrow.
World War I
Leon Buckler, Class of 1917
Born in 1894 in Rochester, Buckler attended the University for three years before joining the military in the fall of 1916. When the United States entered what was soon known as the Great War in April 1917, he was transferred to Verdun, France, and placed on the front lines as an ambulance driver.
"He was a small, slight figure of a man," a fellow soldier recounted. Buckler came down with pneumonia and recovered in a hospital in Bar-le-Duc. In the fall of 1917, he was promoted to first sergeant and, at his insistence, was sent back to the front, where his duties often included carrying wounded soldiers to and from the car for treatment. In the summer of 1918, Buckler was working in the mountains of Alsace when he developed pneumonia again. He died September 19 in the village of Urbes, less than two months before the war ended.
Buckler was buried in Urbes, but two years later his body was transferred to Mount Hope Cemetery. He was awarded the French Croix du Guerre with bronze star. His citation reads: "A model of coolness and untiring activity. During the combats from July 18–28, 1918, he effected the evacuation of the regimental wounded in perfect manner, without rest and indifferent to the artillery fire raging around the first-aid station."
World War II
Bruce Beghold, Class of 1947
Bruce Beghold grew up in Rochester and attended West High School before heading to Scranton Keystone Junior College in 1942 to study veterinary medicine.
Animals weren't his only interest, though.
"I've always had a curiosity to find out what makes things tick," he wrote in his admissions letter to the University of Rochester in 1943. "I've collected drawer upon drawer of catalogs (travel, auto, farm machinery), and gadgets of all kinds."
He also collected more than 300 telephone directories across the states (his family made yearly trips to Michigan to visit relatives) and spent hours "searching out strange names, famous names, industries . . . "
Beghold was accepted to the University in July 1943 but completed only one term. On January 30, 1944, he entered military service as a private with the 116th Infantry Regiment, 29th Infantry Division, and was sent to France. On August 30, exactly seven months later, he died of wounds suffered in action in Normandy, France. The story was front-page news in the Rochester Democrat and Chronicle.,
Shortly after his death, his parents received a letter from Roman Speegle, the University's longtime physical education teacher and swim coach.
"I knew Bruce best in the informal atmosphere of the gymnasium," Speegle wrote, "and found him to be a courteous, conscientious, and lovable boy."
Beghold is buried in Brittany American Cemetery in Saint-James, Normandy.
Korean War
Charles Langtry, Class of 1945
Charles Langtry was born in Buffalo in 1924, but raised in Rochester.
"I was brought up much the same as the average boy, without any outstanding experiences or traits," he wrote in his University admissions letter in 1941. "I am of average intelligence and like the same things that other fellows do."
He spent a year at Rensselaer Polytechnic Institute in Troy, New York, majoring in chemical engineering. He returned home and worked in the paper mill at Eastman Kodak before resuming his studies at Rochester. He spent two years at the University as a mechanical engineering major before joining the Marine Corps in the South Pacific Theater in 1943.
After the war ended in 1945, Langtry went back to school, worked at a local Chevrolet dealership, married, and became a father to two daughters. He reenlisted in the Marines during the Korean War and was the technical sergeant on a leaflet dropping mission with Marine Observation Squadron 6 on July 3, 1952, when his plane was shot down by enemy aircraft. His family was notified six months later that he was missing in action, and he finally was presumed dead on December 17, 1953.
Langtry was 28. He left behind his wife, Elizabeth, and daughters Jane, 6, and Sheryl, 3.
Vietnam War
Thomas King, Class of 1966
To say that Thomas King was an active teenager would be an understatement. He was a member of the football, soccer, wrestling, baseball, and track teams at Penfield High in Rochester, and as a junior he joined the Navy Reserves.
He entered the University as an industrial management major, became battalion commander of the NROTC, and in his junior year—at a time when many men his age were protected from the war in Southeast Asia by their college enrollment—King enlisted in the Marines.
One of 13 graduating seniors to receive an armed forces commission on commencement day in 1966, he went to Vietnam as part of Company B, First Battalion, 9th Marines in the Republic of Vietnam. After taking part in several combat operations in the Quang Tri Province, the lieutenant was killed in action on July 2, 1967 while leading his platoon on a search and destroy mission.
"He was a Marine through and through," his father, George, told the Rochester Democrat and Chronicle. "He had made it his whole life and was doing exceptionally well."
King's decorations include two Purple Hearts, the Vietnam Service Medal, and the Vietnam Commendation Medal. He was awarded the Bronze Star with Combat "V"—the fourth-highest military decoration for valor—and is buried in Arlington National Cemetery. His last letter home was written minutes before he set out on his fatal mission.
Category: University News