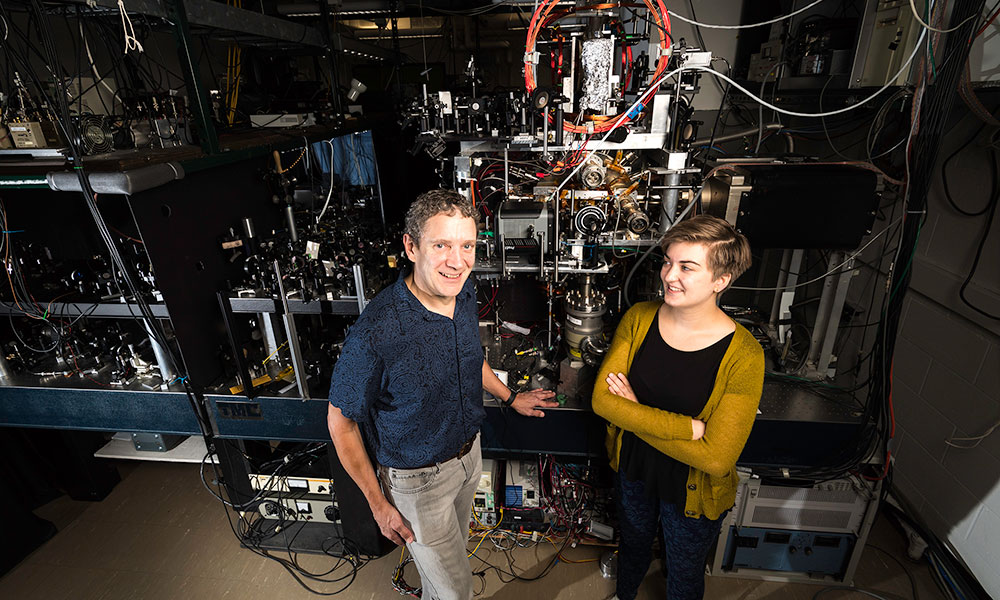 Frederick Lewis '68 (PhD) was surrounded by mentors while working toward his doctorate in organic chemistry at the University.
"My PhD advisor was William Saunders," Lewis says. "He was wonderful, a hands-off mentor who let me go at my own speed. Two other professors, Jack Kampmeier and Marshall Gates, were role models for what an academic scientist should be. All three made an impact on me."
Although Lewis left Rochester 50 years ago to embark on what would become a 48-year career as a chemistry professor at Northwestern University, he has remained in touch with Rochester's chemistry department and remembers the inspiration he felt on campus.
"I wanted to give something back," he says.
In 2017 Lewis and his wife, Susan Rice Lewis, funded a new award, the College Award for Undergraduate Teaching and Research Mentorship, to recognize a tenured faculty member in Arts, Sciences & Engineering who excels as a scholar, teacher, and mentor of undergraduate students. It salutes those tenured faculty members who teach large, introductory classes, as well as advanced seminars, independent study projects, and mentor research experiences, especially those that involve laboratory training in the sciences and engineering.
The nomination process for the inaugural winner of the award is now underway. Detailed instructions can be found here. All nominations must be submitted by March 2 via email to collegedean@ur.rochester.edu. One $20,000 award will be given annually at the Undergraduate Research Exposition in April. Selections will be made by Jeffrey Runner, dean of the College; Gloria Culver, dean of the School of Arts & Sciences; and Wendi Heinzelman, dean of the Hajim School of Engineering & Applied Sciences.
"Teaching awards are almost always about classroom teaching," Lewis says. "To me, it's so important that we mentor students who will be future scientists, and that's done more in the lab than the classroom. The classroom is where you get students interested in going to a lab. The lab is where you get them engaged."
"The award is a great opportunity to recognize the outstanding instruction and ongoing mentorship displayed by faculty in Arts, Sciences & Engineering," Runner says. "It especially highlights the critical link between classroom and research experiences, and how our faculty can leverage this to foster dynamic learning. I'm thrilled to be able to celebrate the unique impact that faculty have had on our students' success."
Category: University News