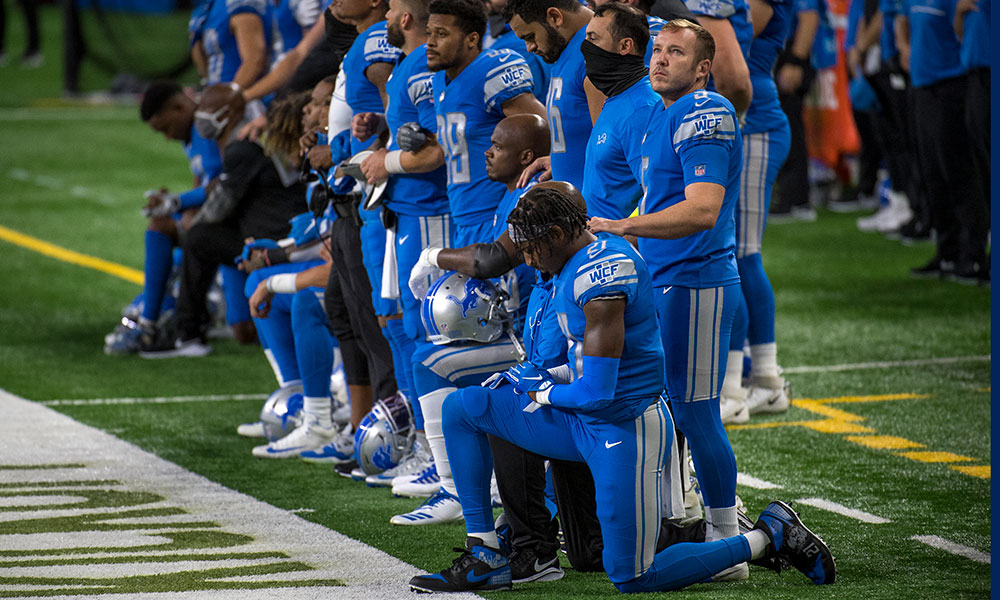 In a turnabout, NFL team owners say they're supporting players' freedom to protest police violence. In 2017, when President Donald Trump criticized league players for kneeling during the national anthem, owners scrambled to stop player activism, writes Bethany Lacina, an associate professor of political science at the University of Rochester, in an analysis for the Washington Post's Monkey Cage site.
Yet, Lacina cautions "the National Football League's newfound appreciation for its players' civil rights gestures is likely to be tested by the election season and by fans' spending power." While Black players make up two-thirds of the league—Republicans still disapprove of the protests. At the same time, recent polls show that most Americans now believe that kneeling during the anthem is acceptable.
The crux for the team owners is obvious, says Lacina: if they side with protesting players over the president, they risk losing Republican fans. If the owners side with the president, they risk losing Black fans.
"Republicans contribute disproportionately to the NFL's revenue. Republicans skew wealthier, and they account for 31 percent of the buyers of NFL apparel and 32 percent of the fans in the stands," writes the political scientist. "African Americans have a lower income distribution and are underrepresented in these lucrative categories."
Lacina's main research interests cover international relations, comparative politics, conflict, and Indian politics. The author of Rival Claims: Ethnic Violence and Territorial Autonomy under Indian Federalism (University of Michigan Press, 2017), Lacina is an expert in civil and ethnic conflict, especially disputes over territorial autonomy. Her latest book—Nativism and Economic Integration Across the Developing World: Collision and Accommodation (Cambridge University Press, 2018), coauthored with Rikhil Bhavnani from the University of Wisconsin—looks at ethnic groups' fighting over migration and nativism.
Category: Voices & Opinion