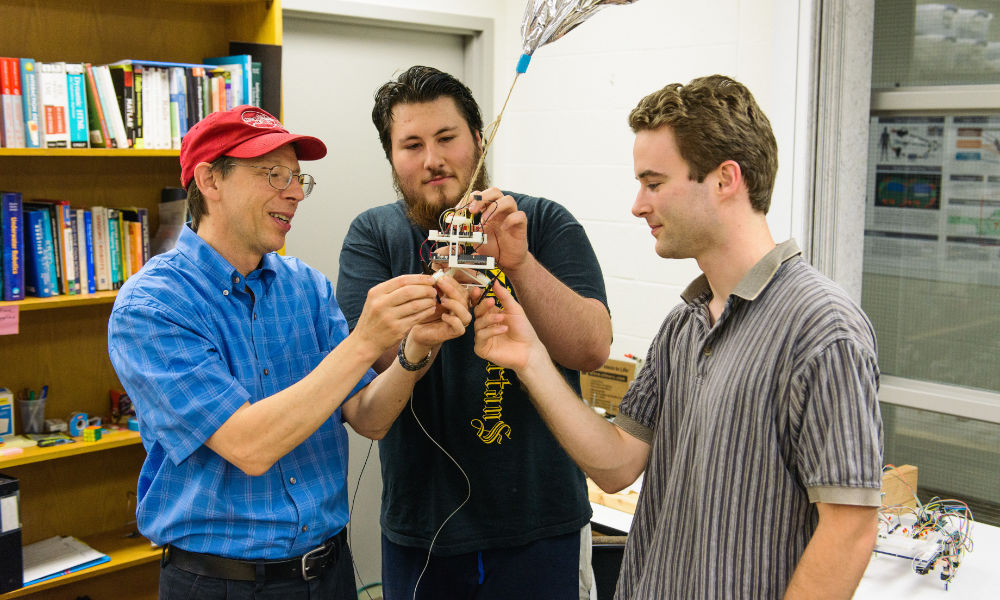 Randal Nelson is being remembered as a curious and creative engineer who was deeply invested in advising, mentoring, and supervising Rochester students.
You could always count on Randal Nelson's students to bring something intriguing to Senior Design Day at the University of Rochester.
Last year, it was the Skatebot—a robot that could skate on both wheels and blades. The year before, it was the Blob-bot, a robotic amoeba "consisting of a flexible icosahedral shell animated by 30 linear actuators co-incident with the polyhedral edges."
And, invariably, they actually worked.
The Robotics Club Nelson helped organize and guide, the robot construction class he taught, and the makers space he created and filled with tools in the Computer Studies Building, became havens for project-driven students like Morgan Sinko '16 and Lucian Copeland '16 who thrive on translating ingenuity into workable prototypes.
They were stunned and saddened to hear that Nelson died unexpectedly while taking a walk in his Rochester neighborhood in April. Though recently diagnosed with cancer, Nelson was undergoing treatment and seemed to be doing well. He was 61.
"Randal Nelson was the best advisor and mentor a student or engineer could hope for," says Sinko who, with Copeland and other students, cofounded Haptech. The start-up eventually had a four-year run as Hardlight VR, selling virtual reality full-body suits.
"There were plenty of faculty who would throw praise on students, but when Randal Nelson did it, you knew that person had done something extraordinary," Sinko says.
"He was definitely one of the most dependably down-to-earth engineers that I ever met," Copeland adds. "And we were all so improved as makers as a result."
'Relentless at solving real problems'
Nelson's death is "a huge loss, not just to the computer science department but to our entire community," says Wendi Heinzelman, dean of the Hajim School of Engineering & Applied Sciences.
"Randal was a dear colleague and friend," says Sandhya Dwarkadas, the Albert Arendt Hopeman Professor and Chair of Computer Science. "He cared deeply about his students, the department, and the University, and has touched the lives of so many generations of our undergraduate and graduate students. He was never afraid to speak his mind. Students and faculty alike benefited from his curiosity, creativity, and wealth of knowledge on every subject imaginable. He is sorely missed."
Nelson grew up in Laramie, Wyoming, where he enjoyed climbing mountains and began a lifelong love of nature.
He earned degrees in physics and mathematics at the University of Wyoming. He then switched to computer science, completing a PhD at the University of Maryland in 1988, the same year he joined the faculty at Rochester.
Nelson's research interests included machine vision and robotics, specifically surveillance, motion analysis, object recognition, and visual control of robots. He was principal or co-principal investigator on 19 research grants totaling more than $7 million.
"Randal was always loath to publish any solutions that were, to him, 'already known,' totally rejecting the 'just-publishable increment' criterion of publishability," says Chris Brown, emeritus professor of computer science and a close friend to Nelson. Instead, Nelson "was relentless at getting real problems solved in innovative ways, sharing with the great scientists the instinct for identifying interesting and important problems at the interface between impossible and doable. These were mostly unpublished, since his standards for innovation were so high."
Nelson invested deeply in advising, mentoring, and supervising individuals and labs. "He worked hard—hours and hours—with students the rest of us would dismiss as 'hopeless cases,'" Brown says. "He cared deeply that students understand their chosen problem and approaches to it."
Do it right, or not at all
Nelson will be remembered for many talents and interests.
For example, Nelson joined Brown; Ted Pawlicki, a fellow professor in the department; and Marty Guenther, former undergraduate coordinator, in performing as the AlgoRhythms at department retirements, birthdays, and graduations. Nelson played keyboard and contributed to the group's corpus of songs that often poked gentle fun at all aspects of academia.
Nelson combined his love of nature and photography by chronicling the wildflowers of Brighton Town Park. He also loved reading science fiction and woodworking.
"I think he recreated in his garage most of the technology through 1900," Brown says. Nelson even built a furnace to refine pig-iron from some black sand gathered on a family trip to the Adirondacks.
"He was always studying the world around him," says his wife, Gwen. "He could and would talk your head off about any topic you could possibly bring up."
To his students, he could be a stern mentor, whose blunt advice was nonetheless appreciated once they realized it was delivered with their best interests in mind.
"Students have a way of cutting corners, but Nelson would never accept that. It was done right or not at all," says Sinko, now a senior game developer and technologist at Booz Allen Hamilton. "He kept our engineering standards high and our heads on our shoulders."
"He was always steering us in the direction of making things viable," says Copeland, who maintains software platforms for Adafruit, a distributor of electronics and robotic parts for hobbyists and startups.
Copeland says he continued to stay in touch with Nelson, sharing the projects he was working on.
"This is really tough to deal with. I'm really sad I won't have the chance to show him the final results."
Nelson is also survived by three children, Brendan, Fiona, and Erik. A memorial mass will be held at St. Anne Church at a later date. The family requests that remembrances in Nelson's name may be made to the Highland Park Conservancy or https://uofr.us/randalnelson.
Category: University News