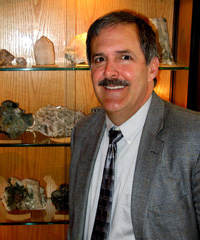 Geochemist Robert Poreda, an expert in the field of noble gases, was honored earlier this month as a newly elected fellow of the Geological Society of America (GSA).
Poreda, professor of earth and environmental sciences, and the other 72 fellows elected by the organization last summer were recognized at the GSA's annual meeting in Baltimore.
The GSA elected Poreda–in the words of his nominator–"for his research contributions on application of noble gases toward understanding the history of mantle dynamics, use of tritium-helium groundwater dating, Ne (neon) cosmogenic surface exposure age dating techniques, and environmental impacts of unconventional energy development on groundwater."
"Throughout his career, Bob Poreda has been innovative in using noble gases to explore a wide range of exciting questions in the geosciences," said Carmala Garzione, chair of the Department of Earth and Environmental Sciences at the University of Rochester. "Because he's drawn to tough problems, he has consistently addressed some of the most outstanding challenges in our discipline."
One of those challenges occurred in a joint research project with The Ohio State University, Duke University, Stanford University, Dartmouth College, and the University of Rochester to determine the source of natural gas contamination in drinking-water wells associated with hydraulic fracturing.  Poreda's expertise in noble gases was essential in tracing the contamination to the hydraulic fracturing process–most likely due to poor casing and cementing in the wells.
Poreda, who earned his Ph.D. in earth sciences at the University of California, San Diego, wrote his thesis on "Helium, Neon, Water, and Carbon in Volcanic Rocks and Gases." He remained in San Diego as a postgraduate research geologist and then as an assistant research geologist before joining the faculty at the University of Rochester in 1987.
The GSA elects fellows "in recognition of their distinguished contributions to the geosciences through such avenues as publications, applied research, teaching, administration of geological programs, contributing to the public awareness of geology, leadership of professional organizations, and taking on editorial, bibliographic, and library responsibilities."
Established in 1888, the Geological Society of America is a global professional society with a membership of more than 26,000 individuals in 115 countries.
Category: University News