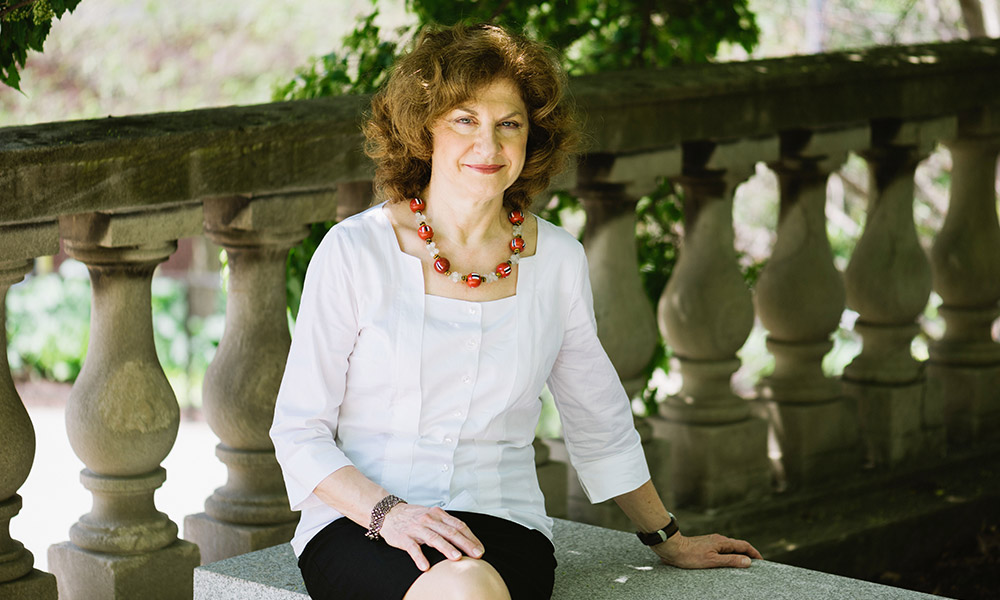 This spring, the University of the Pacific (UP) in Lima, Peru, conferred an honorary professorship on Donatella Stocchi-Perucchio, associate professor of Italian in the Department of Modern Languages and Cultures. The designation recognizes her scholarly contributions to the field of Italian studies and comparative literature as well as her efforts in fostering a dialogue among Italianists worldwide.
Stocchi-Perucchio's relationship with scholars of world and Italian literature at the University of the Pacific began in 2010 and grew around issues of mutual interest. These include the study of the Italian poet Dante Alighieri, his minor works and his epic poem, the Divine Comedy, both in a comparative context and in relation to political philosophy, economics, and the arts.
Since then, she has worked closely with professor Jorge Wiesse Rebagliati, current chair of the Department of the Humanities at UP, and Carlos Gatti Murriel, professor emeritus from the same department, on publications, lectures, conferences, and panel discussions. Among these are three international conferences: "Dante and the Arts: Textual and Intertextual Perspectives" (held at Rochester under the auspices of the Humanities Project in 2013), "Purgatorios/Purgatori," and "Pensare el dinero" (the latter two held at UP in 2013 and 2015, respectively).
The University of the Pacific has become a center in Latin America for literary and artistic responses to Dante's visions of hell, purgatory, and paradise. This is mostly due to the impact of the Lectura Dantis—a critical genre of public, close readings, canto by canto, of Dante's masterpiece dating back to the 14th century—that Gatti and Wiesse have been conducting since 2008. Stocchi-Perucchio herself has participated in a few sessions of this Lectura Dantis.
These and other collaborations focus on multiple aspects of the field of Dante studies as well as on the wide-ranging phenomenon of the reception of the Divine Comedy. Reception, according to Stocchi-Perucchio, includes everything from translations to multiple kinds of adaptations and creative elaborations—literary, theatrical, musical, and visual among others—that continue to appear in different media, genres, cultural contexts, and time periods.
Stocchi-Perucchio describes the various instances of reception as "proliferations" in order to "emphasize the generative force and the creative component" inherent to these re-readings, re-writings, and appropriations of Dante that span seven centuries and counting. This fact inspired her and her Peruvian colleagues to create a "Dante Portal," an international electronic resource for reception materials.
But why does the Divine Comedy, completed in 1320, continue to inspire such re-interpretations, ones that defy linguistic, geographic, and historical boundaries? "The poem is both an autobiography and an epic. It tells the personal story of an existential crisis that sets in motion a quest for love, knowledge, the meaning in one's life, and ultimately God. These autobiographic concerns attract readers because in them they recognize their own struggles and aspirations," Stocchi-Perucchio explains.
Furthermore, she argues, "The poem explores the problem of evil, the question of human freedom, and the ethical responsibility that results in punishment and reward. Along with a disenchanted assessment of the historical reality, its epic dimension involves a powerful political vision animated by a strong faith in human perfectibility and in the possibility of achieving peace and justice in the world. In conveying through his poetry all these philosophical, historical, political, religious, and personal concerns, Dante has created the vast readership that still honors his legacy today."
Dante—both the author and the field of study—is at the center of the Italian program and the individualized major in Italian studies at Rochester. Among her regular offerings, Stocchi-Perucchio teaches classes on other medieval Italian authors (such as Boccaccio and Petrarch) that are part of several interdepartmental clusters and support the minor in medieval studies. Her other courses cover film and various aspects of 20th-century Italian culture, history, and politics (notably fascism). She is also the founder and academic director of the interdisciplinary program "Italian Studies in Tuscany," which takes place every fall in Arezzo, Italy.
Stocchi-Perucchio has published on Dante, Cavalcanti, Pirandello, and Leopardi. A new coedited volume entitled Dante politico: Ideological Appropriation Across Boundaries is forthcoming with Mediaevalia. The exploration of Dante's role in the post-colonial reclamation of pan-African identity is among her future research projects.
Category: University News