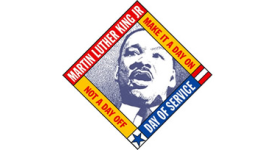 University Partners with Rochester Cares for National Day of Service
More than 300 students at the University of Rochester will join community members for a day of volunteerism during Rochester Cares King for a Day Celebration of Service on Saturday, Jan. 19, from 10 a.m. to noon.
King for a Day is a part of the nationally recognized MLK Day of Service, which encourages Americans across the country to engage in volunteer activities in honor of Martin Luther King Jr. In Rochester, volunteers will participate in service projects at more than 20 sites throughout the community.
Through the efforts of the Rochester Center for Community Leadership, undergraduates from the University of Rochester, along with students from the College at Brockport, Nazareth College, Roberts Wesleyan College, and St. John Fisher College, have organized for the first time to join the effort.
Students will be volunteering at the following King for a Day locations:
Wilson Commencement Academy (131 West Broad Street)
Students will assist with a clothing drive for children in need.
Citizen U (1199 East Main Street)
Volunteers will assist youth in creating miniature libraries to be shared with the community.
Habitat ReStore (755 Culver Road)
Students will work in the Habitat ReStore, a socially conscious home improvement store that supports the building of affordable homes in Rochester.
19th Ward Community Association (216 Thurston Road)
Students will assist with creating luminary kits for the 19th Ward's annual MLK celebration and distributing them to neighbors. /p>
Catholic Family Center (709-715 Dewey Avenue)
Students will work with children to help paint murals in the residential facility.
Inquiries about the MLK Day of Service may be directed to on-site media contact Emma Rainwater at 401.699.2509.
Category: Student Life