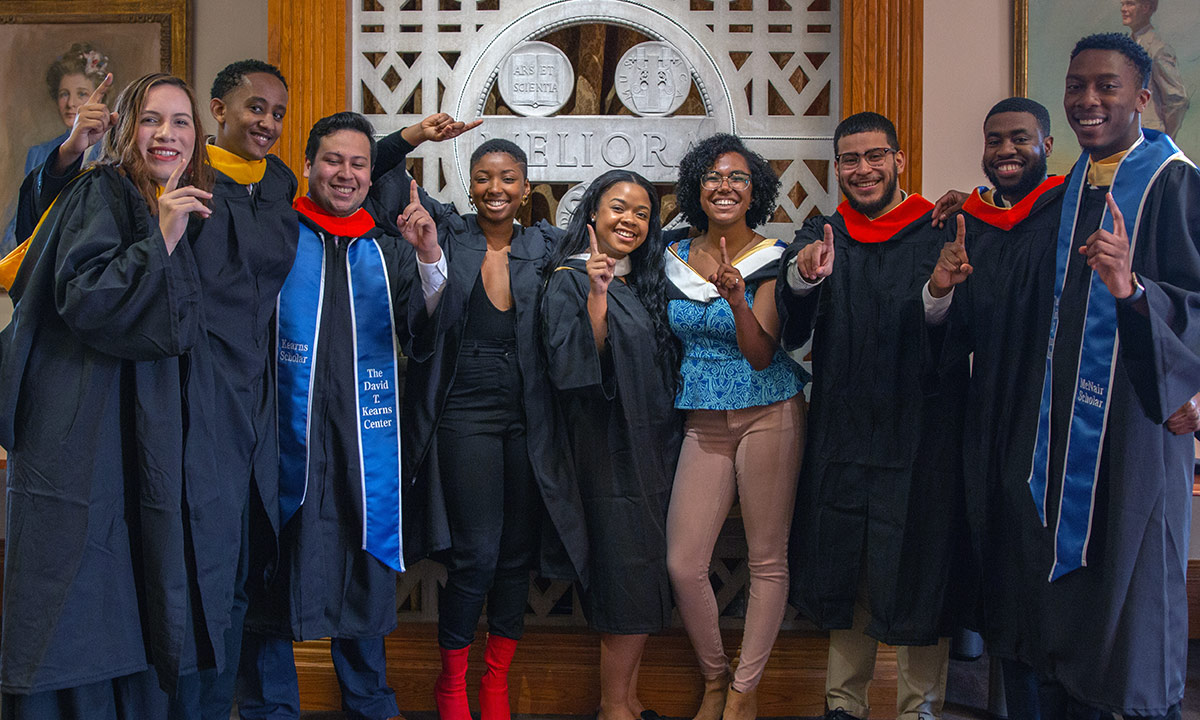 Four years after arriving on campus, the "posse" is ready to ride off as graduates of the University of Rochester.
Nine students who came to Rochester from Washington, D.C., in 2014 as members of the University's first Posse Foundation cohort celebrated their impending graduation with a ceremony at Rush Rhees Library on May 12. Richard Feldman, interim president, and Jonathan Burdick, vice provost and dean of admissions, were among those in attendance.
The Posse Foundation was founded in 1989 to identify high school students with extraordinary academic potential who may be overlooked by the traditional college selection process. Each fall, around 16,000 students are nominated by high schools and community organizations based on leadership and potential, and about 800 scholarship slots are filled. Cohorts of up to 10 high-achieving students are sent to selective colleges and universities.
Rochester became a Posse partner in 2014 and provides full-tuition merit scholarships annually to qualified students from the D.C. area.
Posse Foundation partners have awarded $1.2 billion in leadership scholarships, and the students have a 90 percent college graduation rate.
"Joining Posse was the right move for Rochester, and our first class has been exactly that—first class," Burdick says. "They've not only earned their degrees, but also campus-wide interest in the partnership, and they've paved the way for later generations of Posse students to come and excel here. I'm proud of each of them, and grateful for how they've worked as a Posse, and I'll miss seeing them around."
The nine graduating seniors are: Leonardo Bonilla (mechanical engineering), Josue Hernandez (mechanical engineering), Kavon Holley (political science), Amber Hudson (English), Lamek Kahsay (environmental health), Mohamed Keita (mechanical engineering), Marisela Lara (neuroscience), Kristi Thomas (economics and psychology), and Courtney Thomas (international relations and interdepartmental studies).
Category: Campus Life