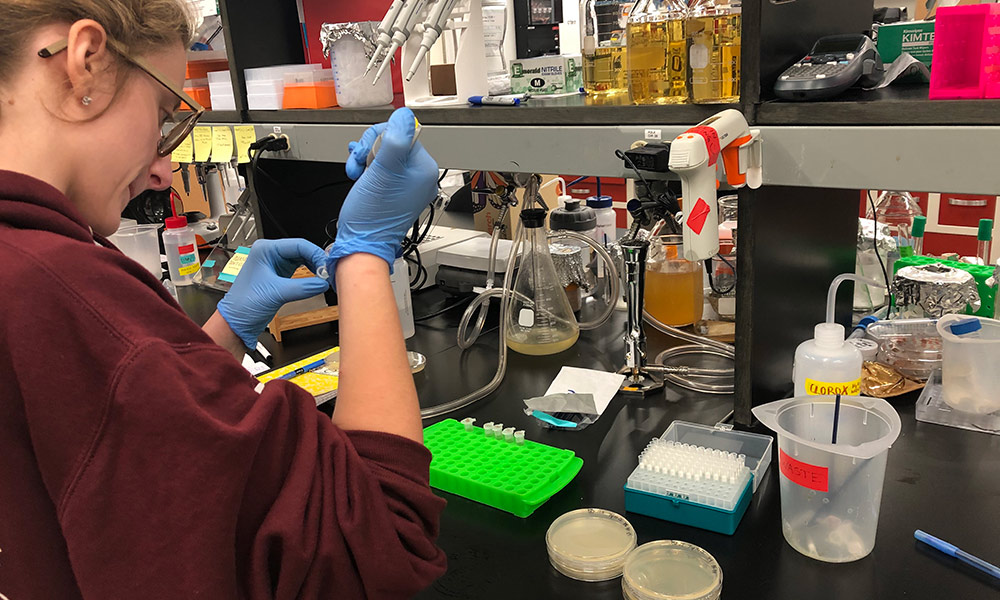 Entrepreneurship, global experience, interdisciplinary study, and service are part of their 'solution-oriented' tool kit.
Tiana Salomon '22 learned about the Grand Challenges Scholars (GCS) program during her first year at the University of Rochester.
"I thought it was super interesting to be able to engage with one topic, from so many different perspectives," says Salomon, a biomedical engineering major from Schortens, Germany. "That really is the future of science."
The GCS program invites undergraduates to pick one of 14 "grand challenges" of the 21st century, identified by the National Academy of Engineering (NAE). Students then tailor their academic experiences to address the challenge they've chosen, engaging in five key competencies: research, entrepreneurship, interdisciplinary studies, global experience, and service.
As they near the end of their programs, they prepare a report reflecting on their GCS experience. Many have also entered posters in the University's Undergraduate Research Expo and described their experiences in Q-and-A's and profiles.
Students who complete the program receive a gold medallion and a certificate.
Salomon successfully addressed the challenge of engineering better medicines by participating as team leader for the University's award-winning 2021 iGEM team. The team combined research and design to create a novel device that diagnoses sepsis based on biomarkers in a person's sweat. In addition, the team worked to increase awareness of sepsis and synthetic biology through a variety of education and outreach programs. Team members also became well versed in entrepreneurial considerations and regulatory policies.
"You have to think beyond just your standard lab work or research," says Salomon. "You have to think about all these other perspectives, like who is this product for, how will they think about it, what are their needs, how can I provide a service to the community, and how will this work from a more innovative entrepreneurship perspective?"
GCS alumnus Beauclaire Mbanya '20, a Rhodes Scholar, says the required competencies equip students with a "multifaceted solution-oriented mindset" to not only address 21st-century challenges but to "contribute to the good of humanity."
Grand Challenges Scholars attracts students in sciences and humanities, as well as engineering
This marks the fifth year since Wendi Heinzelman, dean of the Hajim School of Engineering & Applied Sciences, secured the University's participation in the national Grand Challenges Scholars Program. Though administered by the Hajim School, the Rochester program has also attracted students from 15 majors outside of engineering, including biological sciences, business, and music.
"I love this program," English major Shannon Lue Chee Lip '21 wrote. "It's one of the few opportunities I've found for humanities students to meaningfully collaborate with the STEM field to solve global problems." Lip addressed the challenge of advancing personalized learning.
Of the 51 students who have successfully completed the program, more than half (27) are women, and more than half (29) are international students. They have addressed all but one of the 14 grand challenges. "Providing access to clean water," "engineering better medicines," and "creating the tools of scientific discovery" are the most popular.
"I am hoping we can continue to grow the program," Heinzelman says. "It has been really positive and productive."
GCS director Emma Derisi says she's been able to establish partnerships with several other campus offices and programs, such as iZone, the Ain Center for Entrepreneurship, the Center for Community Engagement, and iGEM, plus numerous student clubs. These partnerships have created more ways for students to satisfy GCS competencies.
For example, students new to the program worry that the only way to satisfy the entrepreneurship competency is to start a company of their own.
"I tell them it's great if you do—but you don't have to," Derisi says. "There are other ways you can fulfill the requirement, through workshops and competitions at the Ain Center, for example."
Initially the program was aimed at highly motivated first- and second-year students who would use the program as a new type of framework to take ownership of their learning experience here. The idea was to provide the students not only a personalized, well-rounded educational experience, but a valuable talking point when seeking jobs or applying to graduate schools.
However, most students have qualified as juniors or seniors.
"The reason for that is it's very difficult for most first- and second-year students to understand the context of what they're doing," Derisi says. "They're busy taking their required classes. And they are maybe just starting to dabble in what they're going to do for their clusters and getting involved in clubs and other activities. But it isn't until later that they start to see how those fields intersect and begin to explore what they can make of it."
Program complements University of Rochester's open curriculum
The University—a tier 1 research institution with a strong focus on liberal arts and entrepreneurship—is tailor made for Grand Challenges Scholars to make the most of those intersections. That's especially the case given the University's Meliora ("ever better") culture, which brings together a highly motivated, diverse group of undergraduates and gives them the opportunity to fully explore their passions through a unique open curriculum.
The University's open curriculum, for example, allowed Mark Westman '20 to not only pursue a rigorous mechanical engineering major, but complete a cluster of classes on the topic of War, Revolution, and Society. The course cluster enabled him to "dig deeper into both historical and ongoing global conflicts" while addressing the challenge of preventing nuclear terror.
Muhammad Miqdad '19, a chemical engineering major, completed four courses in economics and political science, "which shaped my understanding of the economics of water around the world," he wrote, while addressing the challenge of providing access to clean water.
Especially for international students, GCS is an opportunity to confront problems that directly affect their families and friends back home.
For example, Miqdad, who is from Pakistan, enlisted fellow Grand Challenges Scholar Afnan Ahmed '21 (business), Claude Mulindi '22 (engineering science), and Kareem Abdelmaqsoud '22 (chemical engineering) on his EZ Water team. They won the Ain Center's Forbes Entrepreneurial Competition pitching a plan to provide cheap, reliable drinking water in Pakistan. Miqdad later used the prize money to install wells for drinking water in remote villages of Pakistan's Thar desert.
For Miqdad, the value of the Grand Challenges Program is "a community of students dedicated towards solving key challenges around the world. I believe that is the greatest support, inspiration, and exposure a college student can have going forward in life!"
GCS helps student see 'the bigger picture of their lives'
One of the greatest benefits, students say, is the reflection they write describing the ways they satisfied the various competencies while addressing a specific challenge.
"As an undergraduate, you major in something, but how do you showcase what you actually focused on?" wrote Raymond Chin '18, a biomedical engineering graduate who addressed the challenge of engineering better medicine. He is now a senior associate vaccines scientist at Pfizer.
"Grand Challenges puts what I did as an undergraduate all together. It's connecting all the dots, fitting it under an umbrella so that it all makes sense to you."
That is what makes Derisi especially proud as she watches Grand Challenges Scholars receive their gold medallions.
"Our students leave here understanding how all of the things they did during their four years of college all come together," she says. "They have a better understanding of the value of what they've done, and how it fits in the bigger picture of their lives."
To learn more
For more information, contact the Grand Challenges Scholars Program director, Emma Derisi, at emma.derisi@rochester.edu or (585) 275-2354.
---
Read more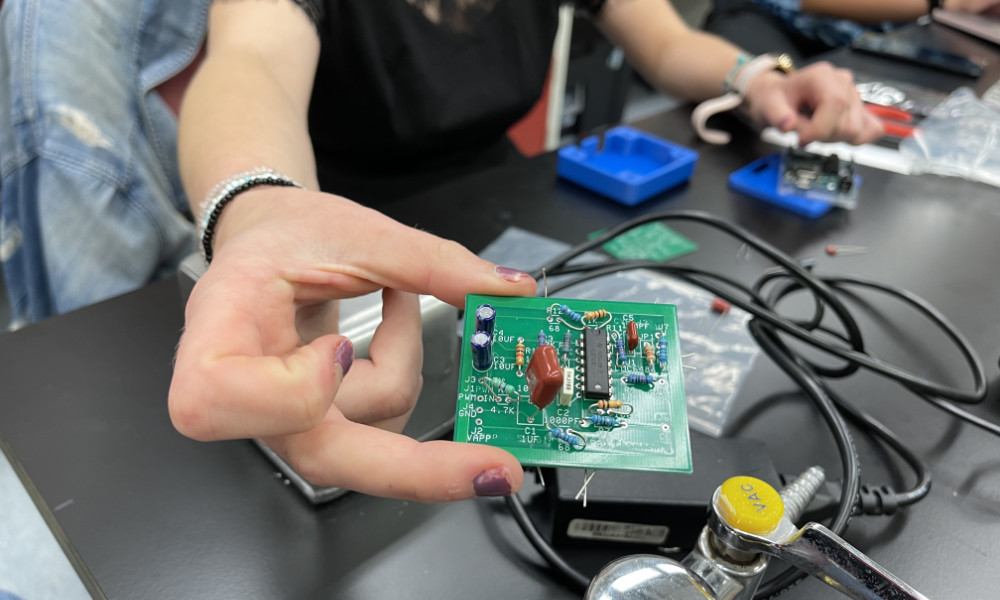 Rochester students' award-winning device instantly detects sepsis via sweat
Rochester undergraduates have developed a fast, noninvasive, affordable, and eco-friendly way to diagnose the life-threatening medical complication.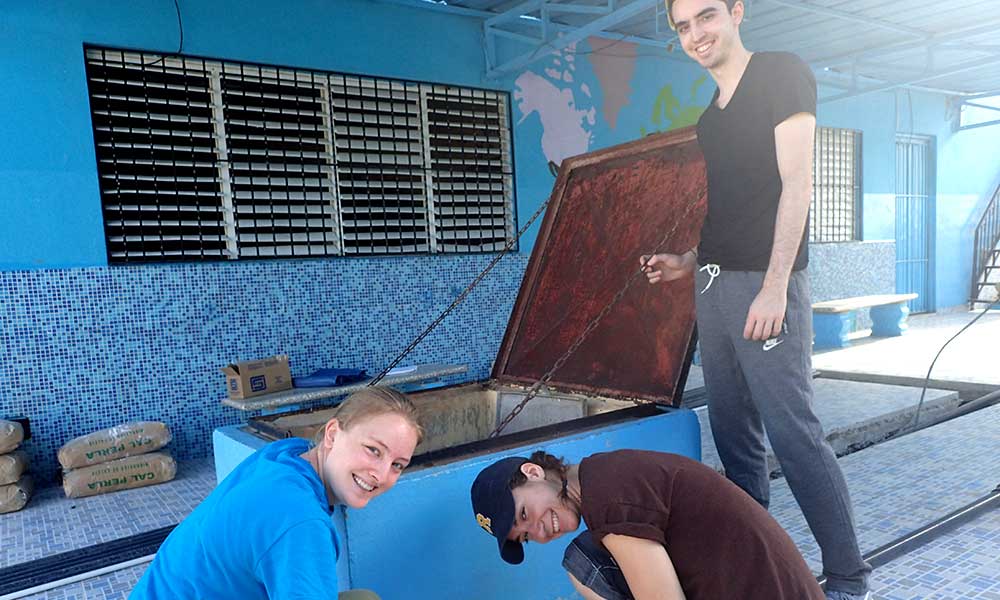 Students tackle grand engineering challenges
Twelve students are the first to seek recognition as Grand Challenges Scholars by the National Academy of Engineering. The program asks the next generation of students to tackle some of the most pressing issues facing society.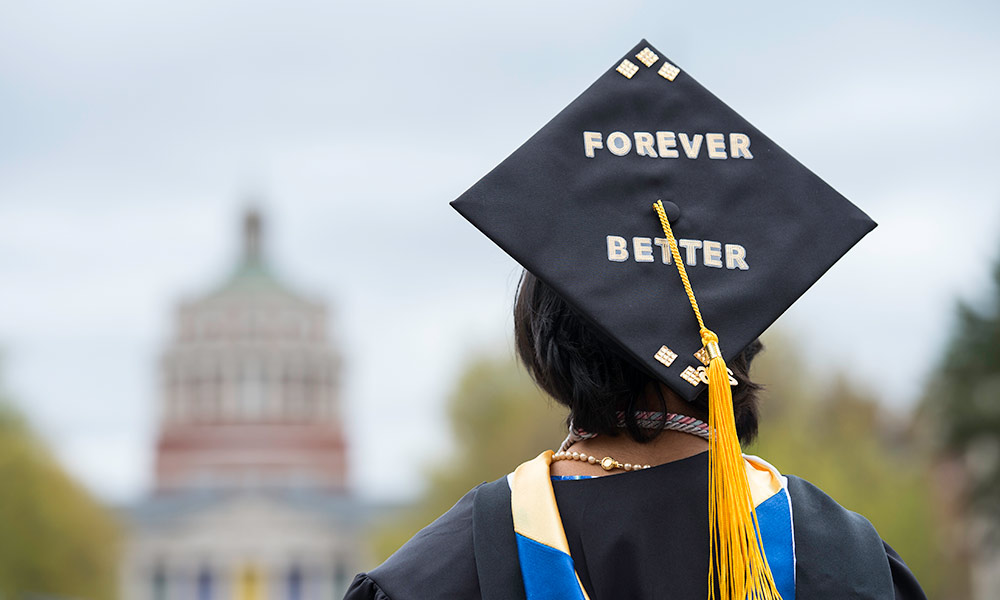 The Rochester Curriculum: Freedom, with intentionality
By the time they graduate from the University of Rochester, students will have taken 128 credits and only one required course.
Category: Campus Life