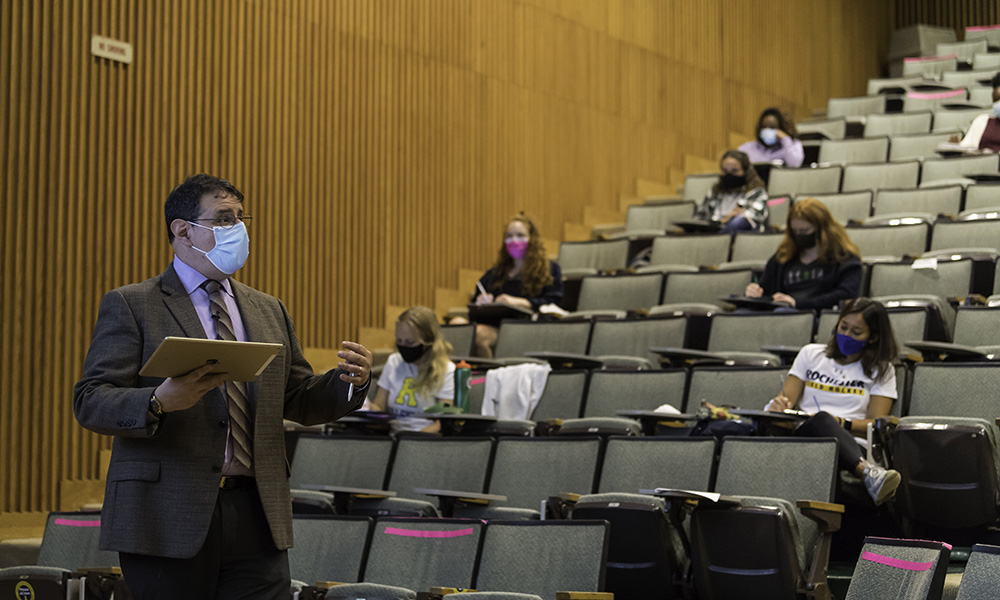 The biomedical engineering professor who mastered online teaching years ago has been with the department since its inception in 2000.
When the University moved strictly to distance learning last March in response to the COVID-19 pandemic, many professors worried about teaching online courses.
Scott Seidman was ready and willing to help.
"We were given a few weeks' notice that this might happen," says Seidman, a professor in the Department of Biomedical Engineering. "I knew what a hurdle the other faculty would be facing, so I emailed our chair (Diane Dalecki) and quoted Liam Neeson in the movie Taken. I told her, 'I have a particular set of skills.'''
Seidman, a member of the department since its inception 20 years ago, held an orientation for his BME teaching colleagues and introduced them to "tools they had access to that they'd never known about." The next day, he held a Zoom session for other faculty members in the Hajim School.
"Scott's expertise and experience in online education was critical to us last semester as we suddenly transitioned to online learning," Dalecki says. "Scott was on the forefront helping faculty learn necessary skills and tools for moving their courses online. His willingness to dive in to share his expertise was truly invaluable and he's now a recognized leader in the University for online engineering course design and laboratory-based education."
What students are saying
"Dr. Seidman's commitment to helping students learn was not limited to just his classes. During my master's program, my design team often asked for his opinions, expertise, and help with our circuitry and sensor-related questions. Every meeting request and question was answered. His passion for innovation and scientific education is unparalleled and truly inspiring. I aspire to have his level of dedication to education and kind heart in my career. His skills as an innovator, educator, inspiration to students, mentor, and role-model are unparalleled.
—Christian Keenan '18, '19 (MS)
"His love for the subject matter and sharing it with students is obvious to anyone who spends two minutes in lecture. Prof. Seidman is an incredible intellect with a voracious academic curiosity, but what I love most about him is his love for imparting knowledge and for creating a culture of creativity, exploration, critical thinking, and good old fun When he is speaking with you, you feel like you're the center of his universe."
—Brett Sternfield '11,'14 (MS)
"At any point, I felt I could approach Dr. Seidman to ask for advice, whether it related to classwork or not. I felt he respected all his students. That's is an extremely important quality in a professor, as he has a big influence on our lives, and it also helps us to be engaged and learn in each environment. Dr. Seidman is a very intelligent, caring, and selfless professor who wants to see all his students succeed."
—Connor Virgile '19
Seidman is being recognized this year with a Goergen Award for Excellence in Undergraduate Teaching. "I'm absolutely humbled by this award," he says.
Seidman's distance-learning skills were honed five years ago, when he took courses on how to develop online classes at the Warner School of Education. He redesigned BME 150—Interfacing with Microcontrollers—as a two-credit online course, allowing students to access the simulation on their own time by purchasing inexpensive kits and turning personal desktops into laboratory space. It was the Hajim School's first online course for credit and one of the few online labs offered anywhere.
"It's fortuitous that the skills I've developed over the past few years really came into play," Seidman says. "I think staying on top of new educational ideas and methods is super important to keep our value proposition right. We have to keep students interested in coming to universities and think about what we can offer them that they can't get out of a tidal wave of information that's overwhelming them."
Seidman came to Rochester after earning his PhD in 1993 from Case Western Reserve University. He began with a seven-year stint as a postdoctoral fellow and senior instructor in the Department of Neurology at the Medical Center. "I was the only person on campus who had a biomedical engineering degree and could teach," he says. "I was hired, and I've been here ever since."
The early days were challenging.
"We had no curriculum and had to go looking for resources in the Medical Center and other departments, even borrowing faculty," he says. "The opening of Goergen Hall (in 2007) changed everything. It gave us a high profile right away, and a place to put our students."
Seidman played an important role in developing an educational lab in Goergen, strongly advocating for a facility with both wet-lab capabilities and electronics gear at every work station. "This equipment has served at least three courses, and most of it is still in use today," he says.
Seidman is the only BME faculty member to teach physiology, a core subject for majors. "I started with nine students in our first graduating class, and it's up to 75," he says. "I've taught every single student that has ever graduated with a BME degree from this school, and it's been my honor and privilege."
Since 2007, he has worked with colleague Amy Lerner, a 2016 Goergen Award recipient, on coordinating and supervising the year-long BME senior design projects. They link students with outside companies, non-profits, and Medical Center labs to engage them in tackling "real life" problems.
"This is the course where students really get to put their whole education together," Seidman says. "They have a customer they need to answer to, and they have to rely on other students—probably for the first time in their careers."
Seidman is teaching some courses online and some in person during this unusual semester. He says a large part of his teaching philosophy is giving students freedom with responsibility.
"It can be very empowering for them to know that they don't need to sit in a classroom to learn absolutely everything," he says. "Some things are made for classroom education, but other stuff can really benefit from letting students experience and learn at their own pace. I prefer an asynchronous experience, where students can do the work from their dorm, their home, or 2 in the morning if they want."
Seidman admits online courses aren't for everyone.
"I say on the first day of classes, 'This is what this class is going to be like. Take a good look. If you don't mesh with this, there are other courses you could be taking.' But I do believe students like learning in different ways. Because it doesn't stop with college. It starts when you get out of college, and you're going to have to learn stuff your entire career."
Read about the other recipients of this year's Goergen Award.
Category: Uncategorized