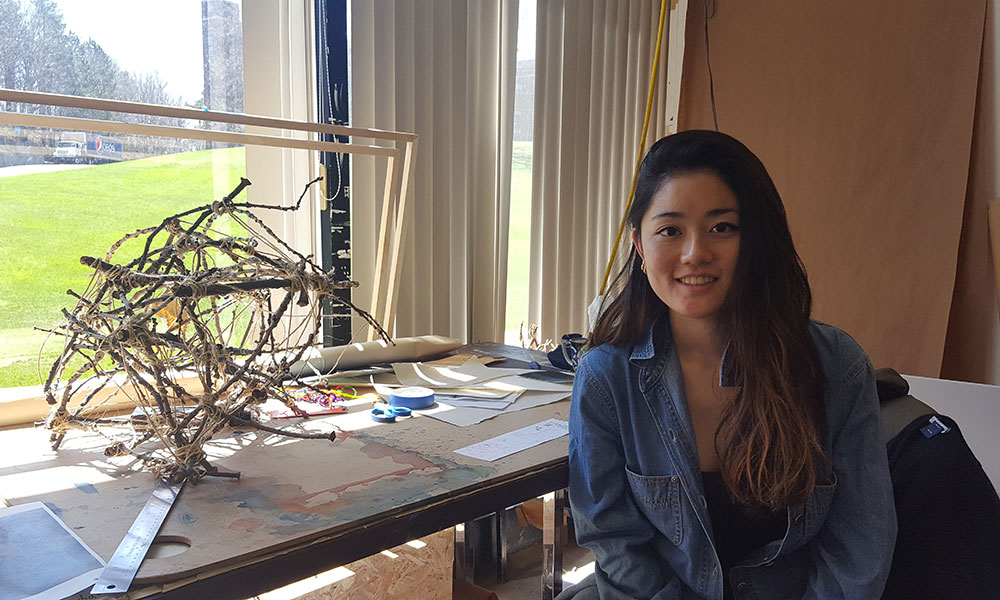 Mamiko Nagasaka '17 doesn't often think of her own mortality. And yet she admits she's fascinated by the fact that she doesn't think about it. This is what led her to the idea for her final senior studio art thesis exhibition, which opens April 21.
"I've been trying to figure out why society fears death," says Nagasaka, a computer science and studio arts major who will start a job with an IT company in Tokyo after graduation. "How society comes to terms with dying and covering up that fear."
Her project is part of the Department of Art and Art History's annual senior thesis exhibitions, this year featuring 16 graduating seniors from the studio arts program. The exhibitions began in early April and continue through mid-May at galleries on the River Campus as well as nearby city art galleries.
The work is a culmination of study in contemporary visual art-making through practice, presentation, and analysis, says Allen Topolski, associate professor of art and art history and undergraduate advisor of studio arts.
"The purpose is to create a context—to understand how contemporary visual art-making reflects and expresses the complex social and cultural issues underlying a changing world," Topolski says.
Senior exhibitions touch on many diverse topics, including Christian-Islamic relationships, mental illness, body modifications and commodification, as well as expressions of the current political climate.
For Nagasaka, many of the ideas for art pieces come from books she reads. She starts out with an abstract idea and then makes discoveries while doing research on how to approach the concept of her piece. It only took a few days to gather the materials, but thinking of what to use was still an essential part of the exhibition construction. "I wanted to choose an object that was organic and that's why I used the (tree) branches for this piece," says Nagasaka. The installation in the space will include wood frames covered with Japanese paper, so that the shadows of the tree branches are reflected on the paper. Nagasaka will also trace and draw the shadows of the branches with charcoal on paper.
Nagasaka's exhibition, which she hasn't yet given a title, will be on display from April 21 through May 7 in the Anderson Arts Building in the Neighborhood of the Arts. The opening reception will take place during Rochester's citywide gallery night, First Friday, on May 5.
See more from all the senior thesis exhibitions >>
The students of studio art are not only learning how to draw and create visual art, but they're learning that there's a meaningful motivation behind making art. Professors add a research component that encourages students to think outside of what most people think of as art.
Jeff Leavitt '17, whose show Things Between Walls is currently on display at the Makers Gallery in Rochester, says the project taught him about the installation process.
"The program really shows you the underside of things you don't always think about, but are just as important as the art," he says. "The materials, the transportation of materials, and the technical aspects of putting a show together." Leavitt, a studio art major, created a 1/22 small scale model of the University's Sage Art Center—a building and space for art creation—to transform and "repurpose" the space into something completing different.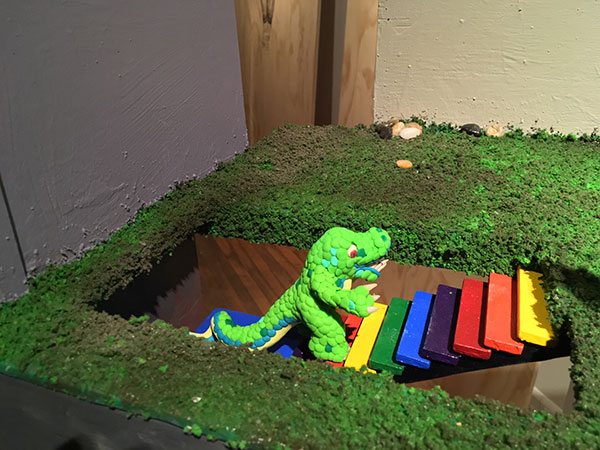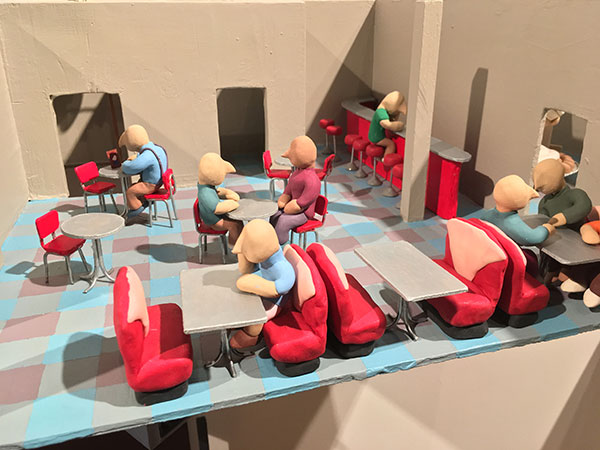 He constructed the model from plywood, Sculpey clay, acrylic, and various found objects. He wanted to make a real building, but show an altered world, and a "tone of whimsy," he says. His model is separated into pieces and images throughout the display, but for anyone familiar with the rooms of the Sage Art Center—which was initially built as a dining hall—it provides viewers with a unique view of the rooms that ordinarily houses the wood workshop, darkroom labs, and studio art-making areas, into unlikely scenarios. Scenarios that show a green dinosaur walking up the steps from the ground floor of the building or little clay people eating in a 1950's style diner.
Nagasaka says she appreciates the unique space that was the inspiration for Leavitt's exhibition. Even though she wasn't taking a wood working class or sculpture class, the ability to work in those areas extended her thinking on how to express herself. "I'm grateful I was able to go beyond the paper. Go beyond my desk," she says.
Ongoing and Opening Senior Thesis Exhibitions
Continuing through April 22
Poses by Raina Langevin '17 and Things Between Walls by Jeff Leavitt '17
Makers Gallery & Studio, 34 Elton Street, Rochester
Continuing though April 30
Works by Courtney Kuhn '17
Gallery at the Art & Music Library, Rush Rhees Library
Reception: April 21, 6 to 8 p.m.
Discomfort by Hannah Zuegel '17
AsIs Gallery  at the Sage Art Center, River Campus
Reception: April 21, 4 to 6 p.m.
Continuing through April 29
Works by Mamiko Nagasaka '17
Luna Gallery, Anderson Arts Building, Second floor
Opening April 21 through May 7
Works by Mamiko Nagasaka '17
Colleen Buzzard Studio Gallery
Anderson Arts Building , fourth floor
Reception: May 5, 6 to 9 p.m.
Opening May 2 through May 16
Works by Yue Lie '17
Gallery at the Art & Music Library, Rush Rhees Library
Reception: May 5, 6 to 9 p.m.
Desert Island Disc by Allison Froio '17 and Hometowns by Wagin Xu '17
AsIs Gallery at the Sage Art Center, River Campus
Reception: May 5, 6 to 9 p.m.
Category: The Arts