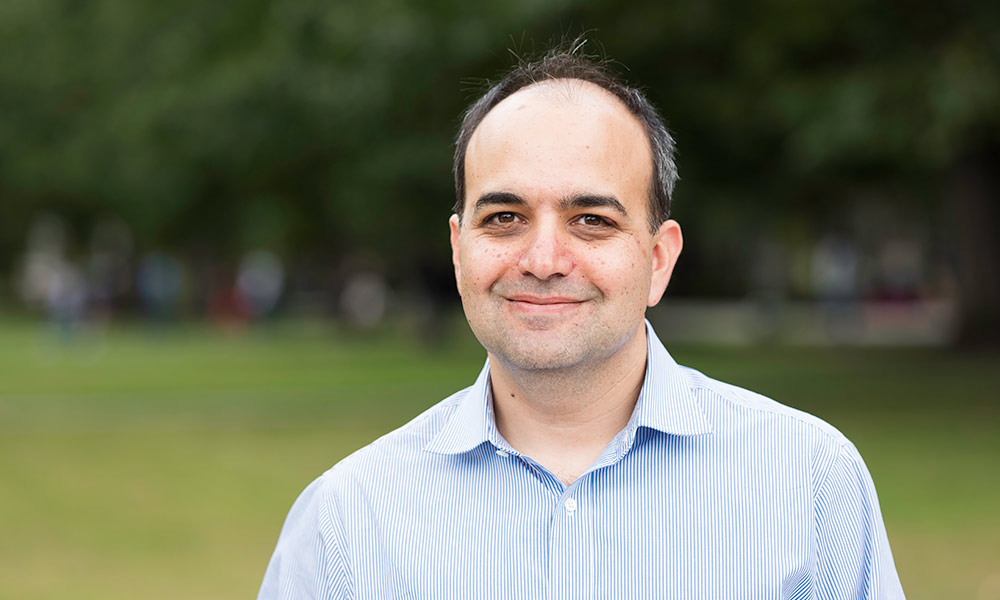 Sina Ghaemmaghami, an associate professor of biology, has been appointed the director of undergraduate research. He succeeds Steve Manly, who stepped down at the end of June, after 11 years in the position, to become the new chair of Physics and Astronomy.
"Sina Ghaemmaghami was a natural choice to direct our efforts in undergraduate research," says Jeffrey Runner, dean of the College. "In addition to his well-deserved praise for his teaching in both small and large classes—he is the winner of a 2017 Goergen for Excellence in Undergraduate Teaching—he has mentored many students in his own lab, enabling them to develop research programs and publicly present their work."
As the director of undergraduate research, Ghaemmaghami hopes to offer an environment that effectively connects students with research opportunities and provides funding, advising, and programming to facilitate undergraduate research. He also wants to provide undergraduates more opportunities to present and publicize their research.
"Research provides an invaluable opportunity for students to interact with faculty outside of the classroom and grow academically, professionally, and personally during their time at the University," Ghaemmaghami says. "We want to ensure that all interested University of Rochester students across all disciplines and backgrounds are enabled an opportunity to participate in research during their time as undergraduates."
Ghaemmaghami's own research focuses on the biochemistry of proteins and how they are synthesized and degraded in cells. Using an analytical method called mass spectrometry, he is able to study the processes for thousands of proteins at once. His research provides insights into the mechanisms of neurodegenerative disorders and aging.
Ghaemmaghami joined the University of Rochester in 2012 as an assistant professor of biology. He earned his bachelor of science degree in biochemistry from McMaster University in Hamilton, Ontario, in 1996, and his PhD in biochemistry from Duke University in 2001. In 2014, the National Science Foundation named him a winner of its Faculty Early Career Development (CAREER) Award. The award is given to junior faculty "who exemplify the role of teacher-scholars through outstanding research, excellent education and the integration of education and research within the context of the mission of their organizations."
Category: University News