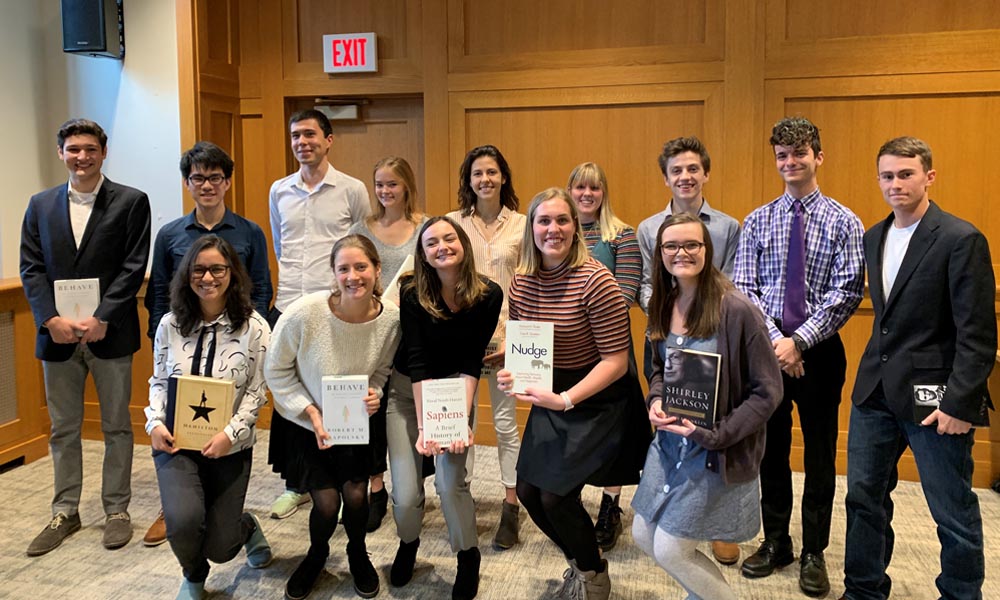 Sixteen University of Rochester sophomores recently were honored with the Suzanne J. O'Brien Book Award, recognizing those who excelled academically and in leadership roles in their first year at the College.
The winners were chosen by a committee of faculty and academic staff who serve as officers in the University's Iota Chapter of Phi Beta Kappa, which sponsors the award along with Arts, Sciences & Engineering. A ceremony was held October 4 in the Humanities Center.
"This award recognizes more than academic achievement,'' says Nicholas Gresens, Iota Chapter president and an associate professor in the Department of Religion and Classics. "While these 16 students certainly represent some of the most academically accomplished students of the class of 2022, they are also students who embody the school's motto of Meliora—whether it be through their achievements in the arts or in athletics, their accomplishments in research or their service to the community."
Formerly called the Iota Book Award, it was first presented in 2003. It was renamed in honor of Suzanne O'Brien '59, a Phi Beta Kappa member and longtime director of the College Center for Advising Services, upon her retirement as associate dean of the College in 2016.
The Iota Chapter designed the award around the gift of a book in honor of the intellectual and humanistic values promoted by Phi Beta Kappa, the nation's oldest and most prestigious academic honor society.
This year's recipients, including their hometowns and majors, are:
Ognjen Bosic, Banja Luka, Bosnia and Herzegovina (mechanical engineering)
Jonah Davis, Rowley, Massachusetts (computer science)
Jack Dippolito, Old Tappan, New Jersey (political science) 
Olivia Gay, Boca Raton, Florida (English)
Molly Griston, Pleasanton, California (physics)
Phuc Lam, Ho Chi Minh City, Vietnam (mathematics)
Sangwu Lee, Armand Hammer United World School, New Mexico (computer science)
Isabel Murphy, Buffalo, New York (environmental sciences)
Zachary Mustin, Milton, Massachusetts (computer science)
Gabriella Novak, Houston, Texas (statistics)
Luke Polson, Castle Rock, Colorado (political science)
Anne Rosenow, Williamsport, Pennsylvania (political science) 
Helena Schreder, Lancaster, Pennsylvania (mechanical engineering)
Navya Uberoi, New Delhi, India (physics and astronomy)
Kendra Watson, Mercer Island, Washington (chemical engineering)
Benjamin Weinberg, New Hope, Pennsylvania (music)
Category: Campus Life