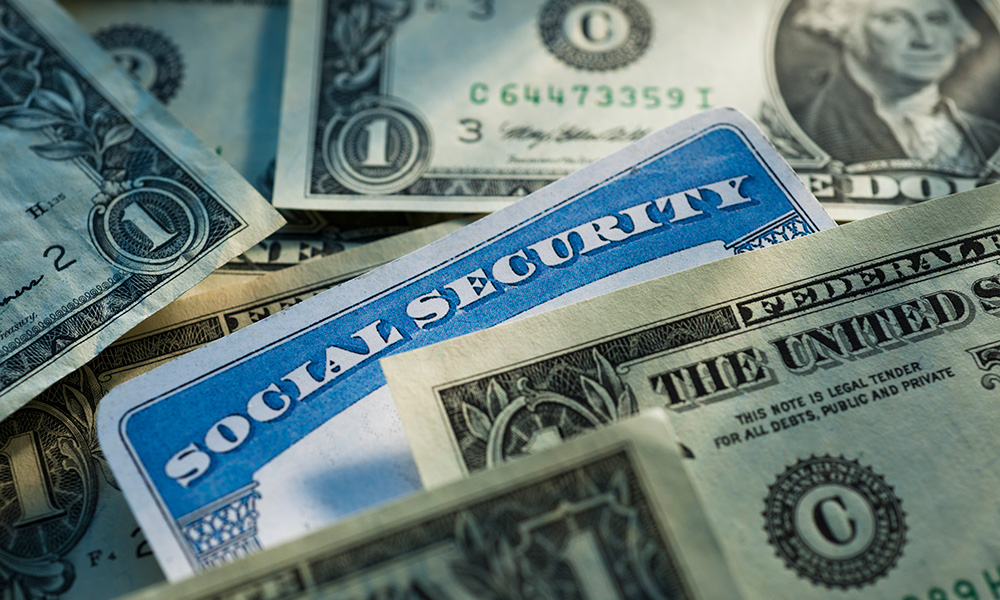 An analysis shows that increases and decreases in Social Security payments for the affluent affect what they leave behind, not what they spend.
When it was established in 1935, Social Security was intended as insurance against destitution in old age. The program has been widely credited with the sharp reduction in poverty among the elderly, starting in the 1940s. Eighty-five years later, it remains a critical source of income, or the only source of income, that many older Americans can rely on to meet basic needs.
But what about affluent retirees? If the income from Social Security payments isn't necessary for basic needs, what is it used for?
According to research by University of Rochester economist Kegon Tan, "Wealthy retirees largely pass on their benefits in the form of bequests to their children and others."
"Federal policymakers trying to reduce the costs of the Social Security system need to understand how cutting in benefits affect wealthy and non-wealthy retirees," says Tan, lead author of the working paper "Bequest Motives and the Social Security Notch," coauthored with Siha Lee, an economist at the University of Wisconsin-Madison.
Tan found that when benefits are reduced for the wealthiest retirees, bequest amounts also go down.
The Social Security Notch
As the title of the paper suggests, Tan found a unique opportunity to study the impact of reducing Social Security payments, thanks to a cost-of-living adjustment Congress enacted in 1972, and then revised in the late 1970s when soaring inflation placed pressure on the system's solvency. The effect was unexpectedly higher payments for most recipients born between 1911 and 1916, and then reduced payments for most of those born in 1917 and after.
What's known as the Social Security Notch allowed Tan to better understand the financial decisions people make both when they were given a retirement windfall, and when they faced a reduction in benefits. The Social Security Notch significantly increased benefit levels for those near retirement age, well after they had set up personal savings and investment plans. The question was how they would react to an unexpected windfall in Social Security benefits. Would they increase their consumption by spending more money on such things as food, recreation, and clothing? Would they plan on setting aside that money for beneficiaries?
What Tan learned was that a $1,000 (1993 dollars) increase in annual Social Security benefits for the wealthy led to an $18,000 increase in bequests, with larger amounts being set aside by those in the 90th percentile of wealth. Using all their data, Tan and Lee created an economic model to understand what would happen under different policy scenarios.
They learned that a moderate reduction in benefits led the wealthy to cut back on savings, not daily expenditures.
There's a difference of opinion in economic circles as to whether bequests are accidental or a matter of intent. According to one school of thought, bequests are accidental—if retirees don't get around to spending all their money, then others will inherit what's left over. Tan, however, came to a different conclusion after considering the extent to which the elderly changed their bequest amounts when faced with higher social security payouts
"Suppose all bequests were accidental, coming purely from saving for self-insurance," says Tan. "Since Social Security payouts are a form of insurance, an increase in payouts should lead to retirees feeling more confident about their future, and hence saving less and consuming more. Instead, they saved more and left more behind for beneficiaries."
"If we can pin down how much people are saving for self-insurance purposes," he says, "then we can begin to understand how much they're saving for bequest purposes." And that means understanding how much money they need for living expenses and medical bills.
As a scholar, Tan's primary interest is in intergenerational mobility and inequality. That's why Tan, an assistant professor of economics who joined the Rochester faculty in 2017, is concerned that Social Security may be helping to further entrench inequality. Especially as federal policymakers look for ways to keep the program solvent, he says that "policy makers may want to argue that Social Security should not be there to maintain bequest amounts. Social Security is there for the consumption of retirees, not for leaving assets behind for the next generation."
Category: Society & Culture