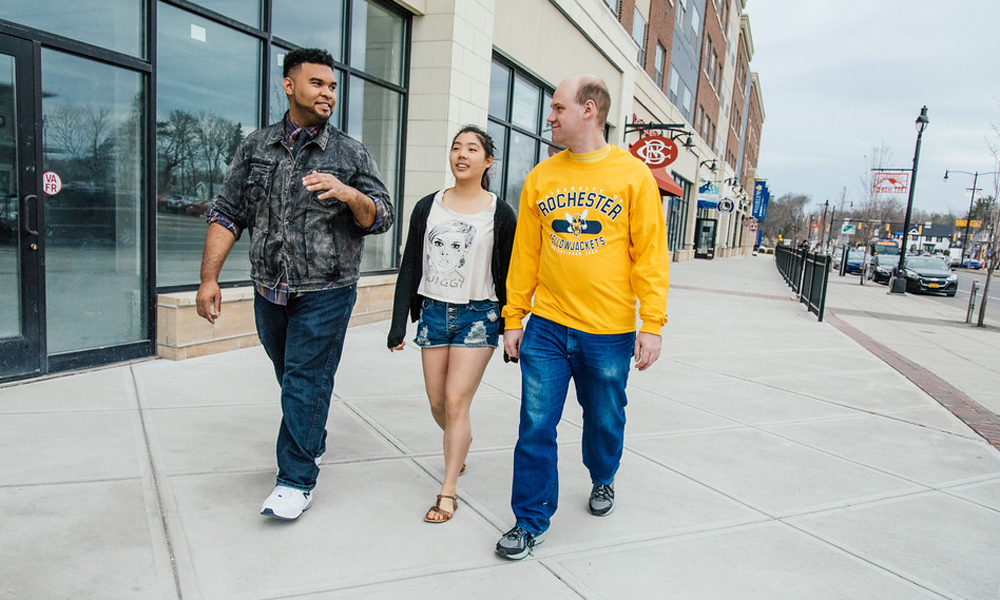 Explore Mt. Hope Avenue and celebrate the grand opening of College Town on April 24 and 25. The Mt. Hope Celebration of College Town will feature live music, entertainment, children's activities, carnival games, food and beverage tastings, tours, and giveaways. Details are available on the event's Facebook page.
Barnes & Noble at the University of Rochester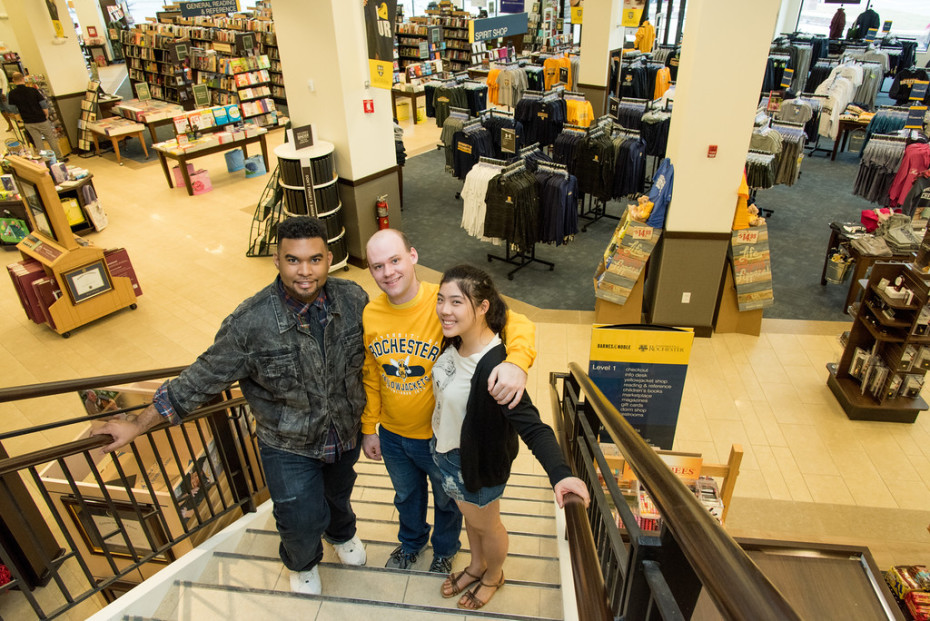 Saying goodbye to our old bookstore was hard, but it's great to find that the bookstore has found a new home. The bookstore has nearly doubled in size at its new College Town location. Catering to the surrounding neighborhood, the bookstore has expanded its selection to contain a larger variety of books. Textbooks and class materials are located on the second floor; the first floor contains University apparel, gifts, and books.
Breathe Yoga
After a long week of work, one of the best ways to de-stress is to practice yoga. breathe yoga, a local chain of yoga studios, recently opened a location in College Town. Students can use URos to buy passes for classes and workshops, food, drinks, and yoga apparel and equipment. Workshops are offered throughout the year. Classes are offered everyday at various times, making it convenient for a student's busy schedule. After taking a class, you can make a stop at breathe's cafe for a smoothie or a quick snack before heading back to campus fully relaxed.
Constantino's Market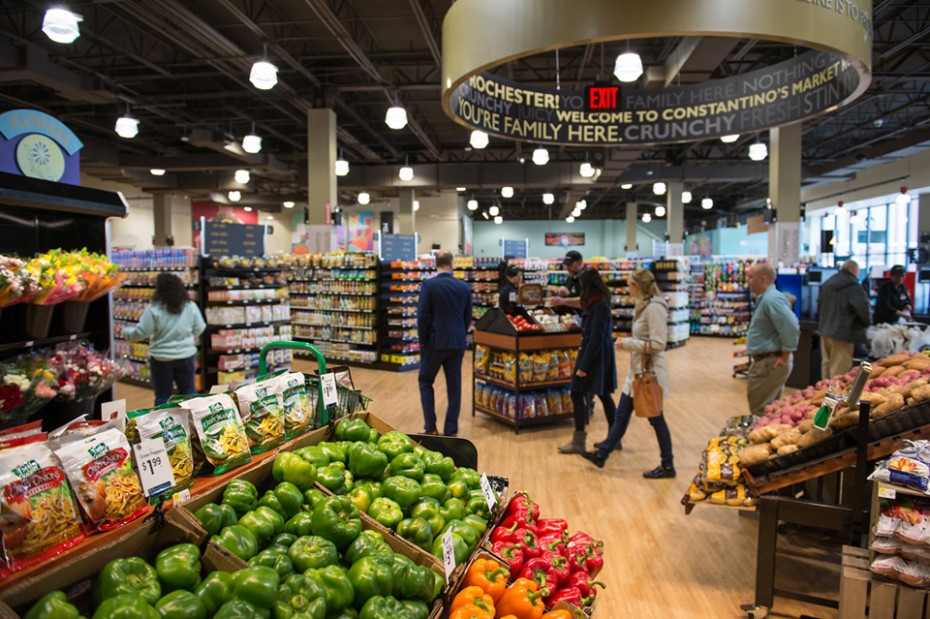 Students no longer need to wait for the weekends to go grocery shopping. With fresh produce, a bakery, household items, and a prepared foods section, Constantino's Market is great place for students to buy daily essentials with their URos. At Constantino's you can also buy local products started in the area, giving you a little bit of a taste of what the Flower City has to offer.
The Corner Bakery Café
Literally located on a corner, the Corner Bakery Café provides the University with yet another dining option that takes URos. Here, you can get everything from soups to salads to sandwiches. Located in the front is also an assortment of delicious baked goods to satisfy anyone's cravings. For the people in a hurry, the Corner Bakery also has an app that lets your place orders online so that you can walk in grab and go. If you have a bit more time, the Corner Bakery has plenty of seating options, both inside and outdoors— making it a great place to enjoy food with your friends and forget your worries.
Insomnia Cookies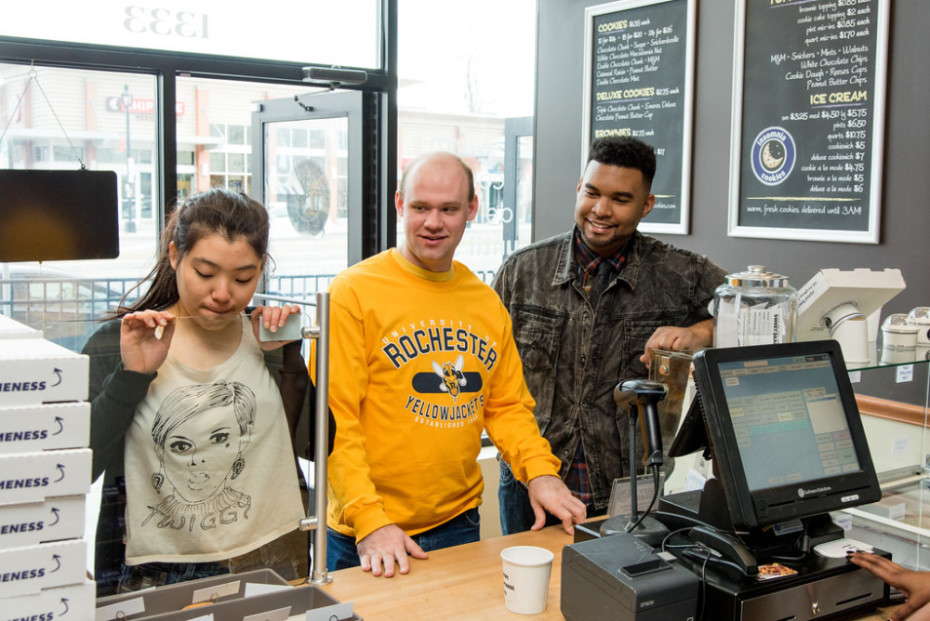 From projects to tests, late nights in the library are the norm for the Rochester student. However, many find it much more enjoyable now with the establishment of Insomnia Cookies in College Town. Started in 2003 by a college student at the University of Pennsylvania, Insomnia Cookies specializes in making late-night deliveries of warm cookies for the insatiable college student. With deliveries from noon to 3 a.m., it's easier than ever to get a warm cookie for your midnight snack. Order at the store or online; Students can use URos to pick up cookies at the store.
Saxbys
Sometimes you just want to get off campus to study. Saxbys Coffee Shop, located right next to the bookstore, is a great option for one of these times. Light and spacious, with plenty of seating both inside and outside, Saxbys provides its customers with free wifi, an essential for students today. Open at a wide range of hours, you can visit Saxbys before or after class. If you want to cut down your waiting time, you can even order your drinks beforehand on the Saxbys mobile app. But don't be fooled, with its relaxed atmosphere and plethora of snack and drink options, you will find yourself staying in Saxbys for hours.
Category: Campus Life