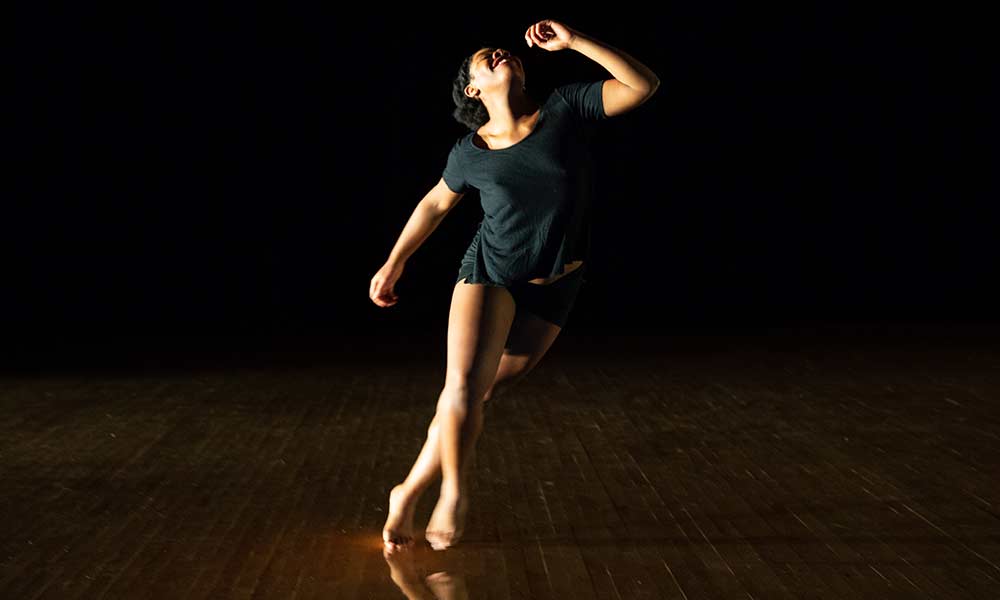 Seeking to push the limits of contemporary dance and the art of collaboration, the University of Rochester's Program of Dance and Movement presents a weekend of shows titled "Spring Explorations and Experimental Dances," or "S.E.E.D." on April 13 and 14.
Featuring original choreography, the works are created in collaboration between the student choreographers of the Program of Dance and Movement and composers from the University's Eastman School of Music. Choreographers include Shareef Alwarasneh '19, Rebecca Lawrence '19, Yara Izhiman '20, Miiko (Mimi) Phillips '19, and Lydia Currie '20, who paired up with Eastman graduate students Peiyao Wang, Derrick Hegeman, Ben Magruder, Aaron Castine-Siebert, and Mingwei He.
Spring Explorations and Experimental Dances
When?
Saturday, April 13 at 8 p.m.
Sunday, April 14 at 2 p.m.
Where? Spurrier Dance Theater on the University's River Campus.
Cost? Tickets are $5 for the general public and will be available at the door.  Free tickets are available to Rochester undergraduates sponsored by the Institute for the Performing Arts.
Original works explore multidisciplinary topics, including identity and human nature, the influence of social pressures on personal development, as well as interpersonal relationships among people with mental illnesses.
Students have stepped outside their comfort zones in each discipline to learn how to collaborate and negotiate with each other to present these storytelling pieces. "I would love for the audience to come with a blank slate of expectation," says Dave Rivello, an assistant professor of jazz studies and contemporary media at Eastman. Rivello brought students from his contemporary media/film composition course in to collaborate with the choreographers.
Rose Pasquarello Beauchamp, a senior lecturer in the Program of Dance and Movement, says "It is often difficult speaking the language of a different art form, whether we work with composers or designers." But while the process can be challenging for students, "it brings a whole different depth of inquiry."
The performances will include an original work by renowned choreographer David Dorfman titled "When Strangers Collide in a Strange Town." Although the work was crafted by the award-winning choreographer specifically for the students at Rochester, the performance will feature students from both Rochester and Nazareth College in a first-time collaboration.
Also featured in the weekend performances will be pieces by faculty members including Missy Pfohl Smith, Rose Pasquarello Beauchamp, Roy Wood, and Mariah Steele. Smith, director of the Institute for Performing Arts as well as the Program of Dance and Movement, will reprise "Thwack Boom," which originally premiered in BIODANCE's Aria as part of the Rochester Fringe Festival in 2018. Pasquarello Beauchamp's collaborative work with undergraduate dancers and Eastman composer Mingwei He is inspired by the poem "Burning House" by Bartlett White.
Category: The Arts