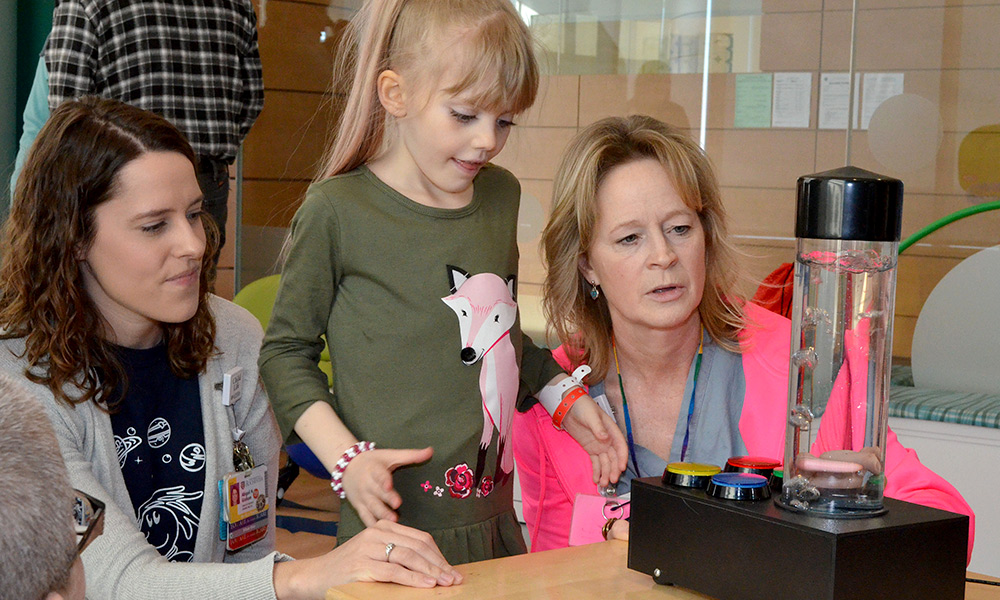 "Wow!"
Gracyn Chappell's eyes widened appreciably as she approached a mysterious tube filled with water in the play room at Golisano Children's Hospital.
"Push the buttons, baby," Kate Chappell prompts her 5-year-old daughter, who was completing a 22-day stay at the hospital.
And just like that, air bubbles began gurgling up through the water. They are tinted with red, then green, blue, purple, and pink light as Gracyn enthusiastically pushes different color-coded buttons.
"Oh, my goodness!" she exclaims gleefully.
Clearly, the "Biscotti Bubble Machine" — created as a senior design project by University of Rochester chemical engineering students — is a big hit with Gracyn.
The Golisano nurses and specialists who gathered for the unveiling are impressed as well.
"We're trying to normalize the experiences of the children who come here as much as possible," says Geri Sehnert, a child life specialist in Golisano's pediatric surgical center. "When we can give them things like this to interact with, that let the children experience normal sensations, it makes a big difference in their healing."
"I'm really impressed at how the students took all the information we gave them and were able to create a device that will work for us."
And it took only one semester.
Applying classroom learning to a 'real-world' challenge
Each year, teams of Hajim School of Engineering and Applied Sciences seniors in ABET-accredited majors complete a culminating design project. The projects are often sponsored by outside companies or agencies, including a previous collaboration with Golisano to design an accelerometer to monitor chest wall movement for children on mechanical ventilation. The projects allow the students to apply what they've learned in class to "real world" projects with "real world" time and design constraints.
In this case, Wendy Lane, Golisano's Child Life program coordinator, proposed a smaller version of a large bubble machine the hospital already has – one that could be used at a child's bedside and be easily operated even by a child with physical disabilities.
Rachel Monfredo, lecturer and senior technical associate in the Department of Chemical Engineering, pitched the project to the department's seniors last fall. "They jumped on it," she says. "We actually had two teams that both really wanted to work on it."
Tiwalade Dairo, Bradley Porceng, Charles (C.J.) Ruff, and Benjamin Walker won the "roll of a dice."
As Walker noted in the team's final presentation, they had to overcome several challenges and work through numerous designs to create a device that would:
not easily tip over, but still be portable, waterproof, and easy to clean.
integrate button-activated LED lighting, a water pump, and an Arduino control board within the base.
easily generate a "soothing" combination of bubbles and colors within the water column protruding out of the top of the base.
"Each of us have had some coding background, but this project was really coding and wiring intensive," says Dairo. So, the students took tutorials and got extra help in Arduino programming from Scott Russell, a lecturer and senior technical associate in the Department of Mechanical Engineering.
The team debated whether to put the light activating buttons on a separate control box, which is still an option. However, in the interests of time, they ended up incorporating the buttons into the base.
Thanks to John Miller, the senior laboratory engineer who runs the machine shop in Taylor Hall, they delivered their working prototype on time.
"We want to give a huge-shout out to John," Porceng says. Miller used the students' CAD designs to fabricate several of the components, and "turned them around in less than 24 hours, which was hugely helpful."
Best of all, Ruff estimates, the cost of materials for the device – not counting labor and fabrication – is only about $125. "So, a positive takeaway from this is that we can cheaply replicate these units for much less than the one in use at the hospital," he says.
More bubble machines planned
And Monfredo definitely has replication in mind.
She has turned over the design team's "fantastic senior report" – with detailed instructions for building the device – to the Toys for All Tots student group she supervises. That group already has been adapting battery operated toys so children with physical disabilities can interact with them through enabling switches. Paul Irving '21, the technical manager for Toys for All Tots, says the bubble machine project "seems super cool. I would definitely be interested in building and improving them."
The group will work with Miller on creating additional bubble machines for Golisano "so you don't have just one; you could have a dozen," Monfredo says. Community agencies that serve disabled children have also expressed interested in obtaining the device.
Porceng is also working with students in an entrepreneurship class taught by Duncan Moore, the assistant provost for entrepreneurship, on developing a business plan.
In the meantime, the Biscotti Bubble Machine team is basking in the glow of a job well done.
"So, did we reach our goals? We believe we did," Dairo says. "It was a fun project to work on, and we're glad we did it."
The ultimate validation came from 5-year-old Gracyn Chappell. Twice, she broke away from the bubble machine to run over and hug the students.
"My heart was just melting," Porceng says.
Category: Student Life