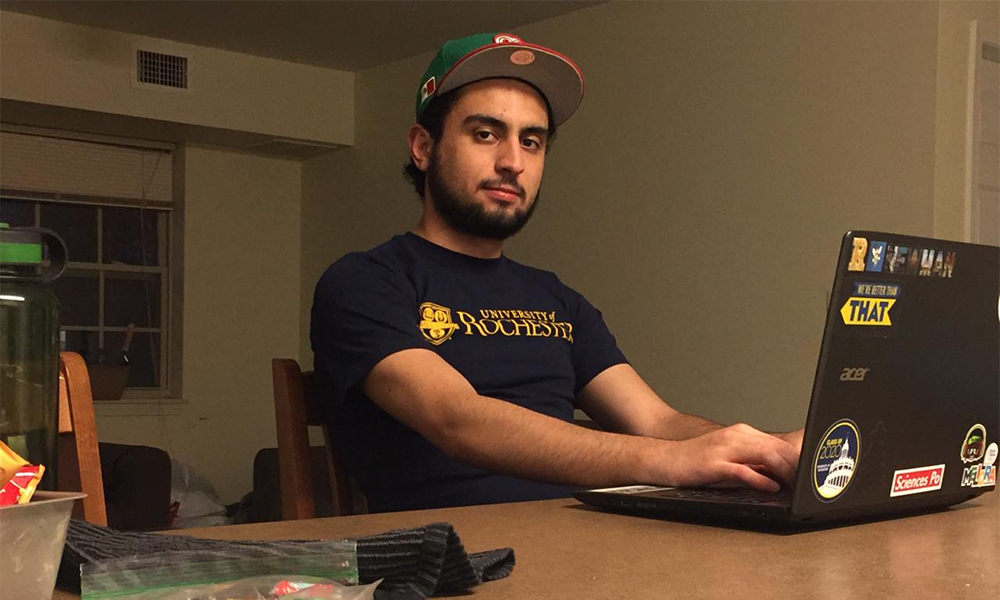 Iyad Amer '21 has tried to make the best of life since the University of Rochester went to remote learning on March 23. The decision sent hundreds of students home while Amer stayed behind.
Being from Nablus, a city in the Palestinian Territories, he is one of more than 700 undergraduates who have stayed on or near the River Campus. "As an international student with a visa, the uncertainty of being admitted back in the United States and the fact that Middle Eastern borders are closed, made staying here the best option for me," the brain and cognitive sciences major says.
Last month, the University ensured that all students remaining on school property would have single rooms as an added protection against the COVID-19 pandemic. While Amer spends a lot of time in his room in Burton Hall, he looks forward to his daily bicycle ride off campus, often picking up food from College Town and surrounding restaurants. 
"The absence of so many students makes the days feel like they're repetitive loops instead of discrete units of time," he says. "The campus feels smaller. It's important to find ways to keep yourself occupied."
Molly Jolliff, director of International Student Engagement, has coordinated housing for students on campus the past several weeks. 
"The thing that has remained the same during these last few months of change is that our priority is always the students," Jolliff says. "We continue to support our on and off campus students in a variety of ways.  But we are most looking forward to welcoming all our students back to campus."
Lila Balistrieri '22 is an English and anthropology double major from Pittsburgh, who stayed on campus due to her family circumstances. She resides in O'Brien Hall. 
"I try to leave my dorm as little as possible, but when I do it's to take a walk along the river for some fresh air," she says. "The sunsets in Rochester are beautiful, and our campus has a nice spot to view them on the dock."
The University now allows declining dollars to be used for off-campus take-out orders, so Balistrieri often orders food from local restaurants and eats in her dorm. She also visits the Hillside Market in the Susan B. Anthony Halls to stock up on snacks and drinks.
"Although I'm sad about the academic year ending so abruptly on campus, I have found new ways to get through it," she says. "Exercising, preparing for the LSAT (Law School Admission Test) and GRE (Graduate Record Examinations), and getting a head start on a new remote internship have allowed me to stay busy during this transition."
Balistrieri isn't totally alone. She shares her room with Snuggles, a nine-month-old companion kitten she adopted from a shelter last fall. "She helps with my anxiety," Balistrieri says. "She lives in my dorm and hangs out in the study lounges with friends. I'm pleased that the University recognizes and fully supports the importance of service animals to individuals with disabilities on campus. I'm so happy to wake up every morning with her laying on my face, which is why I named her Snuggles!"
Agustin Diaz Herrero '20, an international relations major from Mexico City, Mexico, stayed on campus due to family circumstances. "I don't leave my room in Riverview very often," he says. "I go out to get food or a quick walk to get some fresh air. The campus feels empty, and lonely, but it also feels safe."
Diaz Herrero takes breaks from his online classes by listening to music, watching television, and being part of several Zoom calls unrelated to his studies. "I've talked with more friends and family during quarantine than in the last three years," he says. 
Diaz Herrero is keeping his situation in perspective. "Right now, the only thing this pandemic has taken away from me is commencement," he says. "That's nothing compared to what other people are going through."
Balistrieri is also focusing on the positive.
"Our community will always be a family, even if we aren't on campus together," she says. "The physical silence of the campus can be heartbreaking some days, but it just makes me more excited to see everyone again."
Read more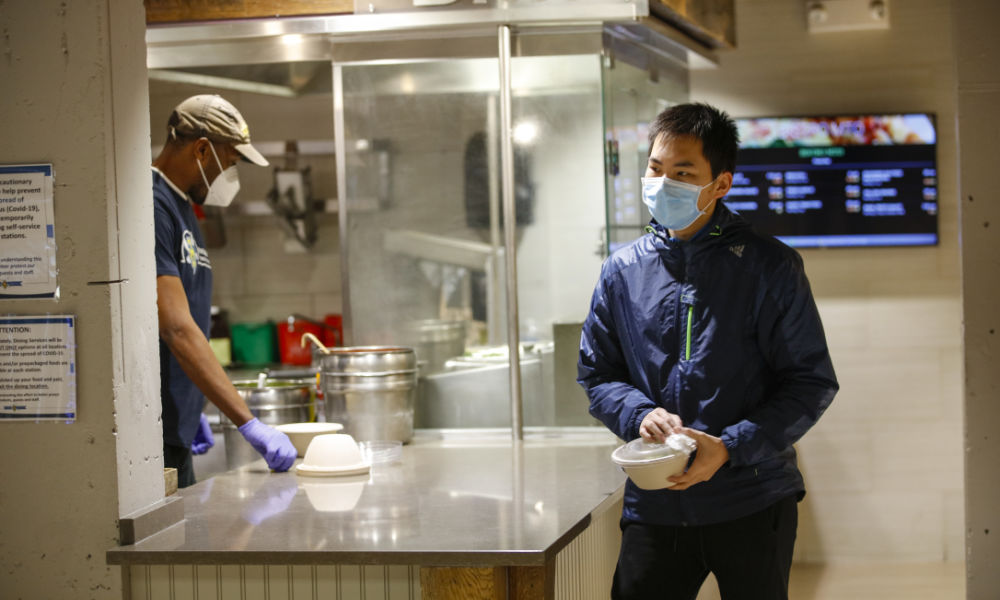 Still serving students—and missing the ones who are gone
Dining Services has adjusted its services and options to accommodate the approximately 750 students who remain in the residence halls on the River Campus during the COVID-19 pandemic.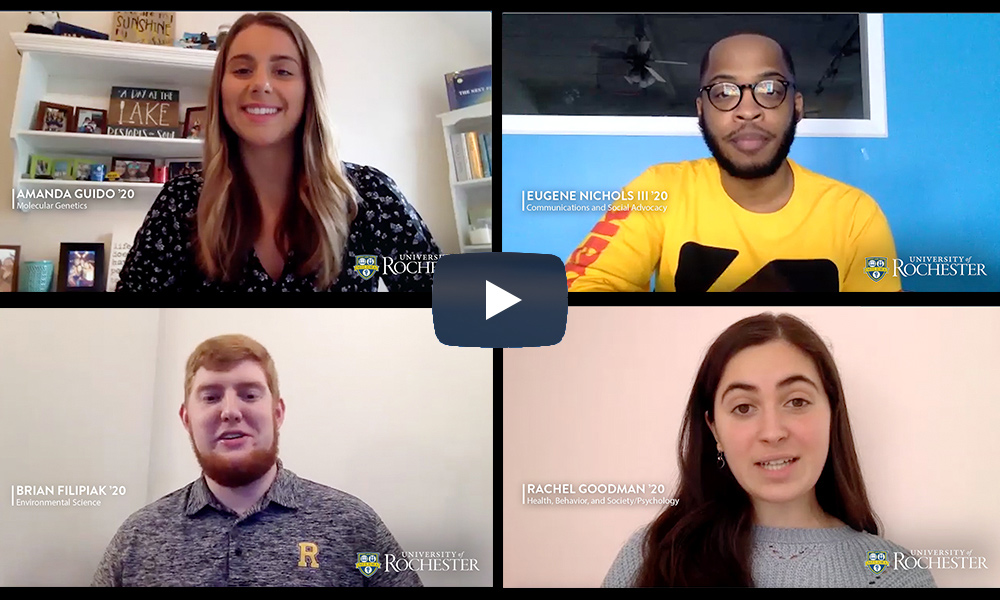 We're all in this together
A few of the undergraduates who have been studying remotely since March talk about the transition and what it's meant for them.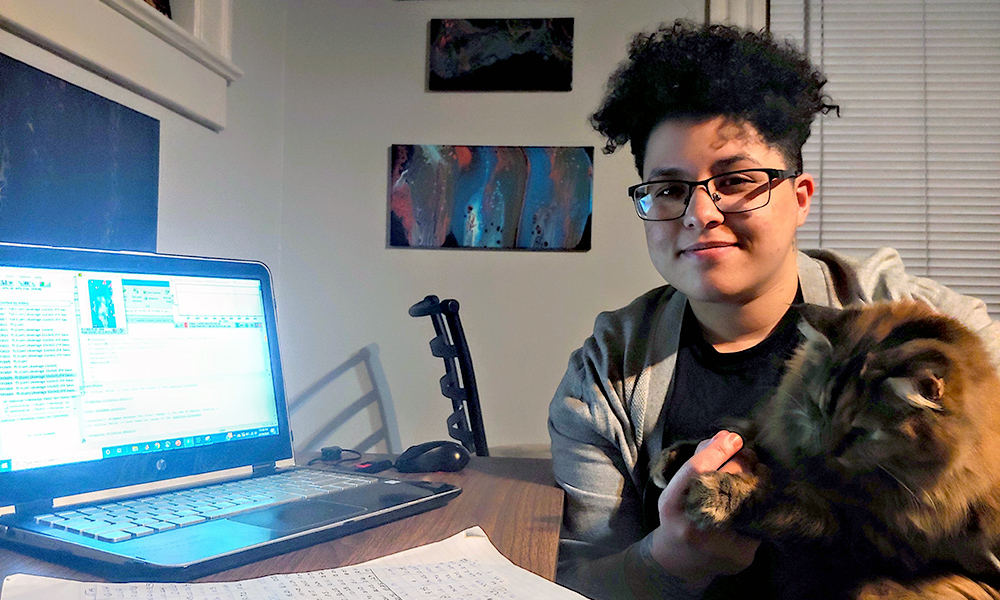 Grad school interrupted: Students manage remote life while pursuing degrees
Meet eight University of Rochester graduate students whose lives and work have changed dramatically over the last two months.
Category: Student Life