Tag: Department of Mechanical Engineering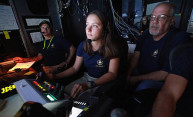 Wendy Snyder's typical day this past summer might seem mundane at first glance. Rise at 7 a.m. Work eight hours. Pilot remote operating vehicle 4,000 meters below the Pacific Ocean.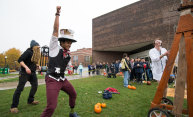 Noah Woolfolk '16 prepares to fire his trebuchet at the annual American Society of Mechanical Engineers Pumpkin Launch on Wilson Quad.