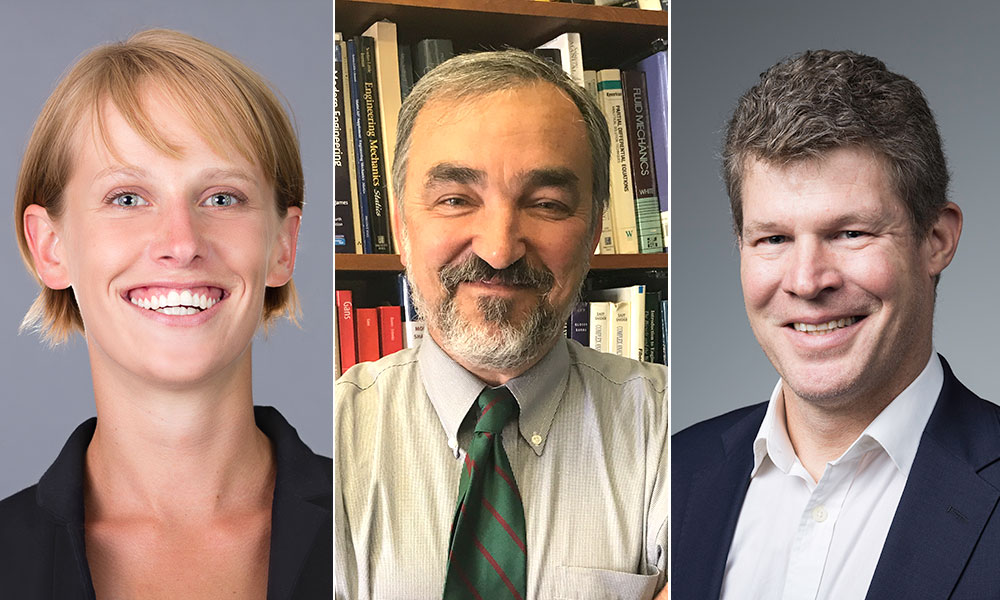 Three University professors are the recipients of the 2018 Goergen Award for Excellence in Undergraduate Teaching. Established in 1997 by University trustee and Board Chair Emeritus Robert Goergen '60 and his wife, Pamela, the award recognizes distinctive teaching accomplishments of faculty in Arts, Sciences & Engineering.
This year's recipients are Hayley Clatterbuck, an assistant professor in the Department of Philosophy; Michael Jarvis, an associate professor in the Department of History; and John Lambropoulos, chair of the Department of Mechanical Engineering. They'll be honored October 18 in a ceremony at Feldman Ballroom in Douglass Commons.
Clatterbuck received her undergraduate degree in philosophy from the University of Nebraska-Lincoln in 2008 and her PhD in philosophy from the University of Wisconsin-Madison in 2015. She started at the University of Rochester that same year. She works in the philosophy of biology, examining probabilistic explanations in evolutionary biology. She works and teaches on topics in the philosophy of science and philosophy of mind.
Jarvis studied archaeology and history at Rutgers University, where he received his bachelor's degree in 1990, and the College of William and Mary, where he earned his PhD in 1998. He came to Rochester in 2001 after a two-year National Endowment for the Humanities postdoctoral fellowship and a year of teaching maritime history on a schooner. Since then, he has taught courses in early American, Atlantic, maritime, and digital history, and supervised more than 40 undergraduate public history internships based in area museums and archives.
Lambropoulos received his bachelor's degree from Brown University, and his doctoral degree from Harvard. He joined the Rochester faculty in 1984 and was appointed chairman of the Department of Mechanical Engineering in 2007. He has secondary appointments as a senior scientist at the Laboratory for Laser Energetics and associate director of the Center for Freeform Optics, directed by Jannick Rolland, the Brian J. Thompson Professor of Optical Engineering, and funded by the National Science Foundation and industry.
Nominations for the Goergen Award come from students, faculty, staff members, and administrators, and the winners are chosen by Jeffrey Runner, dean of the College; Gloria Culver, dean of the School of Arts and Sciences; and Wendi Heinzelman, dean of the Hajim School of Engineering & Applied Sciences.
"We thank Bob and Pamela Goergen for allowing us to recognize the importance teaching has on the experience of our students here at the University," Runner says. "The recipients each provide a unique perspective on teaching that their students have benefited from."
Category: University News