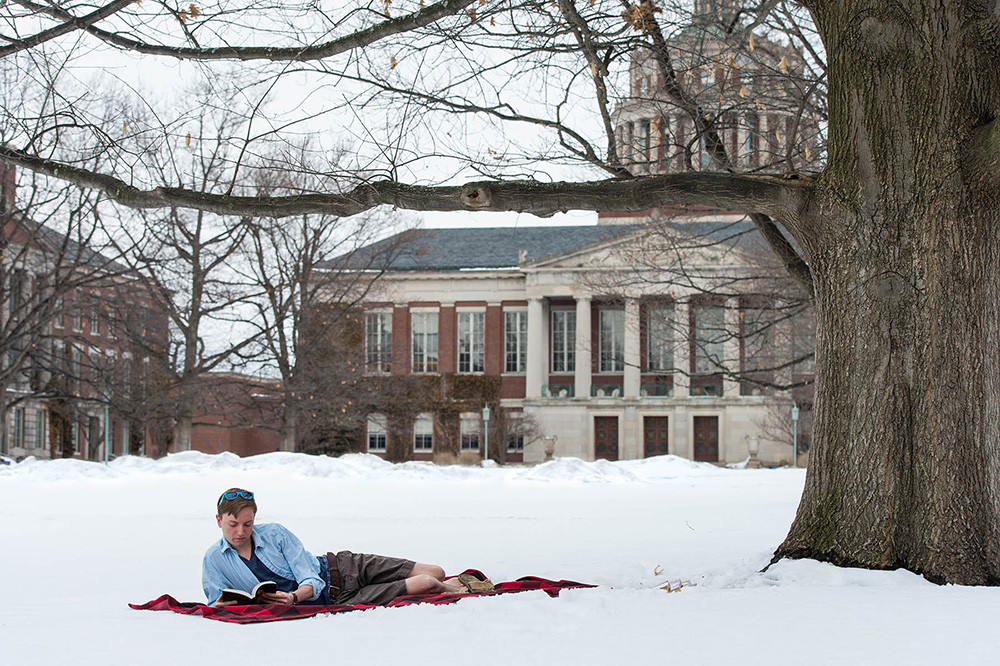 UR students remain unfazed by "character-building" polar invasion, spearhead petition to close down useless tunnel system.
While some schools—notably in the Boston area—canceled classes this year on account of a little snowfall, students at the University of Rochester thumbed their noses at Old Man Winter.
"I really don't see what the big deal was," said sophomore Ashley Lerner.
The official average temperature in Rochester this February was an invigorating 12.2 degrees. That makes it the most chillin' month in the National Weather Service's record books—and those things date back to 1884!
"With temps in the balmy single digits and roughly six feet of snow at any given time, I had my mom FedEx my summer wardrobe to me," Lerner explained. "I mean, who knows when we'll get weather this nice again?"
In answer to such concerns, the University is creating snow on campus year-round. That way, Rochester students can enjoy upstate New York's famous refreshing clime during both of its seasons.


In fact, UR students are so heartened by the current weather that they started a petition to close the tunnel system that runs under the Eastman Quad.
"There's no point in heating those subterranean passageways," remarks senior Jerry McCoy. "Not when my philosophy professor has been holding lectures out on the quad since February."
Strapping on his snowshoes before venturing out, McCoy adds, "And anyway, most of us have already mastered walking like a penguin. So why not embrace Rochester in all its al fresco glory?"
We'd be (April) fools not to!

Category: Uncategorized