Students in the arts and humanities at Rochester are accustomed to conversations about difficult and controversial issues. This year, several faculty and alumni are bringing their unique takes on those conversations out into the community as part of the KeyBank Rochester Fringe Festival.
For some, such as Rose Pasquarello Beauchamp, a lecturer in the Program of Dance and Movement, engaging audiences outside the University is a regular part of the job.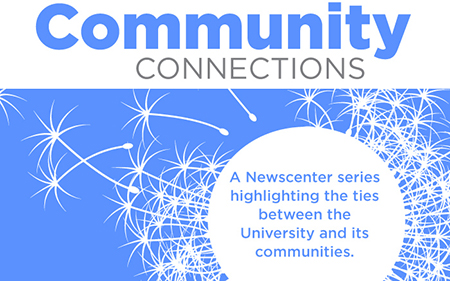 "Most of what I do is either community engaged creative projects or shows based on some sort of sociopolitical idea that I'm chewing over," says Beauchamp, director of the dance theater performance "On the Verge of the Outermost Edge of US."
The performance, which took place on September 14 and 15 at the City of Rochester's School of the Arts, explores the mass movements of people and ideas taking place around the world. Beauchamp was joined by three other faculty members in the dance and movement program: director Missy Pfohl Smith, senior lecturer Anne Harris Wilcox and adjunct instructor Michelle Gipner.
"We ask the audience members a few questions to ponder over, along the lines of, given the political partisanship" that permeates so many national debates, "what else can we do?" says Beauchamp. The responses from the audience were written down and clipped on a set piece on stage. The dancers read them at the close of the show.
Because the festival doesn't place limits on material or content, it also attracts "performers" from the University in disciplines one might not expect—such as religion and classics. Emil Homerin, a professor of religion and chair of the department, participated as a moderator in TableTopOpera's performance, "Within the Quota."
TableTopOpera is a chamber ensemble of Eastman School faculty, students, and alumni directed by Matthew Brown, a professor of music theory, and Christopher Winders 08'E (PhD). "Within the Quota," a collaboration with the George Eastman Museum, featured a production of moving images set to chamber arrangements of songs by composer Cole Porter as well as the ensemble.
"We thought it would be interesting to talk about immigration in America and how it hasn't always been fair," says Homerin.
After the performance on September 19 at the Dryden Theatre, he facilitated a panel discussion among experts on immigration law. "There have been quotas and it's been discriminatory," says Homerin. The performance combines the music of Porter's 1921 protest ballet Within the Quota, which criticized restrictive immigration laws, with powerful images drawn from the collections of the George Eastman Museum, the Library of Congress, and other sources.
What would the ensemble like to see happen as a result of its performance? "We would like to encourage conversation within the community," says Homerin. That, and broader immigration reform, including the removal of restrictions on Muslims, he adds.
Category: The Arts