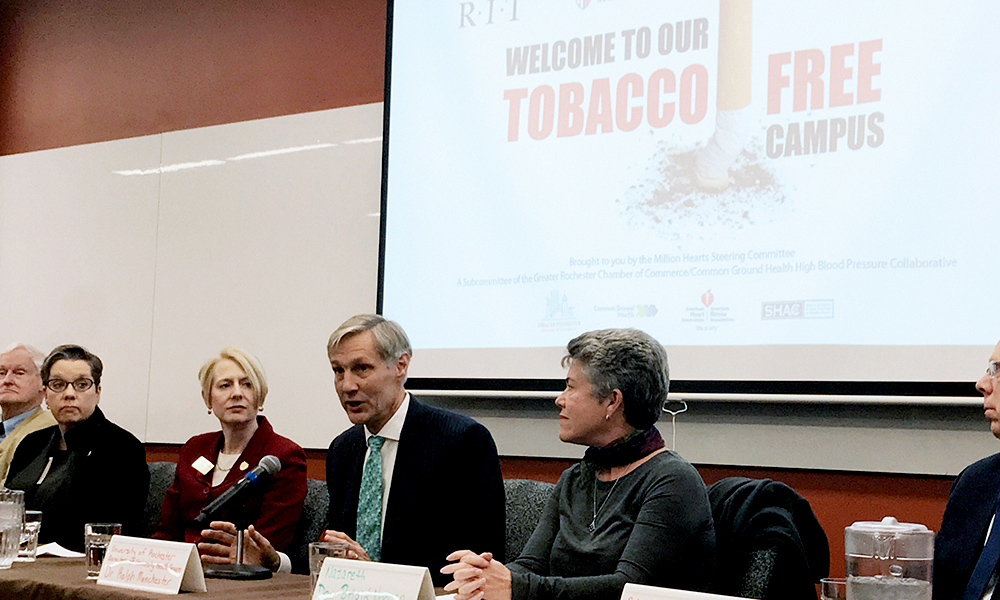 Effective August 15, 2017, all of the University's campuses will be tobacco-free both inside and outside campus buildings.  In August 2016, University President and CEO Joel Seligman announced plans for this tobacco-free policy, which is consistent with being an academic and medical institution that promotes health and wellness, and being a workplace that is welcoming and comfortable to everyone.
The University will now join 1,468 college and university campuses nationwide that are tobacco-free. The new policy restricts tobacco, e-cigarettes, and vaping on University properties, but includes the provision for a small number of outdoor smoking shelters on River Campus. Starting August 15, these shelters will be the only designated areas for smoking and other tobacco use on River Campus. They will be located:
on the south side of Rush Rhees Library, between the library and Meliora Hall
next to Wilson Commons, under the bridge to Morey Hall
next to Dewey Hall and across from Schlegel Hall
The Medical Center, which has been smoke-free inside and out since 2006, also designates outposts on their campus as the sole areas where tobacco is permitted.
New tobacco-free signs will be posted at building entrances and displayed prominently in outdoor areas to inform everyone of this change. The tobacco-free policy will be communicated to new students arriving this fall, as well as to new employees. Organizers of University events are responsible for communicating the policy to vendors and guests.
Free tobacco cessation programs and resources are available to University community members who wish to take advantage of them. For more information see:
UHS will additionally have nicotine replacement products available for both students and employees to purchase.
Category: University News