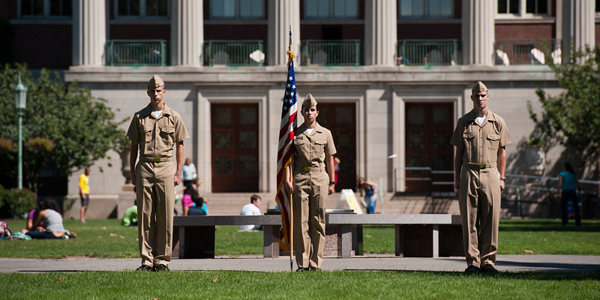 Commemoration Includes Vigil, Carillon Society Concert
WHO: Navy ROTC students from the University along with Air Force ROTC members from local battalions will hold a small vigil on the Eastman Quadrangle to remember and honor those lost to the Sept. 11, 2001, tragedy, including Rochester alumni Brendan Dolan, Jeremy Glick, Jean Hoadley Peterson, Aram Iskenderian, Jeffrey Smith, and Zhe (Zack) Zeng.
TIME, DATE, PLACE: Noon to 3 p.m. on Tuesday, Sept. 11, at the Meridian Bench, located on the Eastman Quad on the River Campus.
WHAT: During the vigil, three uniformed ROTC midshipmen and cadets will stand at attention in 15-minute intervals at the Meridian Bench facing the Interfaith Chapel, with one presenting the U.S. flag.

We Remember: Profiles of Rochester alumni lost on September 11
Rochester Review
"There are members of the University and greater Rochester communities affected by the Sept. 11 attacks, and while it is nearly impossible to understand their loss, we hope this vigil will serve as a reminder that their suffering has not been forgotten," said Olivia Wittman, a senior in the College and midshipman in the Navy ROTC program.
Also as part of 9/11 commemoration, the University of Rochester Carillon Society also will deliver a free performance, "We didn't know we kissed heroes: September 11 Hopeman Memorial Carillon concert," at 1 p.m. on the Eastman Quadrangle. The program will include patriotic, popular contemporary pieces, and folk songs.
The U.S. and University flags will be flown at half-staff to remember 9/11 victims on the 11th anniversary of the attack.
FOR MORE INFORMATION: For more information about the vigil, e-mail Sara Miller atsmiller@ur.rochester.edu.
Category: University News