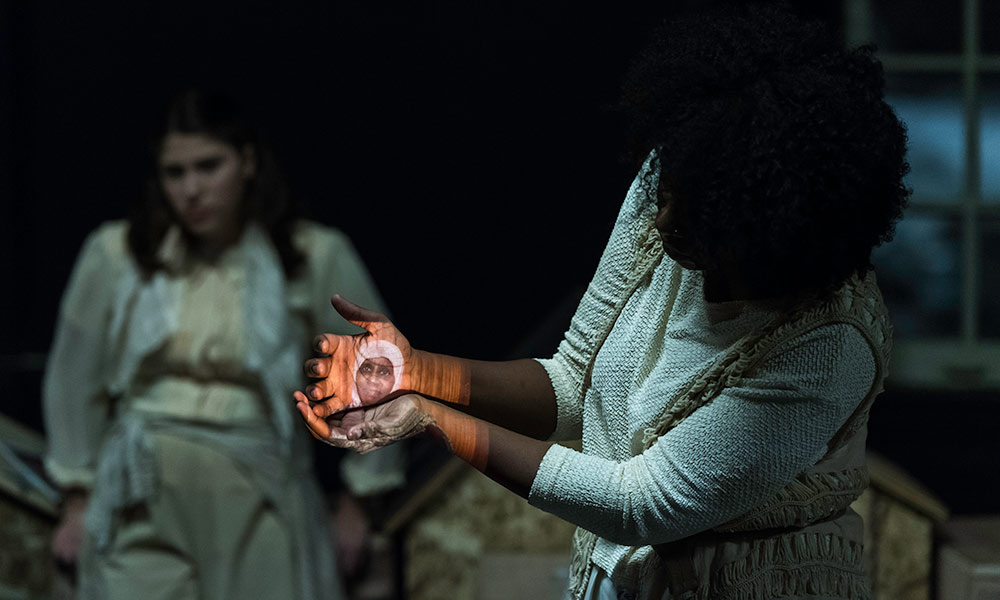 The spring production We Don't Live on Mars Yet never started out as your typical theater production. It's what's called a devised work — a new approach for the University of Rochester's International Theatre Program.
"A devised work means different things to different people," says Talya Chalef, a South African-Australian interdisciplinary artist who was commissioned by the theater program to develop this premiere work in collaboration with Rochester students. "You're essentially a playwright and a theater maker," she says. "But you're also a performer."
During "rehearsals," Chalef presents the students with materials researched beforehand and takes the students through a series of workshops where they might write, or create movements, games, and songs, or even use puppets, as a way to express what's in the materials. "You sit down collectively as a group and look at what you have. Then you start to script, and then you sequence it, and then it becomes a conversation," she says.
"This is probably one of the coolest things I've ever done," says Matalin Collins '19. In the beginning, the environmental studies major, who's been part of past productions at Todd Theater, admits she was nervous about not having a solid script as the ensemble began to meet. But as time went by, she saw the value in bringing people together to generate ideas and create something new. "I've learned a lot about myself and about creating art and theater," she says.
When Chalef first came to Rochester, she had no idea what the final piece would be. But the director and artist, now based in Brooklyn, New York, knew she wanted the work to be connected to social justice.
"There is so much going on right now, it's quite easy to get overwhelmed," says Chalef, who spent time last fall at the local Rochester archives and online to learn about the city.
If you go:
Todd Theater at the University of Rochester's River Campus
Thursday, March 1 – Saturday, March 3 @ 7 p.m.
Wednesday, March 7 – Saturday, March 10 @ 7 p.m.
Matinée on Sunday, March 4 @ 2 p.m.
Directed by Talya Chalef
Set Design by Jung Griffin
Costume Design by Asa Benally
Lighting Design by Solomon Weisbard
Sound Design & Original Music by Christopher Ross-Ewart
Tickets are $15 for the general public. $12 for seniors (65+); also for University of Rochester staff, faculty, and alumni; $8 for students.
As she learned of Rochester's status as a sanctuary city—as well as its large population of refugees—it got her wondering about the idea of home and what home means in the context of today's political climate. "I wanted to explore what it means for the past and what it means for Rochester and its past – who's been here and who's immigrated here. What's the make-up of the city?
"I gave the students the task of going through the materials and going through the motions of the play we've put together. We asked: 'What does this mean? What is the function of this part in the play? What is it asking the audience to think about? Why put these things together?' We talked about the best way to tell a story, and how to be a maker instead of just being a performer," Chalef explains.
"It opened up this world of creativity," says theater major Sammi Richardson '19.  "I wasn't aware that this city had so much rich history," she says, reflecting on the newspaper articles she read from the early 1880s and 1900s. "It's creates a whole story in your brain of the place that you live and the space that you occupy. I've learned so much about where we live and the people who are from here."
What should the audience expect to see? "The script is images, words, and movements," says Chalef. "There are songs. This is a very musical team."
Nigel Maister, the Russell and Ruth Peck Artistic Director of the International Theatre Program, says Chalef's approach is especially suited to getting students invested in the issues the performance raises.
"While it's important to engage the students with topics of social justice and refugees at this critical time, it's equally important that the students themselves are invested in these topics," he says. "And there's no better way to do that than by giving them ownership of the work they're doing. A devised work is a very exciting and challenging way of doing that. It offers a different kind of theatrical experience to them."
Category: The Arts