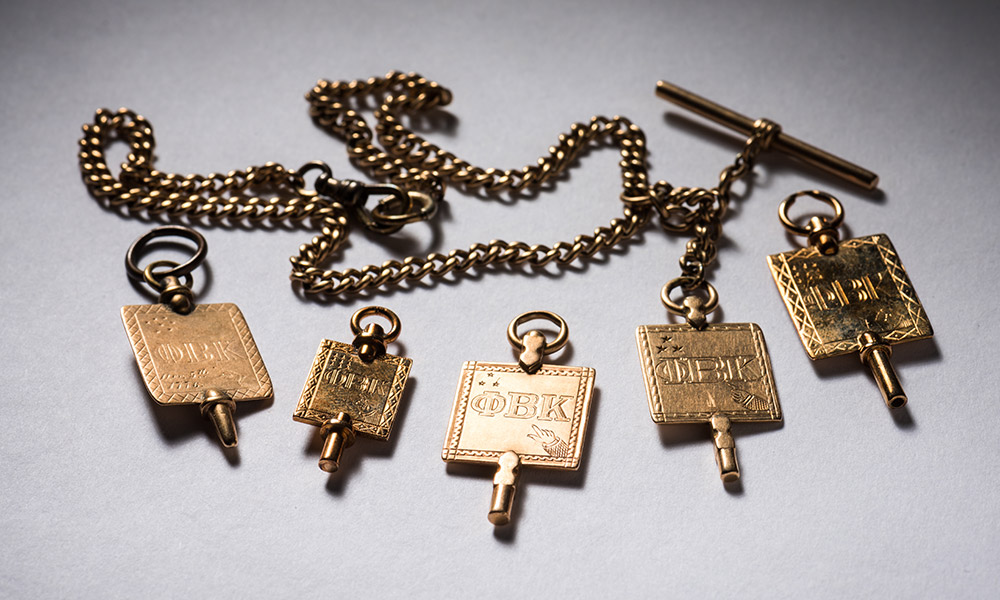 They'll join 20 seniors who were inducted into the honor society as juniors.
The University of Rochester's 2021 inductees into the Phi Beta Kappa honor society include 109 seniors and 18 juniors. They'll join 20 other Rochester students who were elected as juniors last spring.
An initiation ceremony will be held on Wednesday, May 19 in Strong Auditorium on the River Campus. The ceremony also will be livestreamed for students and families who are unable to be on campus.
Founded in 1776, Phi Beta Kappa is the nation's oldest academic honor society. Membership is by invitation only, and students are selected by faculty members who are also members of the society.
The University's Phi Beta Kappa chapter, Iota of New York, was founded in 1887. Members are chosen based on exceptional academic performance and a letter of recommendation from a faculty or staff member. New members are elected each spring by members of the Iota chapter at the recommendation of the nominating committee.
Particularly strong candidates are elected as juniors, the rest as seniors.
Here are the Phi Beta Kappa members.
*=elected last year as a junior
Class of 2021
Meron Abate
Jaafar Al Hadab
Ryan Algier
Andrew Balogh
Olivia Banc
Catherine Barker
Garrett Beals
Liam Bethlendy
Madeline Bordo
Mairead Bresnahan
Amanda Broadmeadow
Briana Cahill
Caroline Cardinale
Eric Chang
Ruqin Chang
Timur Cinay
Eliza Coffin
*Haley Cohen
*Emily Corbett-Valade
Larissa Daruge
Sydney Dlhopolsky
Victoria Driesman
Hager Elkhidir
Dax Emerson
Ethan Fahnestock
Joanna Fang
Morgan Farrow
Madeleine Fordham
Mary Gage
Anna Gao
Andres Garcia Coleto
Linus Ge
Truong Giang
Katelyn Gibson
*May Goldenberg
*Jennifer Gormish
Sarah Grabowski
Jerrell Gray
Micah Greenberg
*Mason Grimes
*Sofia Guarnieri
Xinyu Guo
Karyssa Harris
Claire Harte
*Khoa Hoang
Yue Lin Hu
Mirette Ibrahim
Paul Irving
Shourya Jain
Su Bin Jang
Bartek Jezierski
Qingyuan Jia
Myoungju Kang
Nils Kingston
Iren Kmyts
Celia Konowe
Christina Krewson
Emily Lainoff
Anna Langer
Emily Laskey
Karen Leap
*Donghui Li
Inn Li
*Shangzan Liu
Shuangyang Li
Zhengkai Li
Joshua Liao
Isabelle Longfellow
Danny Luo
Hana Mamnoon
*Alydia Meinecke
Elissa Moy
Lia Nelson
Amina N'Gambwa
Jennifer Ngene
Anh-tho Nguyen
Vivek Nithipalan
Trent Noordsij
Thomas O'Neill
Warish Orko
Mary Panepento
Alexander Pavlicin
Patrick Phillips
Alexis Pope
Anna Remus
Ximena Reyes Torres
*Elena Robson
*Matthew Rosenbloom
Elisabeth Rott
Shinya Sakurai
Reanna Salvador
Lauren Scheg
Emily Schiller
*Aditya Seshadri
Aman Shrestha
Li Sun
Isabel Sia
Donovan Snyder
Benjamin Srajer
Steve Stephen
*Emma Strawderman
Yiyang Su
Anika Tahsin
Pham Thanh
*Matthew Trevisani
*Daniel Troyetsky
Nguyen Trung
*Baris Eser Ugur
Bhavana Upadhyaya
*Alexa Uttamsingh
Yuanchen Wang
Yue Wang
Amanda Wasserman
Jason Weeks
Ada Wightman
Mckenzie Williams
*Claire Wilson
Bowen Wu
*Pinyi Wu
Shengyang Wu
Tianshu Xu
Tongyu Yang
Cecily Zecca-Naples
Haoqi Zhang
Holly Zhang
Jane Zhang
Jiayin Zhang
Ruiyu Zhou
Yipeng Zhang
Class of 2022
Coralee Everett
Qianwen Fu
George Funkenbusch
George Kassis
Akhil Kholwadwala
Sangwu Lee
Kexin Li
Abdul Moid Munawar
Nguyen Anh
Pham Tuan
Julia Restivo
Elizabeth Roe
Gina Romanazzi
Kevin Shan
Yihan Shao
Navya Uberoi
Hecong Wang
Callista Zaronias
Category: Campus Life