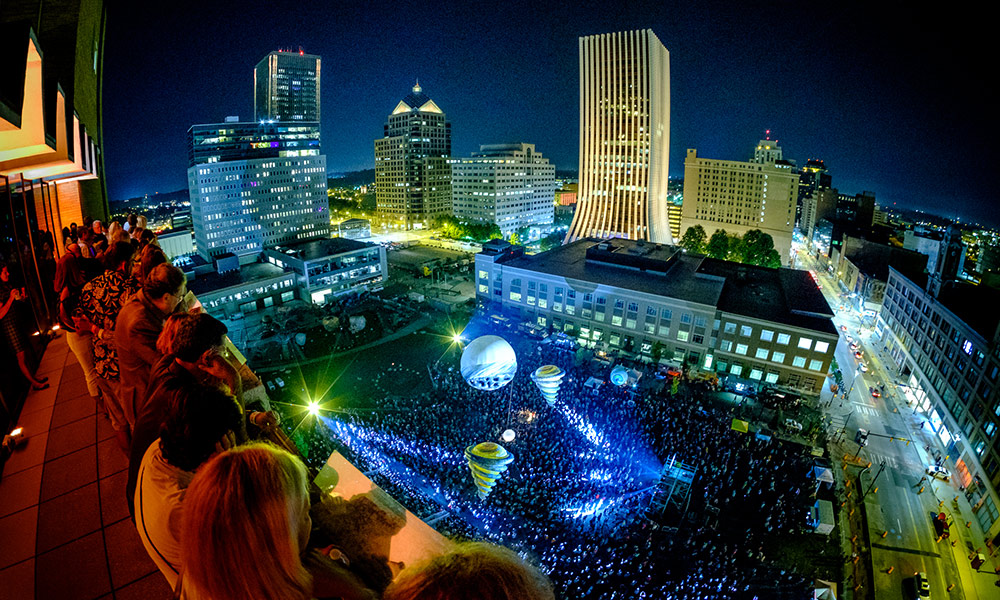 With its emphasis on cross-disciplinary performances and collaborations, it's easy to see why the Rochester Fringe Festival continues to garner widespread support and participation from the University of Rochester community.
"The University was an integral part of the birth of the Rochester Fringe Festival and continues not only as a proud sponsor, but as a creative incubator for fascinating shows by artists working within and across disciplines," says Missy Pfohl Smith, director of the University's Institute for the Performing Arts and a member of the festival's board of directors.
This year's line-up of University-affiliated performances include two special highlights:
A celebration of the life of Paul J. Burgett '68E, '78E (PhD) will be held at Hatch Recital Hall on September 14. The event features musicians of the Gateways Music Festival performing music adored by the late University dean and vice president, who died in August 2018.
Within the Quota, at the Hatch Recital Hall on September 19, is a performance of TableTopOpera, an ensemble of Eastman School of Music faculty and alumni. The work is a musical exploration of Cole Porter's protest ballet about the United States' Emergency Quota Act of 1921—a law that sharply restricted immigrants from Southern and Eastern Europe—accompanied by historical and contemporary images and film clips.
The University is a founding partner of the annual downtown festival, now in its eighth year. This year's edition—a 12-day event beginning on September 10—will feature more than 575 performances and events. The University's Eastman School of Music will host eight shows including Eastman student and faculty performers along with other local and national performers.
The festival debuted in 2012 with producer Erica Fee '98, a University alumna who worked with the original Edinburgh Fringe Festival in Scotland, planning what has become the most-attended Fringe Festival in the United States. More than 78,000 people are expected to attend the event this year.
We ask a few University participants in this year's festival what draws them to the Fringe, and what—besides their own shows—they recommend attending.
---
Isabella Barbagallo '22
President of the University's all-female a cappella ensemble Vocal Point and a business major in the College
What draws her to the Fringe
"Having a show at the Fringe Fest is our way to share our talents with the Greater Rochester Community."
About the performance
Student a cappella ensembles will perform covers from today's popular artist, in Vocal Point and The YellowJackets Fringe Show.
When and where: Sunday, September 15 at the Allen Main Stage Theatre, School of the Arts
"Each year, Vocal Point learns new material specifically for the Fringe Festival. We'll be showcasing new arrangements of popular songs that were just released this year. Keeping our set current is important in creating the show each year. This year, our show is in collaboration with the YellowJackets, one of the university's all-male a cappella groups. They've also been preparing new arrangements and the two groups are collaborating as well."
Other shows she recommends
"There are so many great show this year. I recommend The Painter by Corinne Fallone, as well as Roc City Singers, both at SOTA (School of the Arts) Allen Main Stage Theatre."
Michael Burritt '84E, '86E (MM)
Percussion soloist, director of the Eastman Percussion Ensemble, and professor of percussion at the Eastman School of Music
What draws him to the Fringe
"I love the way it creates an energy in the downtown community and brings folks to our concerts who don't typically attend. Plus it's a great way to lift off the new school year and give us early momentum."
About the performance
Burritt—along with the Eastman Percussion Ensemble—joins choreographer Missy Pfohl Smith, director of BIODANCE, and media artist W. Michelle Harris, in The Fragile Corridor.
When and where: Thursday, September 19, Friday, September 20, and Saturday, September 21, at the Rochester Museum and Science Center's Strasenburgh Planetarium.
"One of my never-ending goals is to bring the music we do as percussionists to a larger and more diverse audience. So, I plan programs that I believe will be impactful both pedagogically for the students and for the Fringe Festival audience. The Fragile Corridor is a major collaboration between myself, Missy Pfohl Smith and BIODANCE and W. Michelle Harris, a visual artist from RIT. I love the idea of bringing these elements together and having my students experience this kind of project as well."
Other shows he recommends
"Nexus and Friends, a percussion improv with guests on September 14; and Cameron Leach, electroacoustic percussion, on September 17."
Anne Wilcox
Choreographer and senior lecturer in the Program of Dance and Movement
What draws her to the Fringe
"The explosion of creativity! It's a very inspirational time of year. The Rochester Fringe festival motivates me to take artistic risks and collaborate with fellow artists. I delight in the charged spirit the festival brings to Rochester. I love participating and also seeing the amazing work generated by artists of all disciplines."
About the performance
Time to Change consists of two performances—"Nanosecond," by Wilcox, and "My Life in Sweaters," by fellow choreographer Mariah Steele—combining dance, music, and spoken words.
When and where: Friday, September 13 and Saturday, September 14 at the School of the Arts.
"My piece, 'Nanosecond,' explores how change affects our lives; Mariah's 'My Life in Sweaters,' explores different narratives inspired by her personal sweater collection. We saw the link between Mariah's literal change of clothes and my conceptual approach to exploring change, and realized this would make a great pairing for a Fringe show. I am collaborating with Eastman faculty member Matt Curlee, who has composed an amazing score for 'Nanosecond.' Mariah is collaborating with Eastman musician/composer Yoshiko Arahata."
Other shows she recommends
"There are so many! But I'm especially looking forward to all the dance work including BIODANCE's Fragile Corridor, Cheryl Johnson's Diggety Bop, and Josephine at SOTA which I missed last year!"
David Temperley
Professor of music theory at the Eastman School of Music
What draws him to the Fringe
"It's an eclectic mix of acts that breaks down boundaries—suitable for my music, which is also a kind of a hybrid of different styles (rock, classical, musical theater)."
About the performance
Songs by David Temperley is a rock-classical-cabaret style evening with Temperley at the piano and Toronto soprano Alicia Ault '15E on vocals.
When and where: Wednesday, September 11 and Sunday, September 15 at Java's Café. 
"I've been writing songs for years and performing them with different singers. When I put together a show, it's just a selection of songs that seems appropriate for that occasion. I'm thrilled to be working this year with Alicia Ault, an Eastman graduate and up-and-coming singer in the Toronto area."
Other shows he recommends
"I'd recommend UR IPM Presents Yes: Fragile and More. Also, Alicia is performing in another show immediately after our 9/11 show: Sisters in Song at the Lyric Theater. Hear our show at Java's at 8, and then speed over to the Lyric!"
Ian Silverman
Master's student in the opera stage directing program at the Eastman School of Music
What draws him to the Fringe
"As a young stage director, I am constantly looking to share my work with the community and bring opera to new audiences. The festival seemed like the perfect outlet to do this. I am lucky to be able to work with my talented colleagues from the Eastman Opera department. Our goal is to expose children to opera and share the work with the greater Rochester community. I also thought that a children's opera would be a great addition to the Fringe's 'Kids Fringe' offerings."
About the performance
Little Red's Most Unusual Day Children's Opera is an operatic retelling of the "Little Red Riding Hood" story.
When and Where: Saturday, September 14, Sunday, September 15, and Monday, September 16 at the Cabaret Hall at Lyric Theatre.
"Little Red is a children's opera created by John Davies as part of his Opera Tales series which takes familiar fairy tales and rewrites their stories using preexisting music. Little Red is his most popular work and has been performed all over the country. It features music from some of Offenbach and Rossini's most famous works."
Other shows he recommends
"The University of Rochester has so many great performances planned, between a cappella groups, BIODANCE, and Deaf Talent to name a few."
Category: The Arts